Western Music Meets Japanese Music
  I made my way to Wrocław, Poland, to take part in the international clarinet festival Clarimania as part of the European Capital of Culture. Though it was late April, I was a bit chilly in my summer jacket when we landed at  Wrocław airport. After a ten-minute wait at the airport, the car that met us took us directly to our hotel. This was my third visit to Wrocław. Invited to an event three years previously, I spoke there on "The Clarinet in Japan". Stepping through Japanese orchestras, wind music and jazz, I lectured on how many people in Japan play the clarinet, on the activities of the Japan Clarinet Association and, in what was the main part of the presentation, on Japanese pieces for the clarinet as we listened to them. My impressions on that occasion were that Japanese music and its circumstances were almost entirely unknown in Poland and that young people lent an ear to Japanese works for the clarinet and took great interest in the music. This led to an invitation from artistic director J. Bokun: How about a Japan Day? When I put the suggestion to notable clarinetists working in Japan, we were fortunate in finding nine clarinetists to take part plus a pianist and a player of the Japanese hand drum, or eleven musicians altogether. Of the three days of the festival, one would be given over to Japan Day.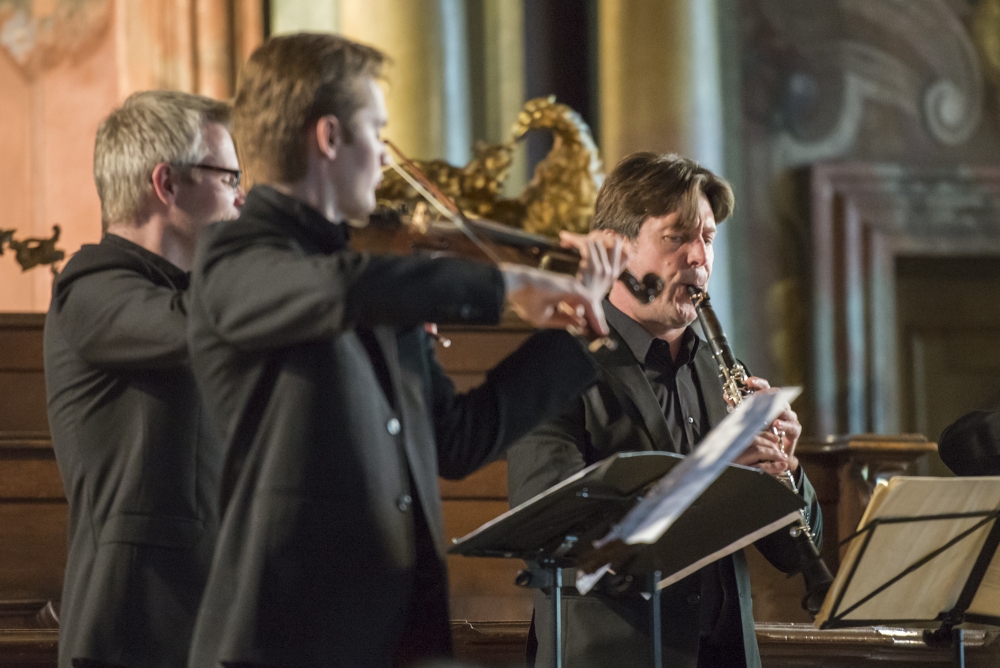 We compiled a program of almost entirely Japanese works. At a lunch concert Yoko Yokota played Isao Matsushita's "Kochi" (East Wind) and, with pianist Rikuya Terashima, yours truly played a variation, composed by Terashima, on Toru Takemitsu's "All That the Man left behind, when he died". Chiho Sugo and Hidehito Naka joined us for the latter half of the performance to make up a quartet, and we played Masamichi Amano's "Japanese songs medley" and "Hamabe no Uta" (Song of the Beach). A Japanese friend who was listening said that for some reason it produced tears.
       The afternoon brought my lecture, in which I discussed primarily the fusion of Japanese and Western music. This was followed by a performance of the clarinet ensemble of the Japan Clarinet Association. Comprised of Shuhei Isobe, Seiki Shinohe, Masaharu Yamamoto, Naka and Yokota, the ensemble played as trio, as quartet and as quintet, beginning with Schubert's "Dances", followed by Isobe's "Intermezzi" and Michio Kitazume's "Resonance". Kitazume reworked his piece anew especially for this festival. While not a Japanese work, Brahms' "Violin Sonata" had interest as a rarity in that Sugo played it on small clarinet. London resident Anna Hashimoto played a recital of superb musical expression and received tremendous applause.
       The Japan Gala Evening then featured Japanese compositions for a full house. Shinohe and Terashima on piano played Takashi Yoshimatsu's "Four Pieces in Bird Shape", Isobe his own "Metamorphosis" and Naka his own "Rokudan no Shirabe", and Yamamoto combined with drummer Kaho Aso, gracing the stage in traditional Japanese costume, on Terashima's "Dance for Clarinet and Hand Drum IIIa". To close out the evening, Yoshinobu Kamei performed Akira Miyoshi's "Perspective en Spirale" and other pieces.
       As readers will know, the traditional music of Japan and Western music are entirely different. The beginnings of modern Japan lie in its imitations of European politics, economics and culture in the latter part of the nineteenth century. Westernization proceeded apace in all fields, and music was no exception, and for some time the process involved a complex about the West in some sense. Indeed, it may yet persist in a manner not unlike the high regard some have for particular fashion brands. Imitation of Western music, fine arts, architecture, literature and the like led to their methods and techniques having a stimulative effect on many artists, who digested and absorbed them and went on to create a distinctively Japanese imagination and culture.
       Since my time as a music student, I have asked myself the simple question of why it is that Japanese engage in Western music. Much of what makes Japanese and Westerners decisively different has to do with religion. It goes without saying that in speaking of European culture and individualism, the existence of God and Christ play an important role. Drawing spiritual support from the unique existence of God in the world and the teaching that all humans are equal, that we are all brothers and sisters, underlie the notions of respect for the individual and assertion of the self. I think this self-assertion ties into the power of artistic expression. Also, Europe is not an island nation like Japan, but an assemblage of peoples in countries connected by land borders. Given the risks inherent in judging whether someone on the other side of a land border but with identical features is friend or foe, it may be that someone unable to assert himself could end up dead. I attended school in Paris both to study the clarinet and because I wanted to experience European individualism in the flesh, rather than merely the theory of it. Actual experience with the culture fostered in a given country is one's first chance to taste it for oneself. I found there, however, one obstacle that I could do nothing whatsoever about: I gained the conviction that engaging my art fully with a Japanese sensibility, and not some imitation, would be a mode of expression.
       As an introduction to musical pieces from Japan and Japanese clarinetists, Japan Day proved a great success at Wrocław 2016. The audience expressed warm praise for their first hearings of Japanese works. It was a plus that, as well as Poles, of course, people from other countries like the United States and Czechia also attended and said they found the music to be of great interest. Those traditional Japanese fine arts and performing arts, such as kyogen, noh and bunraku, that remain alive in our times are, I think, readily appreciated visually and directly, but how do Westerners respond to Japanese works, and performances of them, composed after a process of import, imitation, absorption and digestion of Western music? Seated among the audience, the playing and music that I heard were wonderful in their distinctively Japanese sound and rich expressivity. I think this was not so much because I am Japanese, but an impression coming from a more global perspective. The Japanese sensibility that I discussed in my speech in terms of the fusion of Japanese and Western music is a challenge that many composers have taken up. Of these, I consider Toru Takemitsu, the composer of global stature, an artist of singular originality and philosophy. An expression of the fusion of Japanese and Western music, his work "November Steps" for orchestra, shakuhachi and biwa, commissioned  by the New York Philharmonic is tremendously well-known. Does not true art show itself in a common response shared by people of all countries and ethnic makeups?
       Attending Clarimania at European Capital of Culture Wrocław 2016 was an extremely valuable experience in which I met many different people and heard much different music.
       In closing, I would like to express my heartfelt gratitude once again for the support of the EU-Japan Fest Japan Committee for grants in connection with this European Capital of Culture.