The art of drawing
Talent Blossom is an experience in awakening to the "ability to draw" that exists in every one of us. It was launched in 2019 in Otsuki, a town on the southwestern tip of the island of Shikoku, with the aim of developing people's powers of observation and expression, enabling them to experience the happiness of drawing and sharing the experience of living with joy in a social setting irrespective of age or gender.
The idea of holding a drawing workshop in Otsuki came from Artem Alexeev, the artist who established The Drawing Academy (TDA) within The Animation Workshop (TAW), which is highly regarded in Danish animation education circles. In 2018, Alexeev spent three months living in Otsuki, painting ten oil paintings on size 100 canvases. In the process he fell in love with Otsuki and discussed with me the idea of holding a workshop here. As a result of this conversation, I became interested in the philosophical aspect of the act of drawing, and thinking that it would also be extremely compatible with the town's environment, I welcomed the idea. And so it was that a four-day residential course in which participants learned from a teacher invited from TDA the basics of drawing, still life drawing and figurative drawing came to be held in a small town with a population of less than 5000 people. It was a special experience in which the accommodation at the Jiyu Gakko surrounded by the greenery of the terraced fields and colorful mountains and by the sea as clear as soda water, the songs of the birds and insects, the clean air, the invigorating food, the quality art education and the time immersed in drawing all came together.
This year, hoping to make for a more leisurely time than last year, we were originally thinking of implementing two projects: a residential course with an extra day, and a portfolio creation course. However, with no end in sight to the situation in which people could not travel freely to and from abroad, and we planned to hold workshops online without bringing teachers to Japan.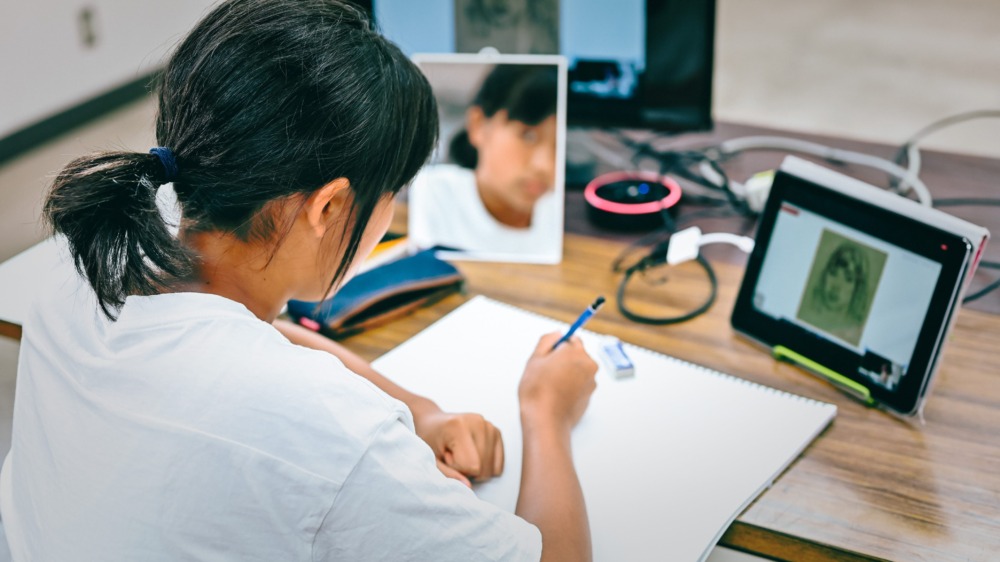 We had begun preparations with the intention of inviting Mads Peter Brandstrup Jensen, a teacher recommended by TAW. The program he suggested involved self-analysis through studying oneself while drawing a self-portrait, enabling one to affirm oneself through drawing. However, time management became difficult due to sudden changes in Mads Peter's work situation, and he was unable to serve as the teacher.
After discussing the matter with Artem, he recommended the illustrator Angeliki Ioakeimidou. Familiar with Japanese culture, including manga and anime and even the language, meaning our communication blossomed, Angeliki actively involved herself in creating a program that could be enjoyed by beginners and people experienced in drawing alike. In particular, because she had already planned an online line art and color palette course in a private capacity, she gave us a number of ideas for taking full advantage of the virtual environment.
Having moved online, as our first offering we thought of two programs: a 3-day workshop and a 1-day workshop. In order to check in advance that the equipment, environment, program schedule, division of roles, and feel of the experience were all right, we carried out a trial of the 3-day workshop. We determined the kind of workflow that would ensure no one felt any stress, and reviewed the program contents thoroughly before taking it live.
For the 3-day program, we spent the same time together every Sunday afternoon for three weeks in a row. Before the first session and between all the sessions, we set each participant a different assignment and had the teacher provide feedback in an effort to make the experience more enriching. The program implemented on the final day, in which each participant drew the others while interviewing them, enabled everyone to enjoy in a game-like fashion the worth not so much of the ability to produce beautiful self-portraits, but of swiftly capturing a subject's distinguishing features. For this reason, being able to provide this experience was a real pleasure as an organizer. I felt a heightening of the sharing of experiences among the participants, giving me a sense that this was a fitting finale to the program.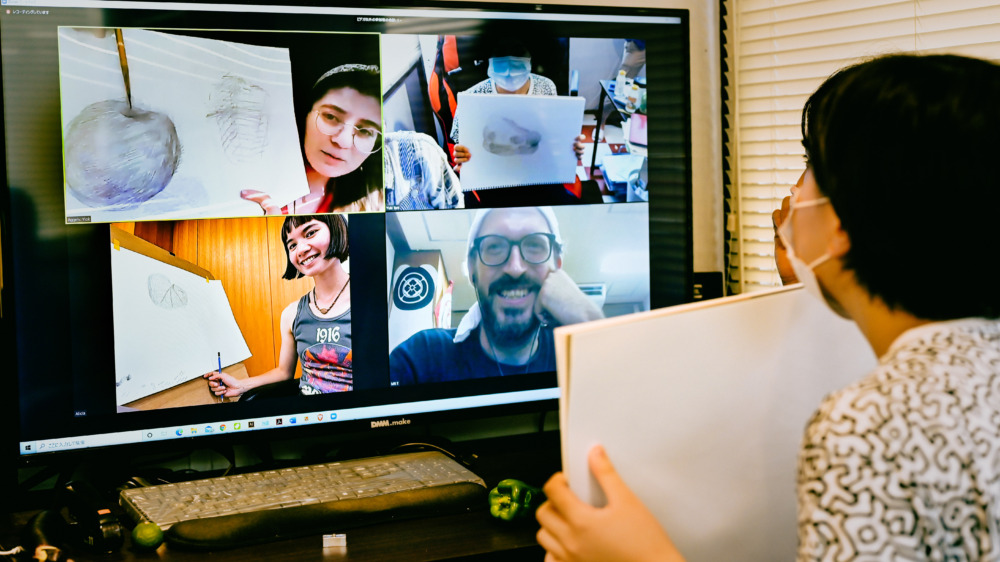 A particular highlight of implementing this program was the participation of a local junior high school student. In her opinion, there were people at her school that were better at drawing than her. But she loved manga and wanted to get better at drawing, which was how she was able to pluck up the courage to come along. Over the course of the 3-day workshop, she improved to an extent that was clear to everyone. According to her mother, though she is usually taciturn, she talked constantly in the car on the way home, and was so fascinated with drawing she slept little that night. "In spite of the fact that she always neglects her homework, she was urging me to check whether her assignment had arrived." I was filled with joy to hear that something like this that was beyond my expectations had occurred in this town.
At the end of the first day, the girl's eyes shone so brightly the light reached the heavens. I think she was able to feel joy in the act of drawing for the first time in her life. Sharing experiences like this is like going on a journey together. The light in her eyes that arose through travelling, meeting other people and drawing together also shone brightly on my heart.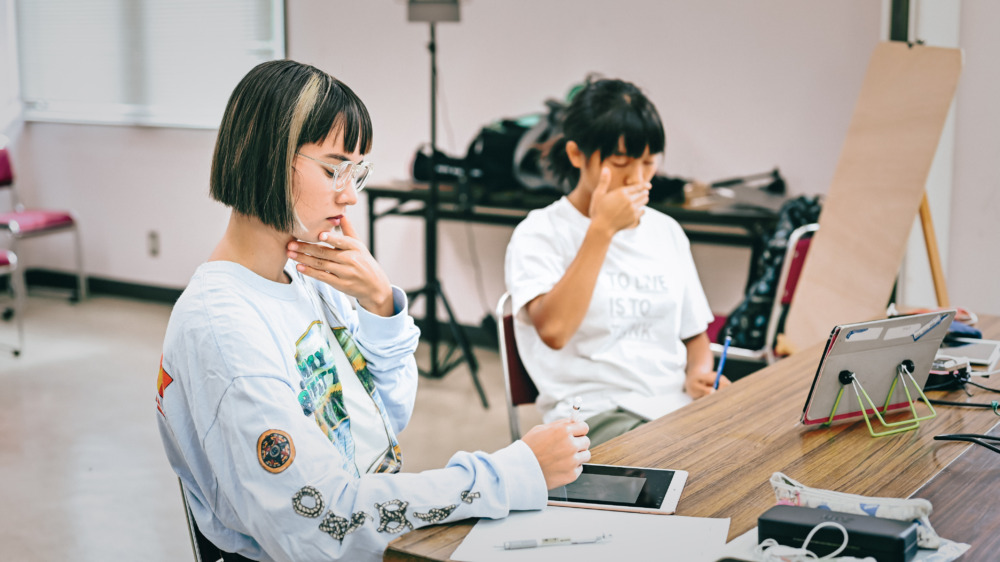 Because the Wi-Fi was unstable, the 1-day workshop did not go as smoothly, but at the satellite venue there was a woman in her 70s and a teenager sitting side by side. During the lesson in drawing a self-portrait while closing one's eyes and touching one's own face, participants honed their skills while enjoying learning how to use senses that tend to be neglected and finding clues to drawing things.
In holding the workshops, Otsuki town hall provided Wi-Fi access and connection equipment so that we could set up a satellite venue. Because the public could see us engaging in online communication at the town hall, we were able to demonstrate how easy it is to connect with people overseas and the kinds of things that take place as part of Talent Blossom.
The world and local communities are connecting through art and the excitement is spreading. At Otsuki, partly as a result of our interactions, an art center is on the verge of being established. In the future, along with more online classes, I would like to invite teachers to Otsuki and hold residential courses here.
Art gives rise to possibilities and art produces results. While altering the form of this experience to suit each environment, I would like to continue discovering the ample talent that still lies hidden around us.