Playable museum
M.E.M.O.RI. is born as a collective reflection about the museum as an intercultural space offering rejected and common objects, which came to Europe from abroad across the Mediterranean Sea, a new life.
The Mediterranean Sea has allowed the exchange of many different cultures since ancient ages. The objects on display witness these interactions: They have been passed from hand to hand, reaching local people in their private houses as well as on ships, on markets and in harbours, carrying on with them new habits from different cultures.
The Museum of Euro–Mediterranean Re(f)Used Objects will be a travelling museum playing with the concept of collecting, taking care and organizing an exhibition that wants to present travels, exchanges and new discoveries.
M.E.M.O.RI. creates a place where it is possible to share ideas and best practices about the importance of the interaction of different cultures by playing with objects.
The meeting with Kaori Kato was a great opportunity to share the art of transforming paper through origami and pleats, using our own hands to experiment and visualize the possibilities of realizing an art game inspired by the exhibition.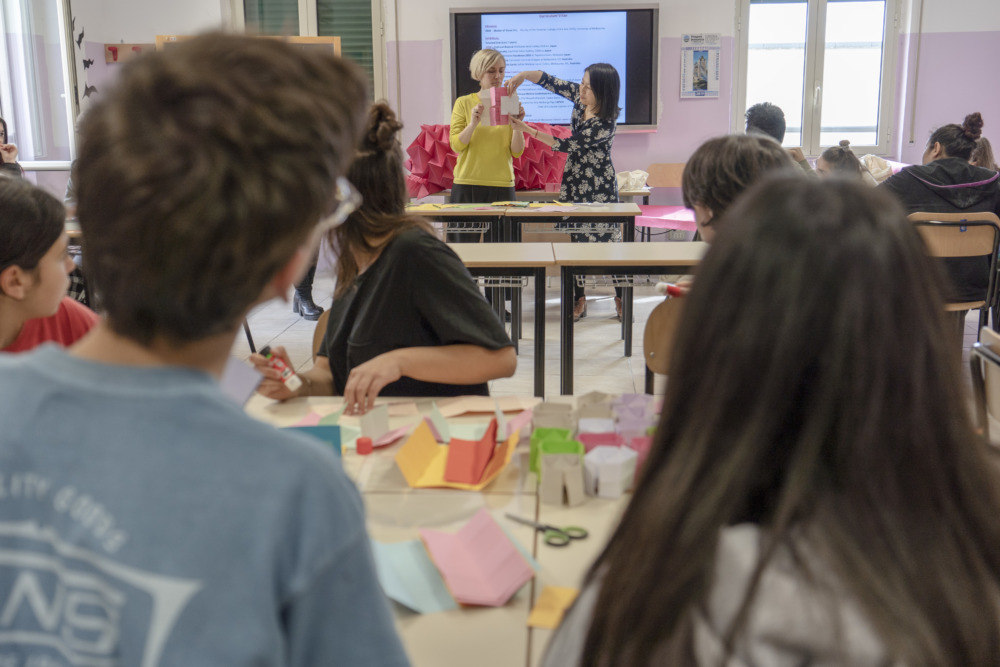 M.E.M.O.RI. derives from the experiences of "La luna al guinzaglio" in the field of interactive exhibitions of art installations made of reused objects. Every exhibition involves the cooperation of artists with the engagement of the public.
With the M.E.M.O.RI. project we wanted to develop an international artistic network to realize a widespread and participated museum that is able to host an expandable Euro-Mediterranean collection.
The collective "La luna al guinzaglio" participated in the project not only as artists but also as a collector of the several pieces found during our Euro-Mediterranean travels and international exchanges that we wished to preserve, show and share in a special museum.
First, we made 5 studio visits all along the Mediterranean coasts to get to know and share creative arts practices. The first one was in Malaga, where we met the artists Pilar Bandres and Cyro Garcia, also professors at S. Telmo's Academy in Malaga, Spain; the second one in Tétouan, Morocco, headed by Hassan Echair, professor at Beauxart's Academy who had studied in France; the third one in Genoa, where we organized a workshop together with 5 communities involved in the project and met the calligrapher Francesca Biasetton; the forth one in Marseille, where we visited MUCEM, the Museum of European and Mediterranean Civilizations, with the architect and museologist Fabio Fornasari; the fifth one in Tunis, where we visited the Bardo Museum and the local handcraft-design workshops with the local "Association des Amis du Belvédère".
The challenge was to create a cultural network to open a creative dialogue among these five Mediterranean cities and five communities in Basilicata, in order to share artistic practices and explore different cultures through objects that could be handmade souvenirs, unexpected findings, refused objects or materials or special gifts.
One of the most interesting aspects was the collaboration with the Japanese visual artist Kaori Kato from Hokkaido, who had studied in Australia and works all over the world.
We decided to mix the art of transforming paper with folds to experiment the possibilities of creating a kit made by people with their own hands, to allow and facilitate the imagination of a spontaneous museum that could fit in a box, be carried anywhere or be sent by post. We wanted to realize a handmade museum prêt-à-porter, playable anywhere by teenagers.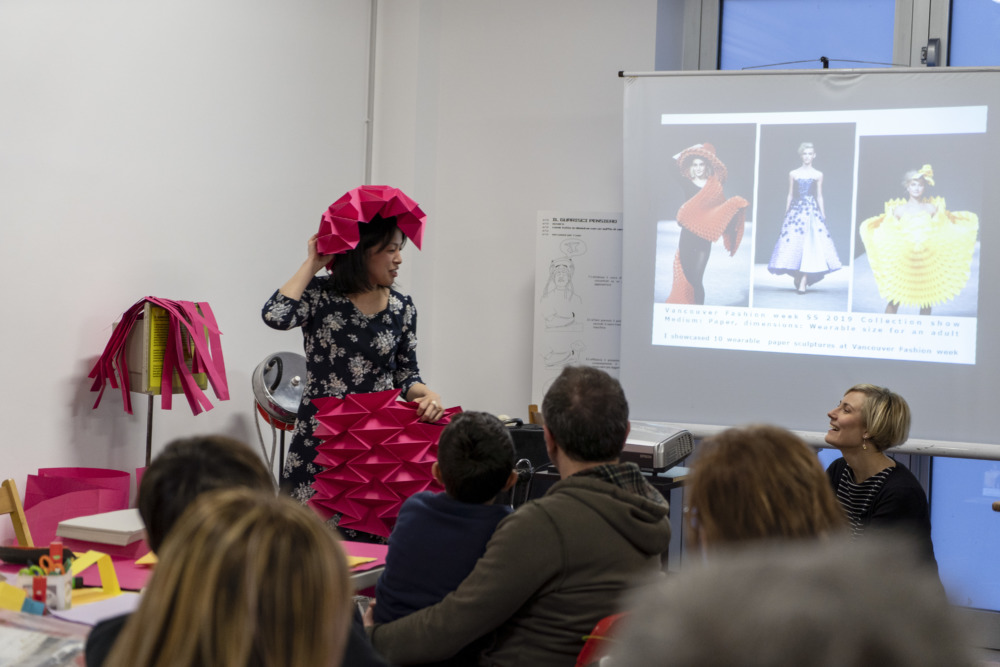 We proposed a work on three levels to Kaori Kato:
– to show the "Drawing Machine", Kato's installation in one of the most important museums of sculpture in Europe, MUSMA, on the occasion of Matera ECoC 2019;
– to co-project two different fold paper patterns together with people and students working with the "La luna al guinzaglio" collective and two other M.E.M.O.RI. project partners at MOON;
– to lead two workshops to involve two different target groups: gallery visitors and students of the high school of arts in Matera.
We worked hard at MOON, the Museum-workshop of Narrative Objects, run in a collective way by the cooperative company "il Salone dei Rifiutati", opened by "La luna al guinzaglio" in Potenza, to have a gallery to host exhibitions, events and dispose of a creative space to work with abandoned materials and realize installations.
We collaborated with Massimo Gerardo Carrese, an artist expert in the fantastic use of the words, to create games in order to re-name the real objects and reverse the point of view. This brainstorming was enriched by Zaffiria's group experience of pedagogical games inspired by artistic practices and published to be available for museum learning programs in Europe and Japan.
The art of Kaori Kato was the crucial point to give an as easy as genial shape to realize a handmade paper tool that allows everybody to create blocks with folds, which can became boxes and showcases to imagine and create a museum anywhere.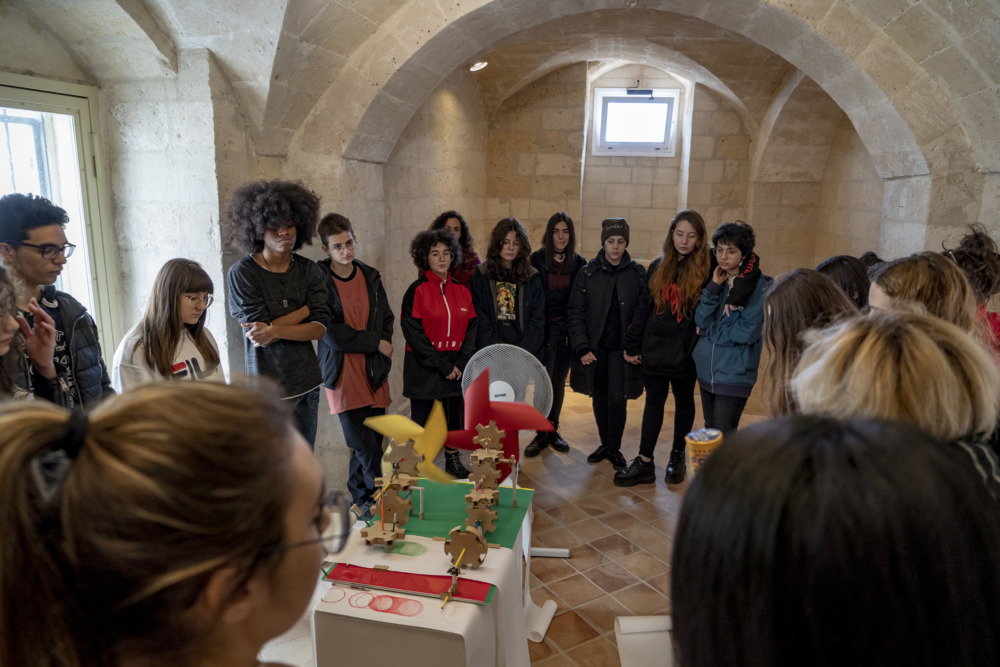 The second workshop focused on the realization of a fold out book with five different faces to be discovered like the five different collections of M.E.M.O.RI. The artist also created her "Interactive Sculpture" that was shown during the workshops.
Gallery visitors, students as well as partners and teachers appreciated the workshops a lot.
Thanks to the support of EU-Japan Fest we had the chance to mix expertises from different cultures, a great opportunity to enlarge our creative debate about the museum as a space where the intercultural dialogue could grow thanks to the mediational power of art.
Further steps will consist in testing the M.E.M.O.RI. exhibition during Matera ECoC 2019 and in continuing the work for the art game, testing the response of the audience in order to clarify the main topics and artistic tools that will be published in a special box and shared throughout European and hopefully Japanese museums.