New arts, voices, bonds: Japan's success during ONE DANCE WEEK 2019
Bulgarians are fascinated by Japanese culture – a captivating sentiment that was reaffirmed by the project FOCUS JAPAN during the 12th edition of ONE DANCE WEЕK festival in Plovdiv. In the year of the title of European Capital of Culture – 2019, we successfully presented some of the brightest dance phenomena coming from Japan. Introducing two diversified in techniques and themes projects, we managed to attract people interested in different genres and art forms along with young people, dance professionals, and foreign tourists. The shows by Japanese performers has led to increasing public understanding of today's creative voices of Japan.
In the festival's biggest and most ambitious edition, FOCUS JAPAN showcased two artistic collectives and shows – I DANCE BECAUSE I DO NOT TRUST WORDS by Kaori Ito and the world premiere of GOLDEN DELUSIONS by violist Biliana Voutchkova, multimedia designer Hans Peter Kuhn, performers Junko Wada and Akemi Nagao. Contemporary dance brought people from different genres, cultures and countries together and the stage turned into a meeting point and a networking ground, which once again reaffirmed what the biggest goal of art is to be a tool of communication and understanding.
Both performances attracted high public interest. The show I DANCE BECAUSE I DO NOT TRUST WORDS by Kaori Ito took place at the Plovdiv Drama Theatre (28th of September) and the full capacity of 136 seats was reached. It was sold-out 2 weeks before the presentation despite the strong competition of other events in the city, including NOH by Noh Yamamoto Theater held at Ancient Theater Plovdiv. Spectators experienced a piece of personal and honest revelation, where a daughter invites her father on stage after many years of physical and emotional separation. Тhe themes of fear of losing a parent, acceptance of the upcoming death, family nostalgia, patriarchal relationships and immigrant life deeply moved the audience, that couldn't hide the tears in their eyes while applauding.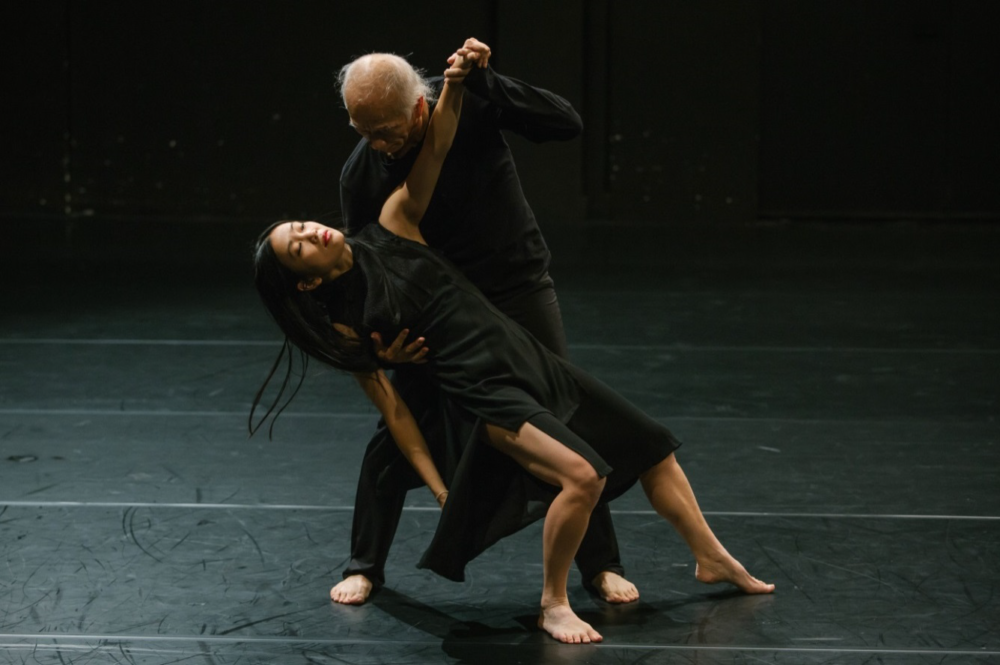 In I DANCE BECAUSE I DO NOT TRUST WORDS, Kaori and Hiroshi Ito reflect on traditional Japanese family relations that many Bulgarians can also apply to themselves. The subtle daughter-father dance was also an encounter with artists from different generations and genres. The moving beauty of the dance met the still impact of the sculpture, built by Hiroshi on stage. Kaori asks her father many long-postponed questions – from mundane matters to the essential themes of existence, faith, and authority. Bulgarian subtitles were displayed to enhance the overall understanding and appreciation of the piece. Delicate and touchy, the show pleased audiences to the highest extent. People could feel familiar with the play and associate with its storyline. In Bulgaria, many families are separated due to migration, generation gaps and cultural influences.
In GOLDEN DELUSIONS, viewers experienced the integration of electric and acoustic sound, light design, live music and performance. Famous German artist Hans Peter Kuhn created a beautiful sound and light installation (24 lamps and 24 sound speakers) installed on a yellow carpet. Japanese performers Junko Wada and Akemi Nagao were joined onstage by Bulgarian improvisational violist Biliana Voutchkova.
Together, they created a world of abstraction, inviting the spectators to reflect on various topics.The world premiere of the piece (11th and 12th of October) took place at an alternative space in SKLAD, the headquarters of the Plovdiv 2019 Foundation.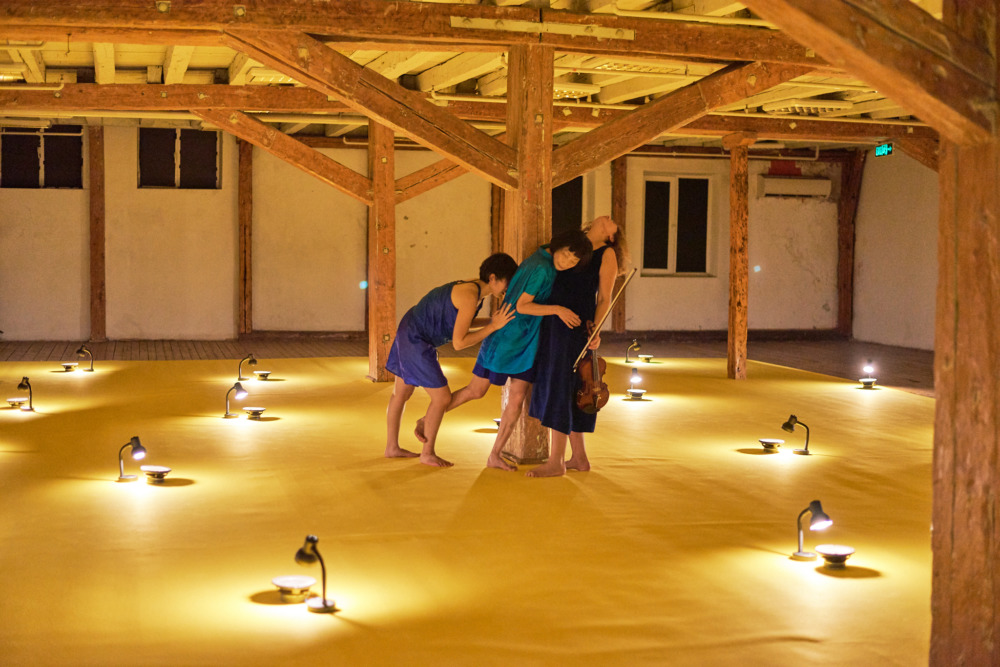 From industrial tobacco warehouse to impressive contemporary exhibition space, the 4th floor of the building was transformed completely by the magic of Mr Kuhn. In the preparation of the project were involved volunteers who had the opportunity to cowork with the interdisciplinary team. In the informal learning process, volunteers developed new skills for their future.
The FOCUS JAPAN performances gained extensive media coverage. We list nearly 100 publications, including online, TV and radio interviews with artists. The communication for I DANCE BECAUSE I DO NOT TRUST WORDS started in April. Following the announcement, we proceeded towards print advertising pages in magazines, online banner campaigns, picture galleries as well as regular social media posts with sponsored campaigns. The show GOLDEN DELUSIONS was also attractive to the media. All the artists appeared on the Bulgarian National Television. The event had an event on Facebook and Biliana Voutchkova gave interviews also for the popular news platform Dnevnik.bg, Vesti.bg and Radio Katra FM.
The logo of the EU Japan Fest Committee was included in 15 000 brochures, 500 booklets, 15 000 restaurant mats, 5000 VIZH! Magazine booklets, 60 posters, 3 banner stands, 10 highway billboards, 1 branded videotrailer and the official voiceover played before all shows.
At ONE DANCE WEEK, we are always trying to bring the best hospitality to our guests during their stay in Plovdiv. Kaori arrived with her baby and was later joined by her mother and father which was a long-awaited family reunion. The Ito family together with the festival's team members and volunteers had a great time exploring the city and sightseeing. Setting up the sculpture under the instructions of Hiroshi was a beautiful possibility for volunteers and team to get to know this renowned Japanese artists and small part of his work. More than 10 volunteers helped setting up the light and sound installation for GOLDEN DELUSIONS, as well as with laying the yellow carpet down. The whole setup took 5 full days which allowed new friendships to arise.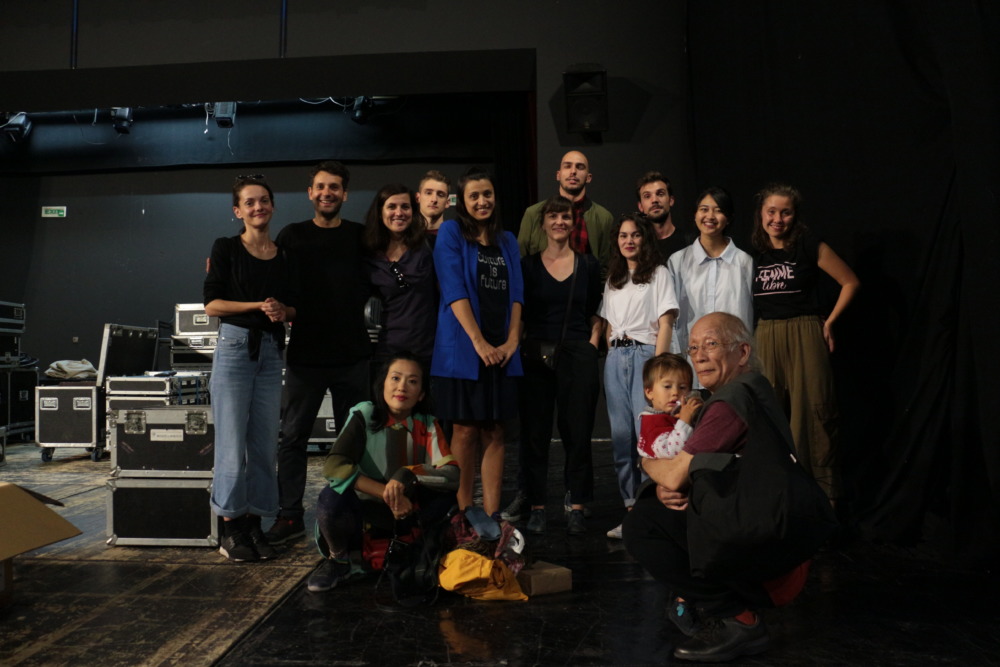 Considering networking and cultural dialog, we enjoyed working with a dedicated Japanese volunteer. Ami Matsumura provided valuable support to the festival and met new friends during her stay in Plovdiv. She took part in various production activities, backstage work, print materials distribution, artist guiding and assistance, etc. As a volunteer, Ami could see and learn about the staging process, the production of the magic behind the curtains.
Supported by the EU Japan Fest Committee, FOCUS JAPAN successfully supported the presentation of contemporary Japanese culture in Bulgaria. The project's sustainability was provided through informal conversations with audiences and participants. As confirmed, local people are open and enthusiastic to see and know more of the Japanese contemporary dance artists of today.