Keeping a Capital of Culture Alive during Covid
Galway Film Fleadh is a six-day international film event held every July in the beautiful West of Ireland. Encompassing a film festival, film marketplace and film conference, the Film Fleadh welcomes filmmakers and audiences from all around the world, all generations and cultural backgrounds. As part of its annual programming, the Film Fleadh curates a selection of films around a particular 'Country-In-Focus' each year.
The Galway Film Fleadh chose Japan as its annual 'Country-In-Focus' for 2020, to be a celebration of contemporary Japanese cinema, as part of our European Capital of Culture celebrations. This project will also serve as a launch event for future co-operation between Galway and Japan, via continued cultural exchange between the Galway & Yamagata City of Film offices, who will provide Irish/Japanese programming for both cities.
The project began with my research trip to Japan, including visiting Yamagata International Documentary Film Festival (YIDFF) in October, the Irish embassy in Japan and the Tokyo Film Market to build future relationships. As part of my trip to Yamagata, I met with representatives from the festival, the city of Yamagata and the Creative Cities Network: Asako Fujioka, Mizuho Kobayashi, and Koji Abe. I delivered a presentation about Galway Film Fleadh at the Creative Cities Conference to YIDFF audiences and guests, and discussed future collaboration with Yamagata. It was also at YDIFF that I saw the film Boy Soldiers: The Secret War in Okinawa and met with director Hanayo Oya, before selecting the film to play at Galway.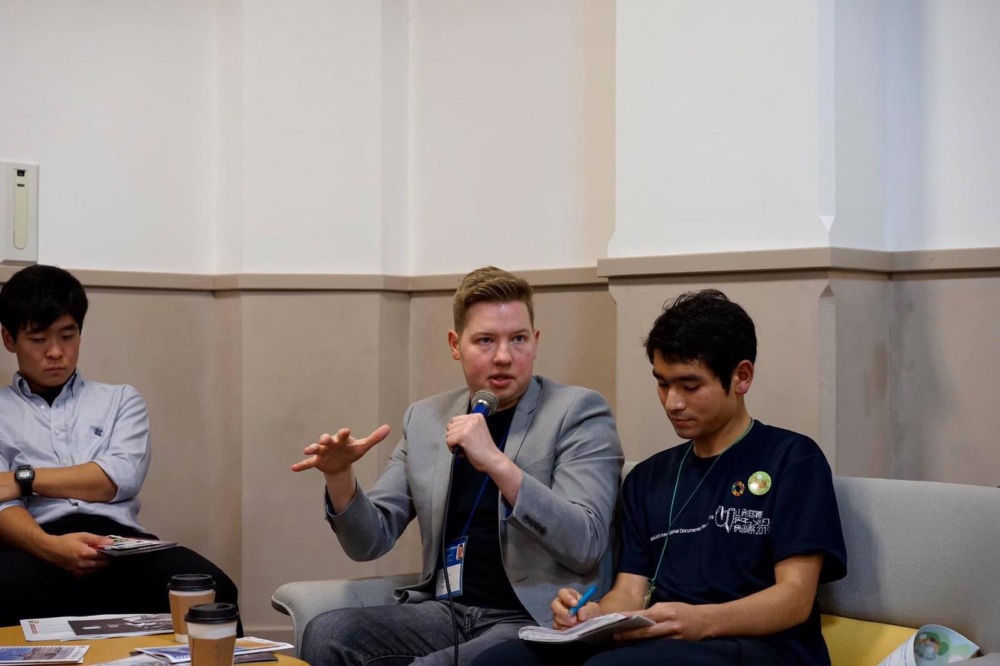 in Yamagata (October 2019) / ©William Fitzgerald 
After YIDFF, I traveled to Tokyo to take meetings and see films at TIFF COM for the purpose of finding more new Japanese films and inviting Japanese filmmakers to Galway for the 2020 Film Fleadh. There, I met with Japanese sales agents, distributors and independent filmmakers, to find out more about their slates of films, for consideration for Galway. Through my meeting with Freestone Productions, I also met with many other international film curators and distributors of Japanese films from Europe and the UK at the Freestone Productions party. I also had some follow-up meetings with some of these distributors at the European Film Market at the Berlin Film Festival in February, before Covid-19 struck Europe.
The original scale of our project was to invite two to three 1st or 2nd feature directors and four to six new Japanese films to the festival, as a celebration of new voices in Japanese cinema in Europe. We has also planned to invite director Hiromasa Yonebayashi (The Secret World of Arietty, When Marnie was There and Mary and the Witch's Flower), to deliver an animation masterclass, alongside a retrospective of his films at Galway.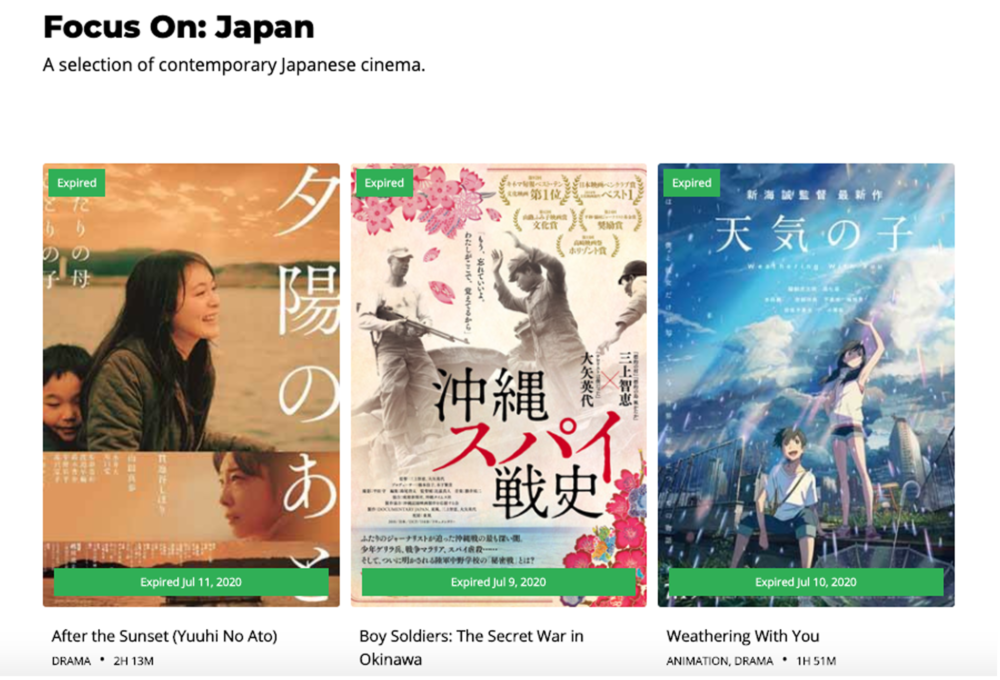 ©Galway Film Fleadh 
Due to COVID-19, the full scale of our original project was no longer possible, but despite our reduced programme (by 60%!), we still showed three new Japanese films, each from different genres: the drama film After the Sunset, the documentary Boy Soldiers: The Secret War in Okanawa and the animation Weathering With You. We achieved this by moving our festival online and streaming the three films to the entire island of Ireland. So even though we couldn't hold the same number of screenings as originally planned, this allowed us to reach a much wider audience for the films than if they had been screened in a cinema in Galway. We partnered with a global leader in festival streaming – Festival Scope & Shift 72 – to ensure that the film streams where high-quality, secure, and easy to access from anywhere in Ireland. All films were streamed with English subtitles. And even though the filmmakers couldn't travel due to Cvid-19 restrictions, we pre-recorded introductions from the Japanese directors that played with the films, so audiences were still able to see Japanese films introduced by Japanese filmmakers.
The 2020 Galway Film Fleadh reached an online audience of over 5million people, with a combined 247 individual streams for the three Japanese films, and many more impressions on social media. Overall, it was massively important for us, and for the city of Galway, that at least one major event from the Galway 2020 European Capital of Culture was able to go ahead, albeit in a new format, and we believe it was a huge success, with so much great engagement online with these important, cultural films and our audiences.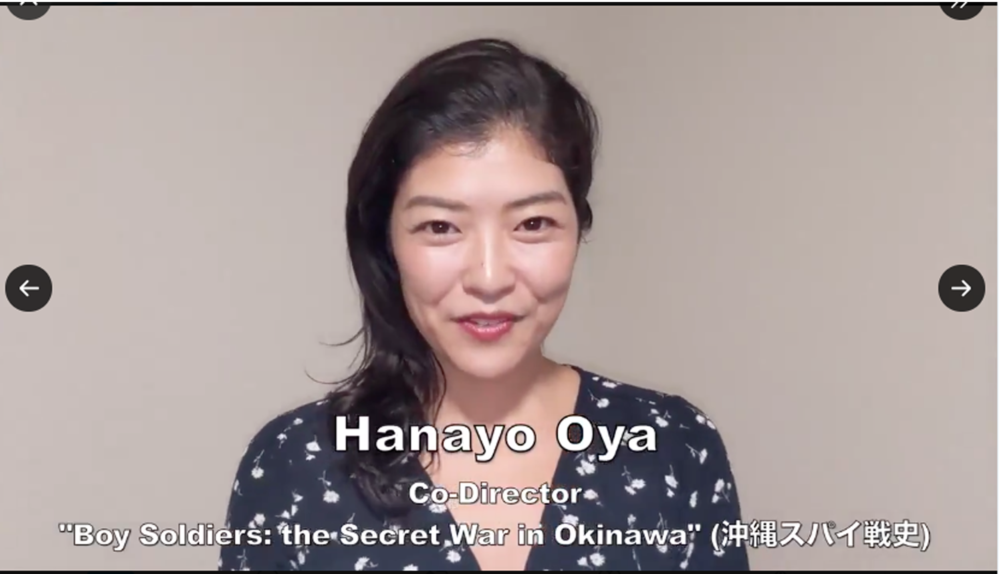 ©Galway Film Fleadh 
William Fitzgerald is the Director of Programming of Galway Film Fleadh, Ireland's leading film festival. He has previously worked with the Foyle Film Festival in Derry, the Tribeca Film Festival in New York and the Irish Screen America festival in New York.