ArtCamp is where we speak the language of art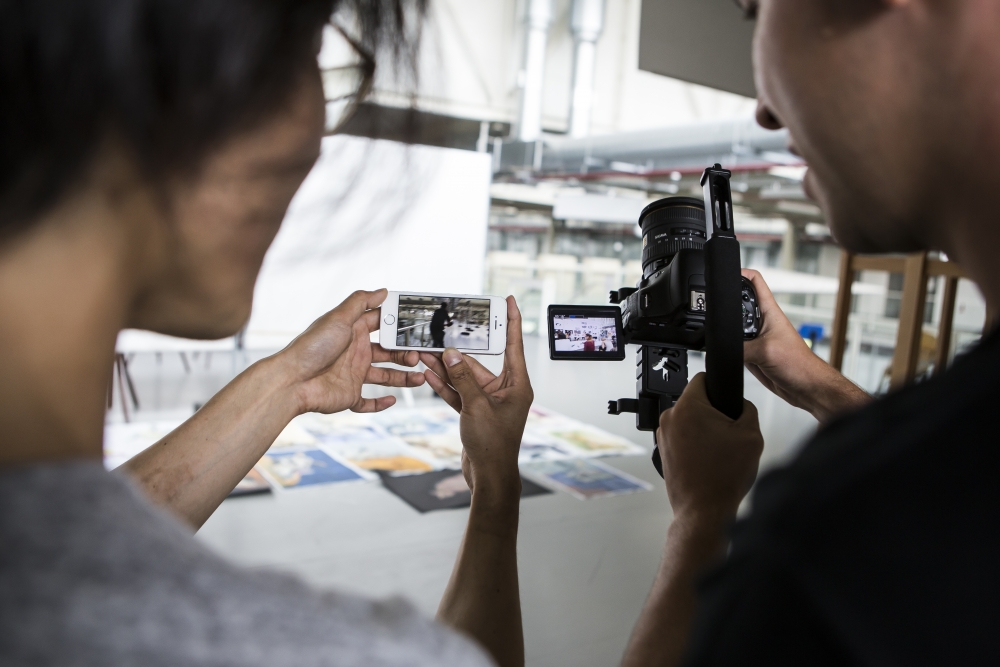 ArtCamp, the international summer school of art, is held annually at the Ladislav Sutnar Faculty of Design and Art of the University of West Bohemia. Over the twelve years of its existence ArtCamp has grown into the largest summer school of art in the Czech Republic and it has become a popular destination for summer studies for art students, artists and the general public. It offers a wide variety of courses and invites international artists every year. Participants of different ages, cultures, nationalities, interests and talents meet and work together in the studios of a unique and modern art building and also in the open air, exploring the city of Pilsen and its surroundings.  ArtCamp 2016 welcomed over 380 participants in its 33 art and design courses which took place 11 – 29 July 2016.
Being an international project, ArtCamp aims to attract artists and students from abroad to give them new cultural and artistic experience, to offer a creative and inspiring destination for their summer studies and to create a platform for further international cooperation.  The cooperation with the EU-Japan Fest Japan Committee and the Youkobo Art Space is one of the ongoing projects which help to enhance the international aspect of the summer school and to create a culturally diverse environment for the participants. ArtCamp 2016 welcomed four Japanese participants and one visiting artist thanks to this cooperation which started in 2013 (1 student in 2013, 10 students in 2014, 5 students and 1 visiting artist in 2015).
The group included students from three Japanese art universities and one arts management specialist, who also had an opportunity to research about ArtCamp and its organisation to assess the possibilities of establishing a similar programme in Akita, Japan. Experiencing the courses, taking part in the accompanying programme and meeting with ArtCamp organisers who shared their know-how gave him a complete experience from both sides which might lead to further possibilities of cooperation in the future and more contacts with Japanese art schools and organisations.
The four Japanese participants took part in three one-week art courses each and completed them all successfully.  The courses included Art Therapy, Architecture, Ceramic Design, Bookbinding, Video Making, Digital Photography, New Media and Principles of Contemporary Dance. Their ArtCamp experience included participation in the eventful accompanying programme which gave them the possibility to meet with their new friends outside school and fully enjoy their stay in Pilsen. The programme included artist presentations, student movie nights, sightseeing (including tours of the famous Adolf Loos interiors), exhibition openings etc. Watching them fit into the groups of young artists, make new friends, develop their talent and enjoy the whole experience was very rewarding for us. The feedback from the participants has confirmed that taking part in such summer programme helps young artists to broaden their perspective, get new skills and inspiration, gain new friendships and cultural experience important for their future life and creative activities. Such experience might also influence their personal lives, views and future decisions about studying abroad or participating in an artist in residence programme. Moreover, the possibility to meet and work with Japanese guests is equally important and beneficial for Czech students.
The international atmosphere of the ArtCamp summer school is created not only by its participants but also by the visiting artists. ArtCamp 2016 welcomed artists from the USA, Canada, Poland, Slovakia and for the second time also from Japan. The Tokyo-based architect Kazuhiro Yajima taught a one-week course of architecture focused on the Japanese tea house tradition with a very positive feedback from the participants. They explored the differences and similarities between Japanese and European architecture, learned about the tea house tradition, architectonic principles and philosophy, visited the famous Adolf Loos interiors and learned how to make a traditional OKOSHI-E paper model to represent their own tea house design. Kazuhiro Yajima also presented his architectonic projects in the PechaKucha format during the ArtCamp 20×20 public event.
ArtCamp represents a key tool in the development of international relations of the Ladislav Sutnar Faculty of Design and Art. We hope that the contacts with Japanese universities and artists initiated thanks to their ArtCamp participation will develop and lead to further mutually beneficial cooperation, including student and teacher mobility, exhibition projects, artist in residence projects etc.
ArtCamp brings people together – even from such distant countries like the Czech Republic and Japan. Despite the distance and cultural differences we have many things in common. And we speak the same language – the language of art.