With Japanese views and Estonian minds
 Twenty-five years has passed since the North European small country, Estonia, regained her independence from Soviet Union. Because of the same reason of "neighboring countries of big Russia", it seems that Estonia has rather lots of pro-Japanese in EU. Recently in Japan too, the numbers of people who like Estonia are surly increasing. Favorite targets must be individually different, such as people, nature, native culture, art, music, IT or more, most of them get interested in Estonia after visiting this country. Noboru Sonehara is one of them. But he himself searches deeper Estonian mind to be touched and captures in photos. Six years ago, he visited a tiny World Heritage island of Kihnu on the Baltic Sea, which is 7km in length and 3km in width, and was completely fascinated with its idyllic scenery. Since then, during intervals of his working schedule of photo magazines he visited there nearly every year and pressed shutters of the living people on the island, his gentle looking and character were enough to have communication with the local people, no words needed. Women working in their national costumes, big and calm nature in the small island, animals as family members and so on. Those targets were always looked relaxed and seemed time was stopped. 
 How do Estonian city people feel if they see photos taken by a Japanese photographer to express the enchantment of the island on Japanese viewpoints? With this question, our photo exhibition project in Tallinn, the capital, had begun. However, at the same time, an uneasy concern came up to cohost organizers' minds. It might not be accepted because of such common subject, the World Heritage Island, and we could not proceed it easily. Kihnu Island was known as a popular sightseeing place and numbers of sightseeing magazines and media had already introduced the island. It must be a kind of too much and boring for Estonians, they thought. But there is always some way out of a difficulty if you really look for one, a new idea had come out. Thanks to the support of EU-Japan Fest Committee, we could decide to add exhibitions of photos of Japanese life taken by Estonians in Japan and Ikebana by local circle members. This idea was gained acceptance by the cohost organizer, the Estonian National Library too and we could proceed smoothly. We learnt anew, in spite of a matter of course, that we can find a suitable way if we do our best to exchange ideas without giving up.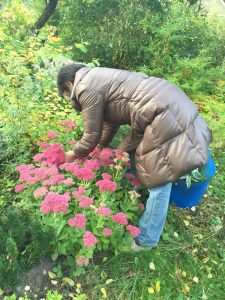 A day before the exhibition opening, we visited our friend's country house to get materials for Ikebana in her soccer-ground-sized garden. This was my first experience to get natural plants and do Ikebana with them. We normally order and get materials paying much money at flower shops. Even if someone who do Ikebana with natural plants from her garden, she should be of respect. But very fortunately I was given this good opportunity to do Ikebana arranging with natural live plants. It is normal for the members of the Ikebana Circle in Tallinn to study Ikebana making full use of characteristics of natural plants from their own gardens or fields and arranging them. This story touched my heart. They are living with nature and having spiritually rich life. We, while being an Ikebana original nation, may have forgotten this kind of spirits of Ikebana, I learnt from their hearts.   
The day of the opening of the exhibition. At the entrance of the gallery in the beautiful National Library building, a big white square vase with brilliant red ivy Ikebana arrangement caught eyes. All flower vases as well as this excellent big one were the artworks by a member of the Estonia-Japan Association. The exhibition had been successfully completed to show the fine collaboration of Estonia and Japan before visitors coming.
Those Sonehara's photos, which were featuring simple and normal life in the Kihnu Island and being enhanced to the level of art, certainly glued local visitors eyes. Some kept standing long in front of photos one by one. Those artistic beautiful photos on everyday life were completely different from others on travel guide brochures. They were perhaps a kind of "scales falling from eyes" for the local audiences. It was our honor as Japanese to be able to give such opportunity to them. With the assistance of EU-Japan Fest Japan Committee support it came true.
For the opening ceremony held on the 4th October, Japanese Ambassador to Estonia Yoko Yanagisawa attended as well as nearly fifty attendants including people from the library, Japan association, local Japanese and pro-Japanese in Tallinn. The snacks, sweets, green tea, and Sake brought from Japan were all eaten and drank up very quickly. Watching those empty dishes and cups we understood how much Estonians have interests in Japanese foods too. This moment gave us courage for our activities in coming future. For twenty-five years since our association foundation we had many exchange activities and along with recent growing information of Estonia, slowly but certainly wide range of inquiries and requests arriving us are increasing. Estonia will celebrate centenary in 2018, we, as one of the organizations longest having related to Estonia in Japan, will continuously make every effort for our mission, we had a renewed sense of this importance.
In conclusion, telling the result of this exhibition that the period was extended one week because of wining favorable recognition by audience and the National Library, I, on behalf of Japan-Estonia Friendship Association and other co-organizers of the Exhibition "DIALOGUE : ESTONIA-JAPAN, PHOTOS AND IKEBANA", would like to express our thanks to EU-Japan Fest Japan Committee for giving us the kind support. Thank you very much.