"What do you know about Croatia?"
Congratulations on your side's performance at the World Cup. I've heard that Croatia's seawaters are among Europe's most beautiful. For my university entrance exams I studied about the conflict in the former Yugoslavia, including Croatia, but it was actually from several movies I saw later that I learned what a tragedy it was. I have never been to Croatia or ever personally met a Croat. I find it very interesting what the country might be like. . .
That was the response I wrote to a question in English on my personal history. Perhaps I really ought to have done a bit of research and written a magnificent reply, but unfortunately I only had a limited time to do it. I also thought, however, that it might be more informative to be honest about it and write only what I knew at the time. That's what I did, and two weeks later I was on my way to Croatia.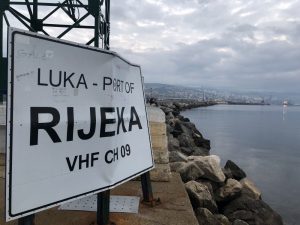 Rijeka is originally one of Europe's more important port cities and has been designated a 2020 European Capital of Culture. This was the first time for the Rijeka Puppet Theatre Revue, in its 23rd year, to try out volunteers, and we were sent from Japan as international volunteers. We had heard in advance that the concept of volunteers did not have a very good image in Croatia, what with the vestiges of socialism and the wars. How then would we assigned volunteers get on? My time there would be spent in groping for how to plant the seeds for future cultural exchange between Japan and Croatia. But in the end what I was able to accomplish was more than just helping at the puppet festival: over the twelve days given me I immersed myself deeply in the city of Rijeka and the people who live there.
The day before the festival we pieced together with Magdalena and Vedrana, leader and staff of the Rijeka City Puppet Theatre, and Ana, also theatre staff and also taking care of us as our volunteer coordinator, what sort of work we would be doing. The first job they had for us was to man the gallery showing an installation. Another was to join in part of the performance given on the night before the opening.
The performance given that evening was by students from the Academy of Arts and Culture in Osijek, Croatia, and we promptly took on our first job. For an actor it's a thrilling assignment to take part in a production in whatever form.
And then we manned the gallery for several days, but few people visited the gallery and there was hardly any work for us to do. Feeling inadequate, I asked around whether there was any other work or whether I might help with this or that, but didn't get to help much this way.
So I decided that I would just help out spontaneously. I would lend a hand if I saw someone needing help before a show, for example, or with the breakdown after a show. And if I was told that so-and-so would be coming at such a time, I would be at the service door at that time and help bring things in. And help bring things out, too.
Bearing the title of volunteer, one burns with a sense of mission, that one must be somehow helping with something. (And maybe this is especially so for a conscientious Japanese person.) Associating with people in Rijeka, however, that sense of mission gradually quieted and I came to think that perhaps it was already of great significance just for us to be here in this city, at this festival. Part of it was that much communication grew out of people approaching me with interest when I only showed up at the venue for a show. Just as I had never before in my life met a Croat, many of the local people had never spoken with a Japanese person. I met many people during my stay in Rijeka, and exchange grew from it. And then I came across associates I could call friends, and like-minded folk working as actors and artists. And we shared lots of different things. Talk of drama and art. Trivial stories that we laughed about. Croatia and Japan. Ourselves. The past and the future. And people my own age spoke to me of the wars they experienced.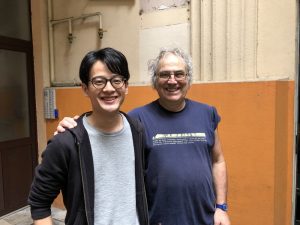 Encounter, interaction. That itself may be the "seeds". And the spirit of helping out at one's own initiative being what it is to "volunteer" in the first place, I came to think of it as the natural behavior of "wanting to lend a hand" that comes naturally to a human being. And in this way I came to a way of being neither greedy nor passive, but always able to accept what was offered by the people around me.
Volunteering must not be pushy, but organic. Help out where needed, and enjoy interacting with people. Eventually we were given new work. "Ask me to do more!" was my feeling, even if it was a simple task not necessarily directly involved with the festival, and it was a delight to be asked.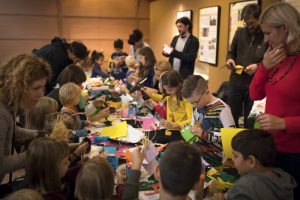 It was by no means a large festival, but there were pieces from wide-ranging genres, including the children's theater and ones for adults, as well as what is called puppet theater, from Croatia and from neighboring countries, and I found it intriguing that the selection was so flexible. Children packing the hall and watching intently were a sight giving cheerful hope.
"What do you know about Croatia?"
Rijeka. The people of Rijeka. The streets of the city and its theaters, the harbor, its airborne gulls, the sight of people selling umbrellas as soon as it begins to rain, the restaurants I frequented, local clubs and bars where even the locals hang back . . . From grand scope of history and culture to personal memories. All these things are what Croatia means to me now.
Finally, I would like to say thank you to everyone who worked hard to make this assignment possible, who gave me this wonderful opportunity, everyone at the EU-Japan Fest Japan Committee secretariat, everyone at the Volunteer Bridge Project secreatiat, Minako Mori who traveled with me as my partner volunteer, and everyone at the Rijeka City Puppet Theatre.
On to 2020, and then further on from there.
May the seeds I've sown bud successfully.