The first traveling Kiri-e exhibition in Bulgaria
"Beauty of Japan" colorful Kiri-e exhibition was supposed to be a one-time event, held in Plovdiv in November 2021. The exhibition was magnificent with its more than 130 artworks from more than 35 artists. It came and went and it was well-visited and liked, but it happened in a COVID peak in Bulgaria, so not so many people managed to come and see it, especially from other cities.
That is why I had the crazy idea to make it into a traveling exhibition and show it all around Bulgaria. My idea was to do it in other cities where I will have the support of the municipalities, so I won't need to spend a lot of money on renting galleries and self-promoting, but invest in the other expenses connected to a traveling exhibition like travel and accommodation. I'm really glad that EU JAPAN FEST embraced my idea and helped me make it into the big adventure it became.
I can't say it was easy – these were a few very hard months for me – I had to promote each event and make a lot of materials for each one, travel to all the cities, arrange the exhibition, open it officially, make the related programs and leave. And after two weeks or so – go to the same city again, take down and pack the exhibition, take it to the next city and start all over. But I can say it was definitely worth it seeing all the happy and admiring people.
The first stop of the exhibition was Sofia. As the capital of Bulgaria, it is the place with the most fans of Japanese culture but also the city with so many things happening that finding an exhibition hall is usually difficult. But with luck and help from friends we managed to secure an amazing gallery right in downtown Sofia, that managed to host the whole exhibition, not only part of it as was my original idea. The exhibition was very well-received and we had a lot of attendants in the workshops. For the first time we managed to make workshops for colorful kiri-e.
The other exhibitions in Burgas, Stara Zagora, Veliko Tarnovo and Shabla were very intriguing for the local people and for us, because they were the first ones held there – people met Kiri-e for the first time and loved it.
The exhibition in Stara Zagora was a really exceptional – the city printed more than 1000 posters and advertised the exhibition as it should be done. I was really worried about that exhibition, because when I went to arrange it, it turned out that there is an entrance fee to be paid to enter the whole gallery (as it had a valuable permanent exhibition that you need to pass through to get to the Kiri-e one). I thought this might be a problem for people for a smaller city, but I was wrong. Although the official opening was during another important city event, the hall was crowded and a lot of important people attended too.
This exhibition was very important for us for one more reason – Stara Zagora is the hometown of one of our artists Plamen Kalov – he was proud to present his art to all the people from back home, and also the people from the city were proud to have such a talented local artist.
Also, that was the first exhibition in our close to 10-year history that so many artworks got sold. People really loved it and we have an invitation to make another exhibition next year.
The exhibition in Shabla was also very unusual and interesting. I was getting worried that I can't find a fifth gallery to show the exhibition and thought I would finish the project with only four. But suddenly I got a call from the Director of the Green center in Shabla, asking me to make the exhibition there. She found out about me from Yuliana Antonova – Murata – a Bulgarian married to a Japanese, who lives in Japan for a long time now. She has written three books telling stories of her life in Japan that are loved by the Bulgarian audience. She was having a tour promoting her new book and she thought it will be interesting if they can make the book promotion with an exhibition of a Japanese art. And this is how our fifth and last exhibition came to be.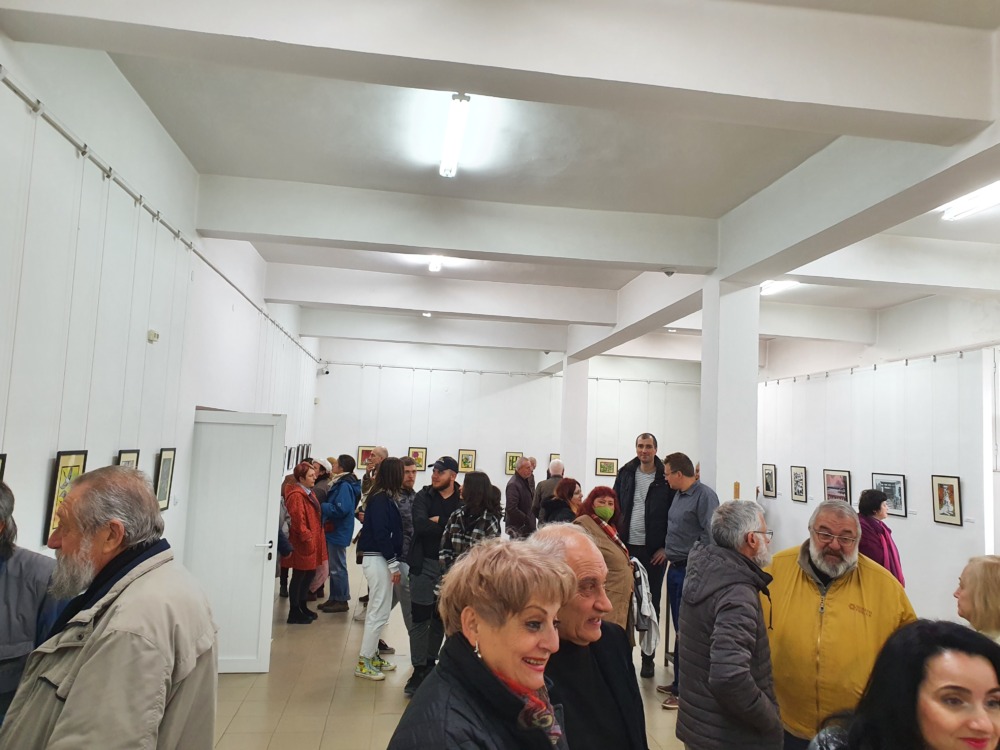 A lot of things happened during the exhibitions were running, including the passing of one of the Japanese artists that participated in it – Junkei Sugaya. We were really sad to hear that, but we were glad that we managed to show his art in Bulgaria.
Now we are looking forward for our next Kiri-e adventure and hopefully we will be able to present this amazing exhibition in Japan also.