Hand Shadows ANIMARE in EU tour 2022
Kakashiza is shadow theatre company that will celebrate its 70th anniversary in 2022.Hand Shadows ANIMARE, an innovative performance using only hand shadows that premiered in Germany in 2009, attracted a lot of attention and has continued to perform abroad until 2019.
Due to the 2020 pandemic, the overseas operations were suspended and the overseas approach continued online, including online performances of Keepgoing TOGETHER.
In June 2021, I had the opportunity to negotiate with Esch and Kaunas, the European Capital of Culture in 2022. I therefore planned a tour coordination for these two countries, plus Frankfurt, where the 2021 remote performance and WS were held, for a total of three countries. However, in addition to coordinating the dates in each country, the planning was difficult, as I had to keep on the pandemic situation. Furthermore, the Russian invasion of Ukraine. Lithuania, where Kaunas is located, borders Russia, and we wondered whether we could take artists to a country neighbouring a country at war.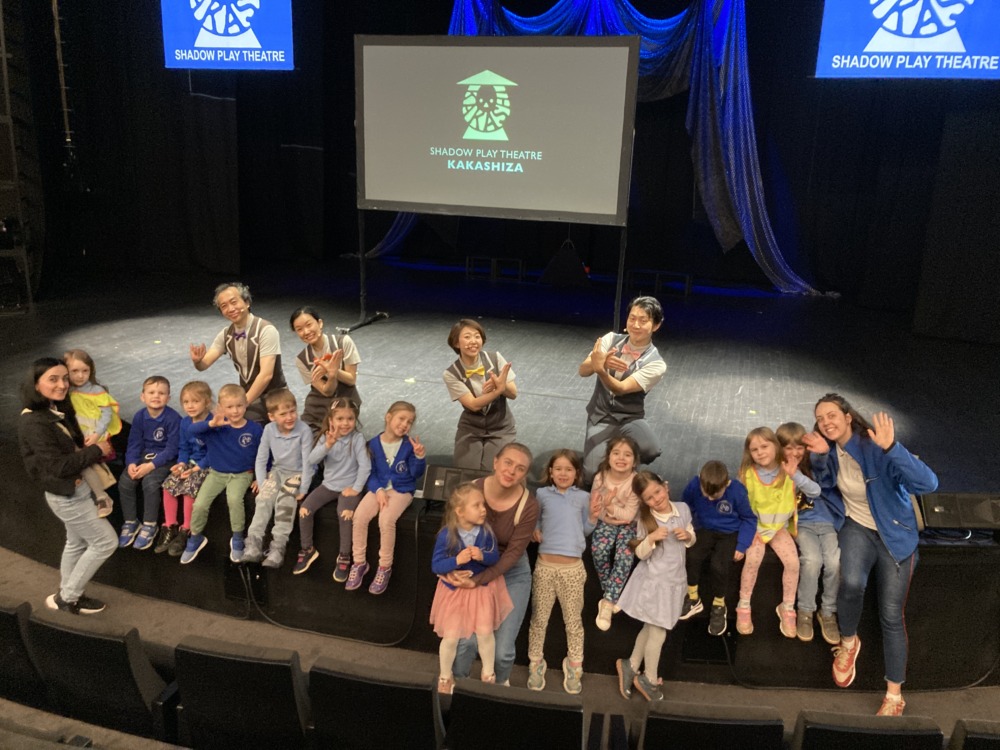 However, it was Mr Kogi of EU Japan Fest and Kristina Baguckaitė of the Kaunas National Puppet Theatre who gave us a reassuring call. They introduced us to the exact international situation, the situation of COVID19 and the thoughts of the local artists working in this context. And above all, an enthusiastic call to want to enjoy the Japanese shadow performance! In March, the travel conditions were substantially lifted and my mind was gradually made up.
Then I heard that 40,000 people had been evacuated from Ukraine to Vilnius, the capital of Lithuania.
"Is there anything we can do?"
With this in mind, I set up the project "Hand Shadows ANIMARE Aid of Ukraine" during the tour itinerary. There are already 40 days until the trip. Everyone said it was impossible to organize aperformance abroad now. But I did not give up, I contacted ASSITEJ (Association Internationale du Theatre pour I'Enfance et la Jeunesse
) Lithuania, and after negotiations, the theatre Keistuolių Teatras took our wishes into account and arranged publicity and an invitation system for evacuees from Ukraine. They also provided us with publicity and an invitation system for Ukrainian evacuees. The theatre offered us two performances! Two 450-seat performances for 900 people, on a weekday, three weeks before the performance… We were constantly worried about whether we would be able to attract an audience.
On the other hand, there were meetings in Esch, Kaunas and Frankfurt. This time I was busy playing three roles: organizer, tour coordinator and performer. I was busy until the very last minute of my trip, and even during the trip.
Departing from a quiet Haneda Terminal 3.
First day in Esch, Luxembourg. First landing for Kakashiza. The venue was the auditorium of a middle and high school. Due to the lack of normal hall equipment, set-up was sometimes difficult, but was completed successfully. The venue was almost full, and the visiting Ambassador Okuyama and his wife were very pleased with the success of our performance. Mr Tanaka from the Embassy, who attended to us, also said that our first performing arts initiative was a great success and asked us to come back again in the future if we have the opportunity.
Next up was the first visit to Lithuania. The first day of performances will be in the capital Vilnius. In addition to being KAKASHIZA's first performance organised abroad, it is also a charity performance, with all ticket sales being donated.
The result of the last-minute proposal was, surprisingly, a full house. The performance was met with thunderous applause and a standing ovation! The Ukrainian flag was hoisted on stage at the suggestion of the venue. Evacuee families from Ukraine also came to fun the performance, and we presented them with our book 'How to fun hand shadows', which contains pictures and instructions on how to make hand shadows. While we were very happy to see the smiles on the children's faces, the only Ukrainian visitors were mothers and children. There were no men. We had to have very mixed feelings.
Ticket sales amounted to €2,883. The entire amount was donated by ASSITEJ Lithuania to ASSITEJ Ukraine. This will be used for children and youth performing arts in Ukraine.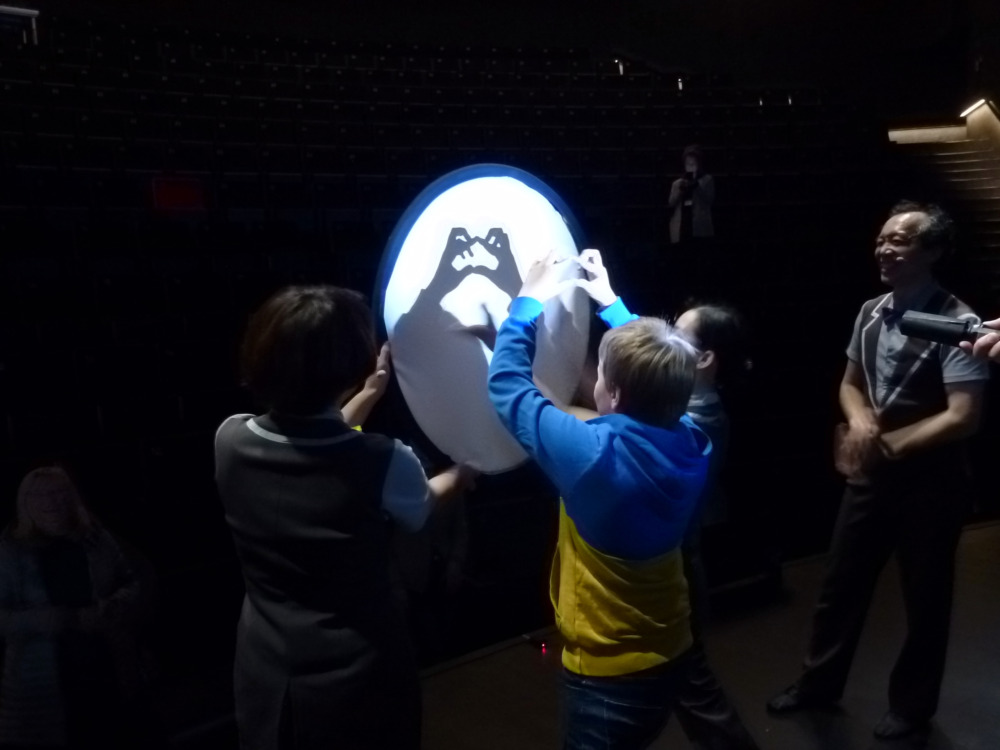 Then to Kaunas.
KAUNAS PUPPET 22. INTERNATIONAL PUPPET THEATRE FESTIVAL.
More than a dozen theatre companies from the Baltic States and other countries, including Ukraine, participate.
Kaunas is already the European Capital of Culture, with various events taking place simultaneously, and there is artistic scenery everywhere.
KAKASHIZA was the only theatre company to participate from the beginning to the end of the festival. It was a very valuable and intense five days, during which we were able to see productions from different countries and interact with the artists. Among them, I had the opportunity to see a performance by the shadow theatre company PAPASONY, based in Kiev, the capital of Ukraine, and I was very much impressed by their performance. I will never forget the respectful and enthusiastic standing of the audience after the performance.
Our performance was also a great success: both performances were fully booked and the audience sat on the steps of the aisle, a style of theatre viewing that would be unthinkable in Japan. Ambassador Ozaki and his wife also attended the performance. The workshops were set up for festival artists and were both fun and fulfilling work. On the last day, there was a farewell party and we said our goodbyes before heading to our next country.
To Frankfurt, our final destination. We were invited to the world's largest Japanese film festival, NIPPON CONNECTION, for the second year in a row, last year remotely, but this year we were invited to perform in Frankfurt. Kakashiza participated in a performance and workshop the category of "Japan Culture". We had a lot of fun with many guests.
We are convinced that this experience will definitely lead to the next phase. I felt once again that culture and art are truly diverse and universal, and can transcend all barriers and speak to people.
We hope that peace will soon return to Europe.