The first Japanese event after the COVID in Bulgaria
A Japanese culture festival in Plovdiv was a dream of mine for a really long time. I've organized events in so many places, even in other countries, but never in my hometown – Plovdiv. So, I was really excited when I found out about the program, connected to Japan for Plovdiv 2019.
The first "Anime & Gaming Festival" we organized in 2019 was a huge success, so now minе and my team's dream is to make the event into a tradition. The Plovdiv 2019 Foundation shared our dream because they approved the funding for our second edition and are helping us a lot.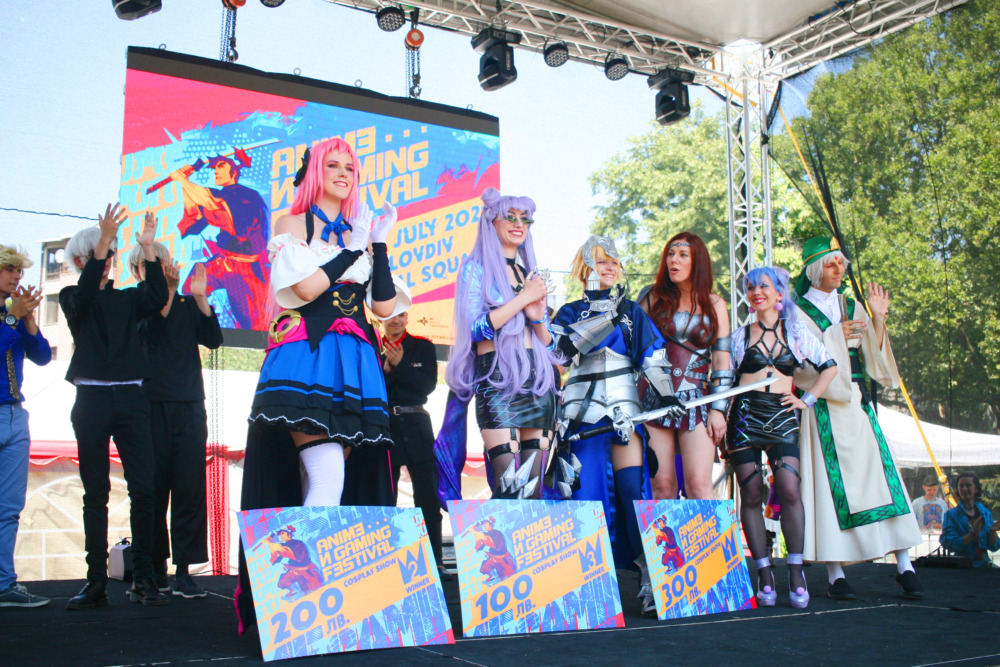 Because of the COVID pandemic in 2020, we decided to postpone our event – we care about our audience's health. So "Anime & Gaming Festival 2021" was the second edition of the event and we decided to make some changes to the way we hold the event this year. The festival was an open-air event with free entrance. That allowed us to hold the event in a very communicative place – the central square of Plovdiv and to attract more visitors, even those who were just passersby. We also changed the duration of the event – last time it was only one day, and this time it started on Saturday afternoon and continued all through Sunday.
I can say with certainty that the event was a success – there were so many people! Because of the free entrance, it's difficult to tell with precision, but we can say that for both days of the event more than 4 000 people came. The visitors were really dedicated to the event – they stayed and watched the program even when rain poured on us and in the scorching sun.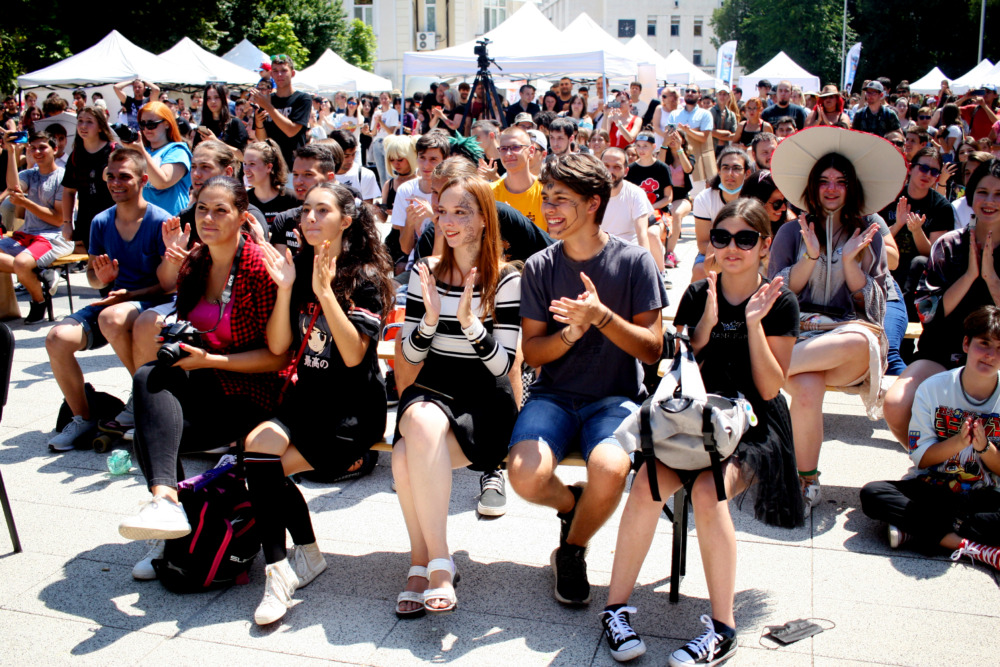 The event had several different areas with the program throughout the event, so people could choose what to attend and what to see and they won't have any time to get bored.
There was a Merchandise area, where people could get all kinds of souvenirs – posters, accessories, stuffed animals, handmade souvenirs, manga and even more traditional Japanese souvenirs like Kanzashi decorations and origami postcards.
We also had a Workshop area, where people could make something themselves and take it as a souvenir. We had Pixel art and Origami workshops for the younger visitors and Kiri-e and Ikebana workshops for the older ones.
The Manga and Comic Book library was a very popular attraction too. We have more than 600 books there and each year we buy more, so we can renew end expand the collection. This area was originally thought of as a relaxed corner where people can have a rest from running around or wait until the next interesting lecture comes up, but it turned out that a lot of people came to visit this area specially and even waited in line to go ad read manga from the moment we started the festival.
The Gaming area this year was a bit different from what we had in 2019. The open-air event didn't allow us to make the competitive e-sport tournaments that we had before, but we had a great retro-gaming area with arcades and a fun area with Nintendo Switch and PlayStation consoles where people danced and battled and enjoyed themselves.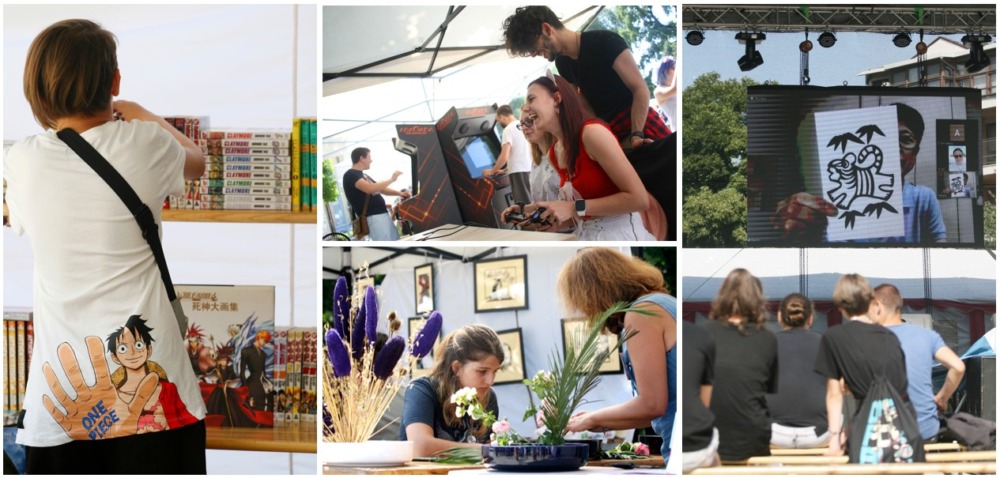 The biggest attraction of the event, of course, was the Main stage. On the first day, because we had only two hours of stage programs, we started with one of the more anticipated programs – the dance show. Asian dances and especially J-pop and K-pop are very popular in Bulgaria, so there are a lot of groups dancing to those pop songs. We had an hour and a half long show with 18 groups from all over Bulgaria.
The second day of the event started with the online live conversation with Onodera Mayano. This is the first time we did something like that at an event and it was really successful. Onodera-sensei talked about the origins of Kiri-e and Senga and their current dimensions. She also talked about the exhibitions she makes in her gallery in Tokyo. We used that tribune to announce our common Kiri-e exhibition that will happen in November in Plovdiv.
Later that day we had our second meeting with Japanese guests. The cosplay duo MioMayo visited us in person in 2019 but this didn't subtract from their appearance now. Our hosts talked with them about their visit to Plovdiv in 2019 and how it was an experience for them. They also told us about how the pandemic reflected on their cosplay and their lives and their future cosplay plans.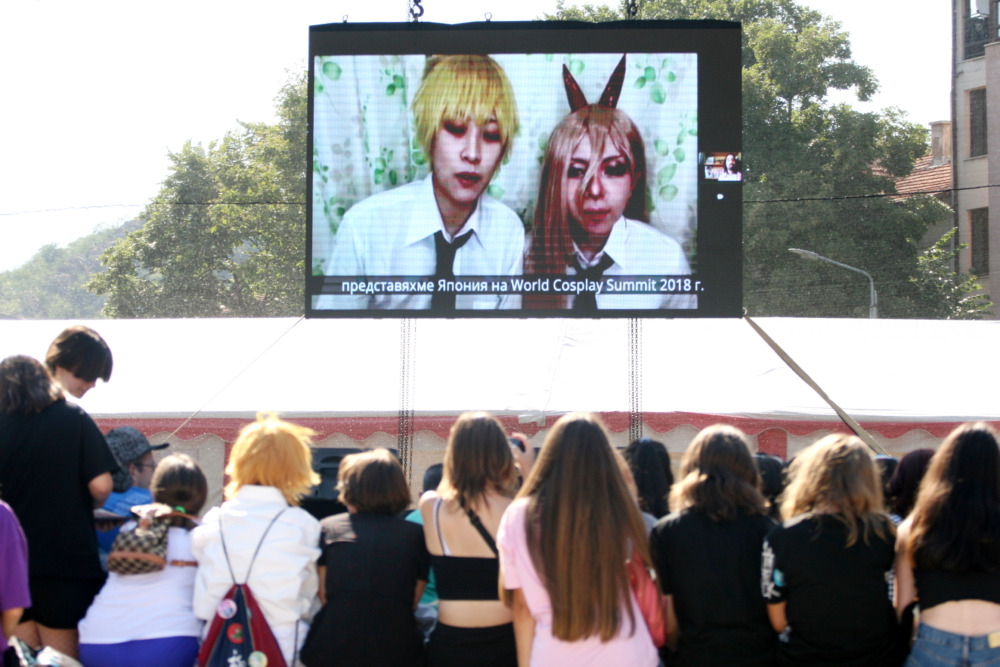 The Cosplay show also gathered a lot of visitors with more than 30 participants, and our beautiful and talented cosplay guest judges from Serbia, who had a panel on stage to tell about their experience and future plans.
The closing event in the program was a lecture and a fashion show on Kitsuke – the art of putting on Japanese kimono. One of our hosts – Dora Somova, has a huge collection of kimonos, yukata and other accessories, and we usually organize an area where people can put on a yukata. Because of the hot weather and the pandemic, we decided to change the format this year and I think it was a very successful change. There were 10 girls dressed in different kinds of kimonos and Dora told the audience all about them – the different kinds and their symbolism and specifics.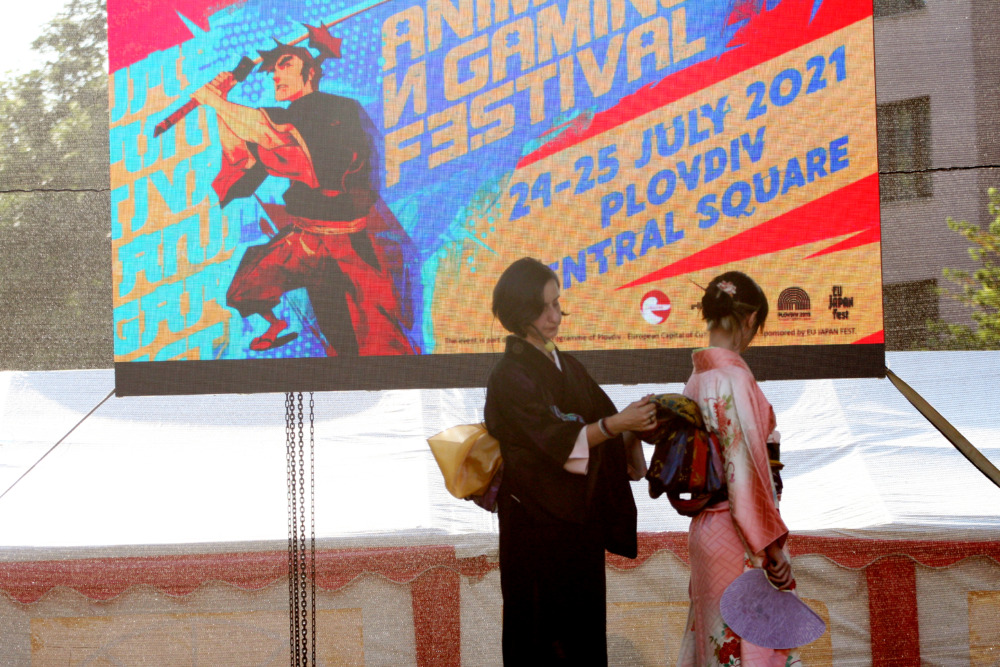 I'm really happy that this event happened. We missed the atmosphere of our events and the energy of the visitors for the past two years more than we realized and that gave us the motivation to continue and grow and make even more great events and invite even more amazing guests from Japan.
We are happily preparing for the next edition of the event for 2022 and we can't wait to meet all our fans again!