Presenting the ancient Japanese flower art in the ancient city of seven hills
Ikebana is my passion: an art combining beauty of nature, spiritual philosophy, relaxed state of mind, creativity. Ikebana in Bulgaria is familiar as a term, but not so much in essence. In Sofia, the capital city, there is a community of Bulgarian ikebana artists, as well as an official Sogetsu Sofia study group, but in Plovdiv, the second largest city, the art has not been presented. That is what I wanted to achieve with the Sogetsu Ikebana Art project – perform a memorable introduction of the Japanese flower arrangement to the people and guests of Plovdiv.
They say that you rarely have a second chance to make a good first impression, and I wanted to make no just good, but and outstanding first impression of ikebana.
That is why I invited an outstanding ikebana artist, Sumura Eikou sensei, and Yuka Okubo, from Sogetsu school headquarters in Tokyo.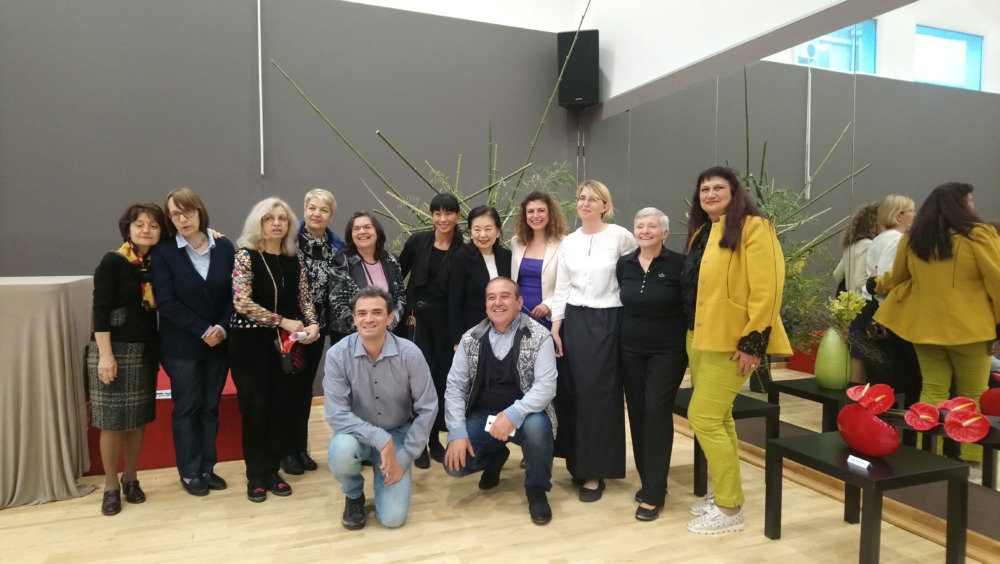 Sumura sensei created a large bamboo ikebana installation, the "trademark" of Sogetsu school, which impressed all the guests of the exhibition, which stayed for four days at the Plovdiv Cultural Institute. It was a true collaboration of Japanese and Bulgarian artists, with more than twenty ikebana compositions created by the members of Sogetsu Sofia study group, and our Japanese guests.
The opening of the exhibition on May 16, 2019 was marked by an unforgettable demonstration by Sumura sensei, involving also people from the audience – a not so "traditional" approach, but highly enjoyed and applauded by the viewers.
The hall was crowded with people, making pictures and videos of the exhibition and Sumura sensei demonstration, asking questions and showing great interest in the art – it was every organizer's "dream come true".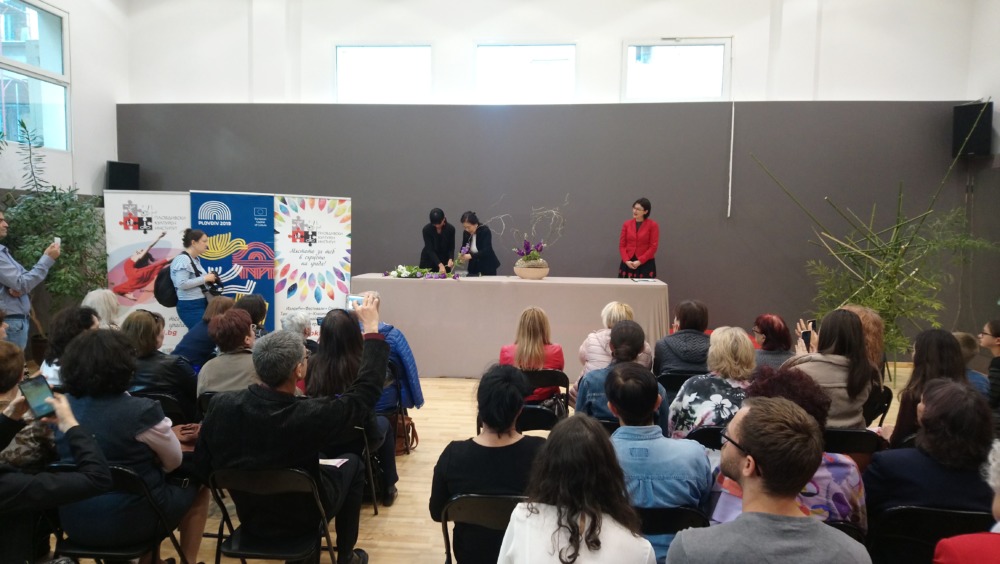 In the next three days a lot of people came to see the exhibition.
But I wanted the people not only to see ikebana, but also try ikebana, and with a great teacher.
On Sunday, May 19, 2019, we had two workshops "Let's make our first ikebana together", one in the morning and one in the afternoon, in the Plovdiv Cultural Institute, lead by Sumura sensei.
More than 30 participants took part in the workshops, not only from Plovdiv, but from nearby cities of Pazardjik and Stara Zagora, country of Poland and even "nearby" continents – a girl from Australia, visiting Plovdiv at that time, also tried her skills in flower arranging. We had moms coming together with their kids, and the ladies' dominance was "balanced" by two gentlemen, who were aware that ikebana in the distant past was practiced by the samurai.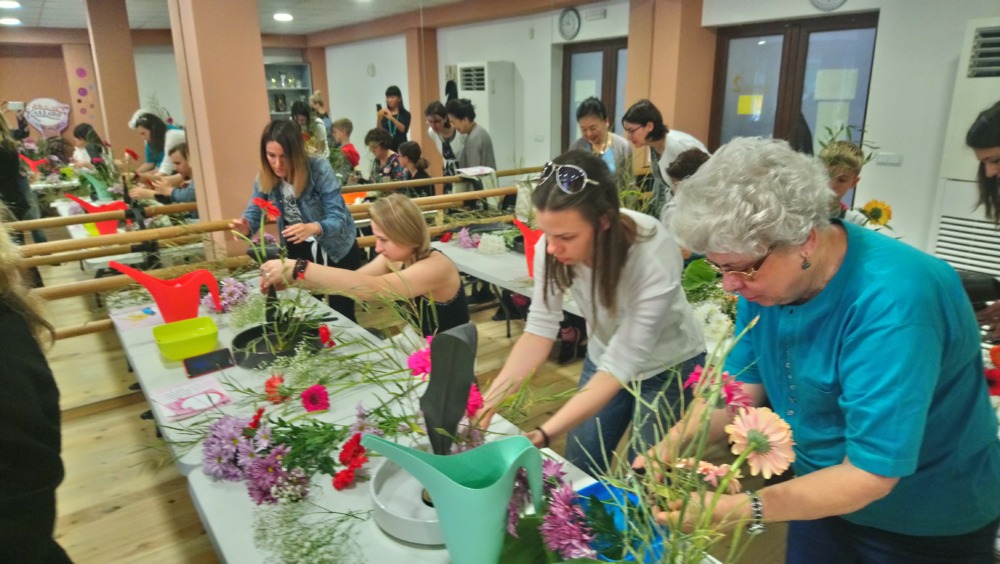 The workshops were full of pure joy and fun, which ikebana brings to people, and Sumura sensei was amazed at how capable and willing the "beginners" were. At the end everyone made a picture with the ikebana he/she created, and received certificates signed by Sumura sensei.
It is always an overwhelming emotion for me to see newcomers, whose faces lighten up and glow with happiness after an ikebana workshop. And the charming way in which Sumura sensei involved the participants, made that effect even stronger.
I would like to share a story which touched me so much, of one lady who came to the exhibition and was so eager to attend the workshop with Sumura sensei. She worked in a public library in Plovdiv. She admired ikebana so much, that she read all available books on ikebana in the library and she started to practice the art by herself, following the instructions in the books she read. She was really happy about having the opportunity to practice ikebana with a Japanese teacher. When I asked her why she liked ikebana so much, her exact words were: "I must be a reborn Japanese person."
I am proud that a great idea and one-year work and efforts came to life so beautifully through the Sogetsu Ikebana Art project. A great idea also needs great partners to support it, like the EU-Japan Fest Japan Committee, Plovdiv 2019 Foundation, Plovdiv Cultural Institute and Sogetsu Headquarters Tokyo.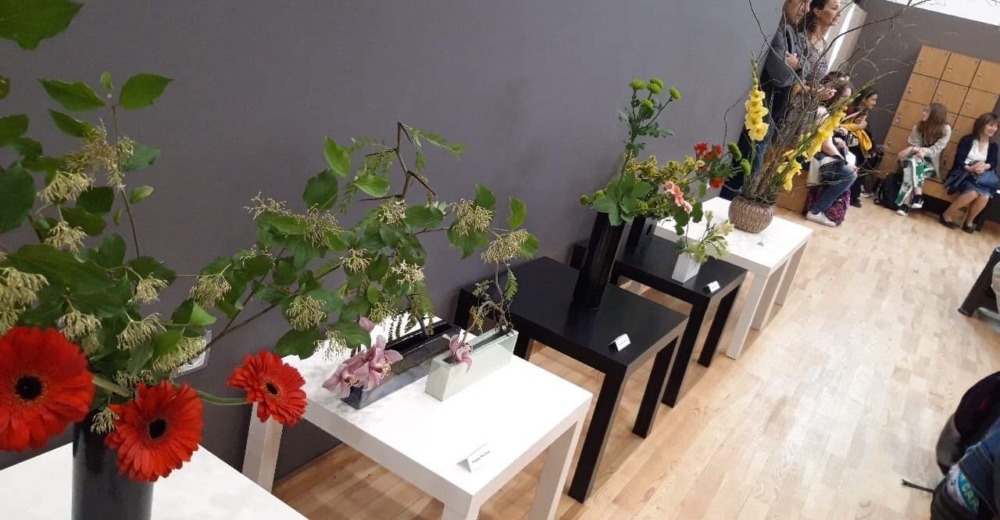 I believe that Sogetsu Ikebana Art project was an excellent starting point for making ikebana known in Plovdiv and people from that ancient city will be willing to start practicing the art. It was also a great start of our future collaboration with Sogetsu Headquarters Tokyo and Ikebana Atrium – Sumura Eikou sensei and Yuka Okubo.