[#KeepgoingTOGETHER Program vol.10] Opening Special Talk of Arts Commons Channel
Q1. Achievements and challenges of online distribution
Thanks to the support from EU-Japan Fest, we could set up the online platform "Arts Commons Channel".
Set up and open the website "Arts Commons Channel" https://channel.artscommons.asia/
Set up and open the Youtube Channel
Set up and open the Vimeo On-demands Channel
As opening event, we have streamed the "Opening Special Talk of Arts Commons Channel" for free, and so many audience joined the event via YouTube and Persicope.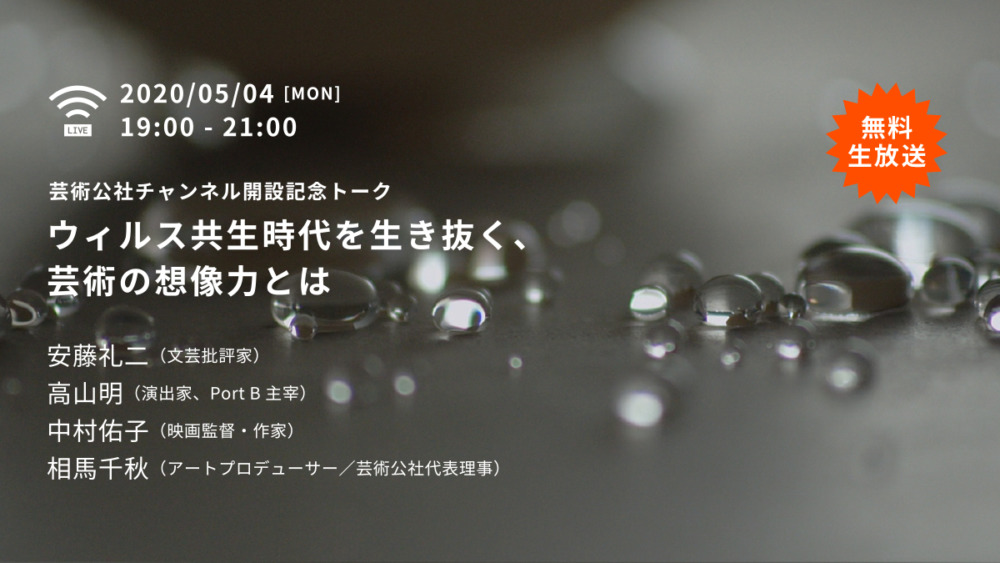 Q2. Time, number of people, and the environment required to prepare for online distribution.
Time needed: one month
Number of staffs: 1 project planner, 1 editor, 1 web designer, 1 movie editor, 1 streaming operator
Environment: we have rented the streaming studio (Office of Neo-logue) with Internet connection enough strong for streaming, 2 microphone, 3 camera, 1 switcher, 2 lights stands. 2 panels participated from the studio and 2 others from their home via Zoom.
Q3. Utilization and development of online streamings in further activities.
We would like to expand the contents on the "Arts Commons Channel". Concretely speaking,
Develop the online interactive workshop via Zoom in the frame of educational program "Theater Commons Lab".
Organize the online talk event via YouTube ones per month, and increase more than 1,000 subscribers to the cannel.
Archive all contents of talks and workshop on Vimeo, and open them with Vimeo On-demand system.
The situation with Covid-19 will oblige us to shift art events to the online through the year of 2020, but we try to take this positively and develop online program which could be also delivered widely to the people living abroad and far from Tokyo.
<Program>
Opening Special Talk of Arts Commons Channel: Imagination of the Arts at the Post-Pandemic Time
Date: 4 May 2020 
Contents: Free Discussion for 2 hours with Reiji Ando (Critic), Akira Takayama (Theater Director), Yuko Nakamura(Film Director, writer), moderator: Chiaki Soma
Promotion tool: Facebook, Twitter, Homepage
Delivery tool:Youtube, Persicope
Devise to get a reaction from the audience: Using comment section of YouTube, using hashtag
Number of audience: 9215 in total
–       Youtube: Real-time viewing / over 250,  Video views / over 1465 (*limited release for 2 days) 
–       Persicope: Video views: over 7500