Pattern of the Wind
The international contemporary art exhibition "UP IN THE AIR" was held at Art Museum Bonn in Germany at the end of February 2022, when COVID-19 regulations are still strong. From Mr. Rikuo Ueda's work, artist of my gallery living in Osaka, 15 pieces drawn by wind and an installation were exhibited there.
I coordinated for it between the art museum and the artist as a gallerist. Initially, I was supposed to exhibit only a few of his pieces, but I was thinking about how to connect this opportunity to the development of artistic activity because the chance for a Japanese artist to participate in an international exhibition in Germany does not come so easily.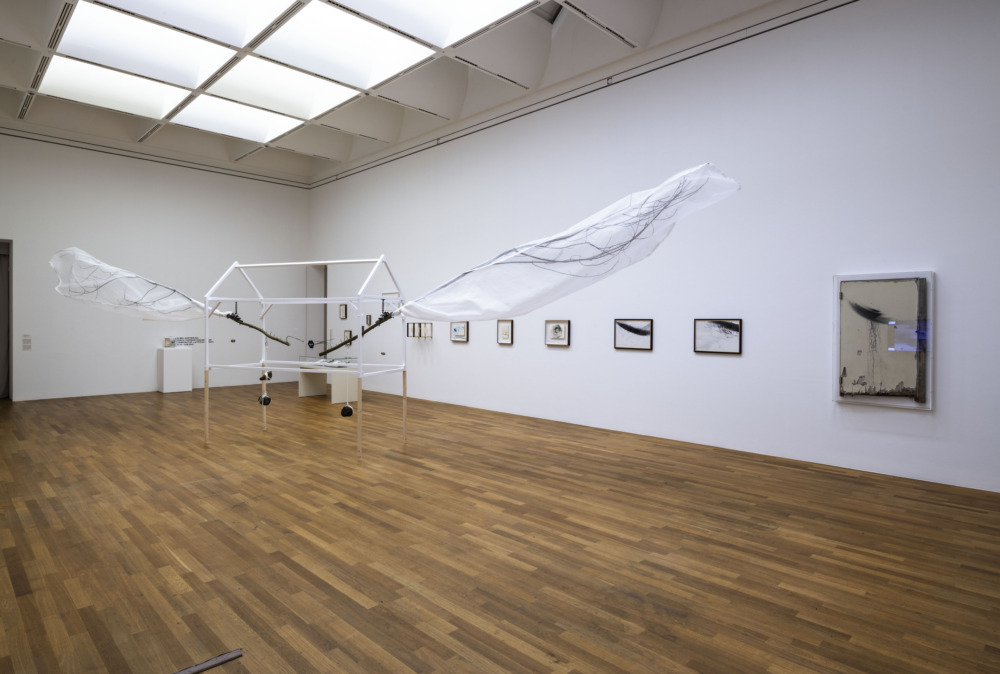 I thought it should be presented as a live creation of the installation by the artist himself, in order for the audience to experience and understand the pieces, since they are created by wind using its movement delicately drawing. But on the other hand, I was very worried and thought that inviting the artist to Germany would put his life at risk. I couldn't decide easily since the situation was not easy like COVID-19 hadn't ended yet, the third vaccine was not started yet in Japan, returnees from abroad had to be quarantined.  I was also thinking about the possibility of remote creation of the installation with the artist as long as I would be present at loading pieces to the art museum. This was another possible option at the worst case since I've been working with Mr. Ueda for 20 years and done several projects like gallery exhibitions based in Hamburg and outdoor installation in Germany.
That's the time I found out on Facebook that Mr. Kogi of the EU-Japan Fest Japan Committee was running around the world as a bridge between Europe and Japan, for Japanese artists and for active international exchanges. When I saw it, I realized that I was a little timid under COVID-19. I immediately told Mr. Ueda about Mr. Kogi and had a discussion about the possibility of traveling to Germany if he could have a third vaccine. Mr. Ueda also said that he was so overwhelmed by Mr. Kogi's power.
In this way, the artist came and created the installation. It is completely different if the artists would be there or not. The atmosphere of the local staff is different. And through the presence of the artist, museum staff can observe the artist's creation, they can have a conversation, and new information of the work could be transmitted. There is a wonderful time sharing through real communication bonded strongly among people we cannot obtain through remote work, and it will bring good results. If we are passive, it won't be happened something unexpected. I believe that it is important to move.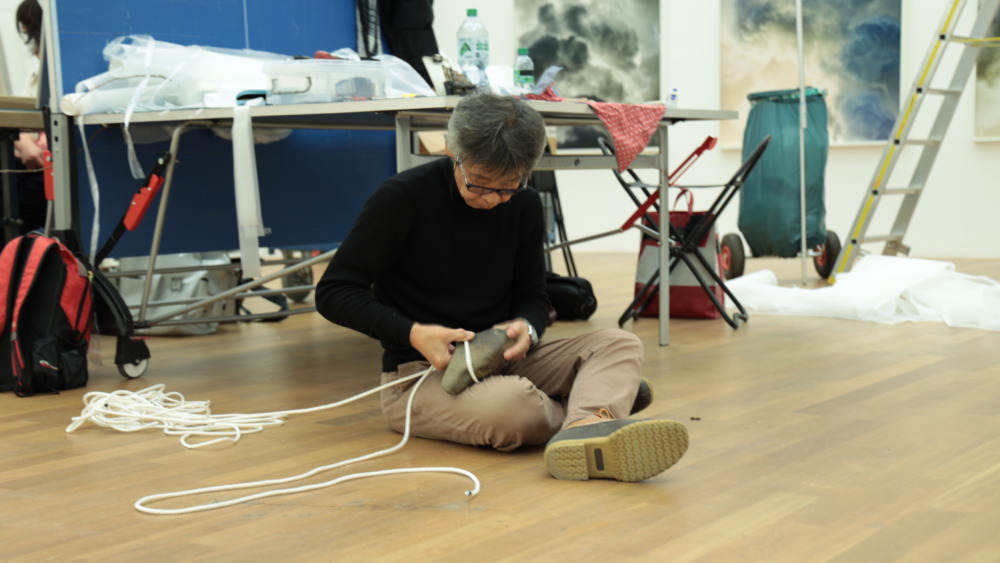 Before the opening, there were several interviews about the work, and the artist could answer directly in his own words. The press was able to appreciate the pieces deeply by his answer together with his presence. And the atmosphere from the artist was transmitted delicately. Compared with artwork in Europe which has a way of thinking, always human in the center, his work had sensibility born in Japan which has a unique landscape, and had more lightness and uniqueness. From the affirmation of Mr. Ueda "The wind itself is the artist" his work was rated excellent by the press for its originality with respect to nature which is not so usual to find in European work.    
After that, Mr. Ueda's work was introduced on local TV and national radio. In Germany, there are many exhibitions dealing with political content, the society behind it, history, etc., and it is difficult for Japanese art to step in Western art history. Unfortunately, Japanese art is often put in the exotic category here. But I realize all we can do is to believe in our originality and continue. Actually, it is the fact that Japanese art has had an impact on past Western art history.
                                                
It was around 1995, I happened to meet a Japanese artist and became interested in contemporary art in Germany. I was eager to get involved in art more, so I helped organize art exhibitions. In 2002, I started running a gallery in Hamburg, it happened so suddenly that I didn't even have a list of artists. At the same time, Mr. Ueda got an award from Hamburg and Goethe Institute Osaka at the Osaka Triennale in 2001.  And he was invited to Hamburg next year to a local atelier in Hamburg for 2 months and expected to have an exhibition of his creation there. The person from the Hamburg Ministry of Culture who invited him heard about me from somewhere and asked me to organize his exhibition. Starting from it, here I am. It was like, when I opened the door of my gallery then the wind entered in.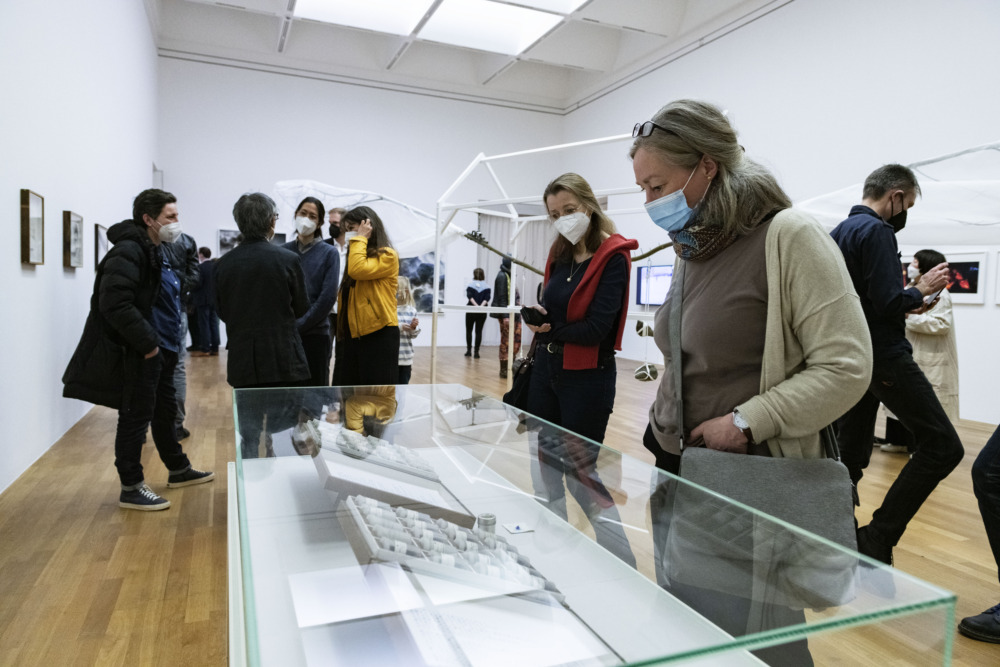 At first, I thought about Mr. Ueda's work as about its unique ideas, interesting art, and beautiful drawings. However, after I had a chance to work with Mr. Ueda for his projects many times, and through working with him closely, observing his creation, listening to his words and his pieces, I often found new discoveries.  Over the years that followed, I experienced many things in my life and started seeing internal things deeper than the surface from his artworks drawn by wind. I am feeling the wind now. 
"I think we think too much…" was a part of the concept of this artwork.
Nowadays, the first thing I do when I wake up in the morning is to look at the movement of the leaves outside of the window. And to imagine what today's wind will draw…..this is my routine.