Let it to the wind
I participated in the international contemporary art exhibition "UP IN THE AIR" held at Art Museum Bonn in Germany, at the end of February 2022, when COVID-19 regulations are still strong. 15 pieces drawn by wind and an installation were exhibited from my works.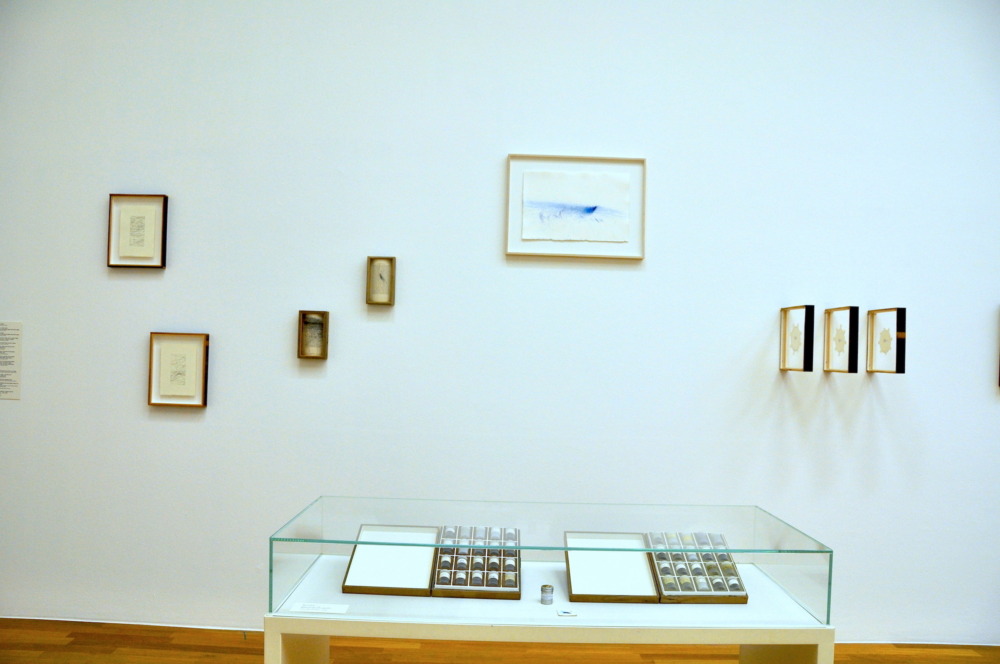 At that time, the third vaccine had not started yet in Japan, and the quarantine for one week was obligatory for people back from abroad. And it required to be quarantined for two weeks also upon arrival in Germany. After thinking a lot, I thought the only option was delivering my pieces remotely, and canceled my flight. However, I received a call from the gallery in Hamburg and heard that Mr. Kogi, secretary general of the EU-Japan Fest Japan Committee, was actively traveling around Europe. After I heard that, I rebooked the flight immediately. 
That was the start of the slapstick drama. Ms. Sato of the Mikiko Sato Gallery had informed me that I wouldn't need quarantine if I have a third vaccination certificate. I made a lot of phone calls, and finally was able to get the third vaccination two weeks before my departure. But the certificate would be arriving only by post mail two weeks later. Even after solving it, the next step was a digital immigration registration before entering Germany. It took three days to complete because of the inflexibility of the digital tool. At that time, I was reminded that I can't do anything without a digital tool. It was just two days before the departure that I managed to find the prospect.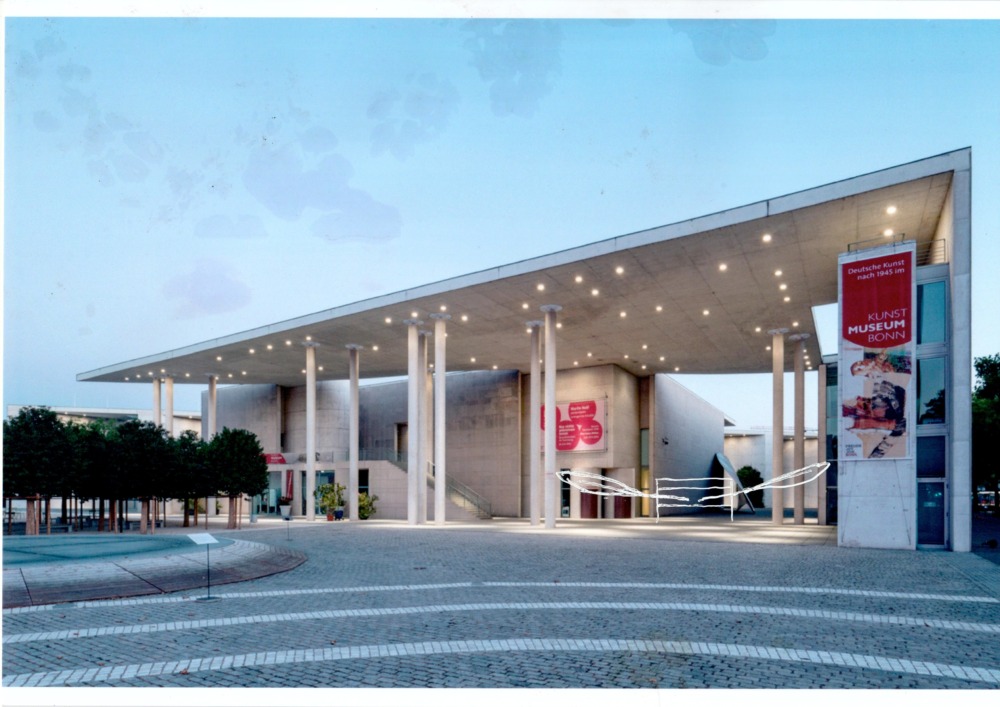 I'd estimated five days for creating the installation at the art museum. I arrived safely in Hamburg and prepared for loading at the gallery, but a problem occurred again. The art museum was supposed to pick up my pieces that the collector had, but the collector was quarantined for a week due to the COVID-19. I decided to pick it up by express train. However, on the day of departure, a huge storm blew through northern Germany for the first time in 60 years, and trains could not run because of fallen trees. I searched for another possible route and managed to get back to Bonn 2 days later than I expected.  After a meeting at the museum, I threw my body on the hotel bed.
Art Museum Bonn had a stylish design and was located next to the National museums. After the loading began, I entrusted the walls to the museum staff, and focused on the installation for three days. I was able to finish it in time because I had the main parts and materials already prepared according to my drawings.  The staff of the art museum was excellent, and it was a great help. My pieces were different from others, so I was happy that they were pleased with it. It seems that they were able to sense the unique delicacy of the East, which is different from that of Westerns. A lot of Western works have political meaning, but I try to avoid it as much as possible. I think my field of view will become narrower if I focus too much on it. I also have some pieces like that, but I am trying not to express them directly.
This exhibition was scheduled in 2021, but has been suspended due to the CODID-19. Thanks to the efforts of the museum staff, we could have the event. I felt Europe has a passion for art.  I imagine that has been hard for them since there were various works on the theme of air, such as environmental problems, and there were also some large-scale works under its theme. More people than I expected came to the opening, so I feel our efforts were rewarded.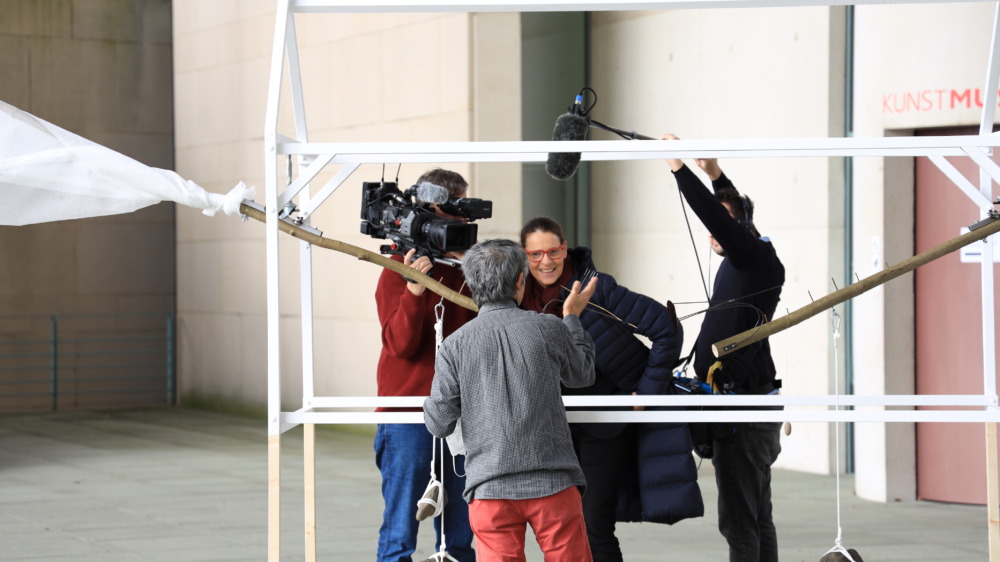 There was a press conference on the fourth day, and I gave an interview to TV and radio. I could enjoy creating the installation of my pieces thanks to everybody's kindness, the museum director, curator, and all staff members. I really felt it was worth it to come even though I forced myself. Mr. Kogi brought me to the starting point.  I actually can say the installation for this exhibition was not able to be created remotely. I could also join in the dinner after the opening, and interacted with other artists and the staff of the art museum. I am grateful to Ms. Sato who supported me in everything.
The next day, I headed to Hamburg, but the slapstick drama started again. On the way from Bonn to Hamburg via Cologne, I had to get off the train there. Surprisingly, it's because the train driver was attacked by a lout. A large number of police officers boarded and the arrest drama began. It was already midnight when I arrived at Hamburg.  And the next day, I took a PCR test for returning back to Japan, but it was already 10 pm when I received a negative certificate by email. After all, I somehow managed to solve all the problems with the password and printer, it was midnight.
Next day at the airport, I found that almost nobody was at the gate, and somebody told me that Russia had started invading Ukraine. Because of the delay of the flight, I needed to stay overnight in Helsinki. Thinking about replacing the flight, I was at a loss because the information was so confusing and also related to the PCR certificate. I had no choice but to let things happen. Then I somehow managed to get to Narita and was released after three days of quarantine. Then I finally arrived home in Osaka by night bus.
It was a tough trip, but thinking about it now, it was fun.
Thank you to all of you!!
It's been more than 20 years since I started presenting my pieces in Europe every year, but most of them are in northern Europe. Since I have made a good connection with EU-Japan, I hope to have an exhibition in southern Europe as well. I am going to participate in the European Capital of Culture-the city of Bad Ischl in Austria 2024, but for some reasons it is pending now.