Osaka and Kyoto
My recent show is It Is Written There, the work asks audience to turn the pages of a 100-page book and watch the stage in turn, which was premiered in 2002. This was recreated with ArtTheater dB Kobe and the local people in 2021. Also other work It's Just Me, Coughing, in which «inhale / exhale» signs and cited haikus on a screen correspond with a body was revived in a small restaurant in Nagoya in the same year. Maybe this year, A Grand March muttering about fragments of what happens in the world on a real railroad track will be toured abroad.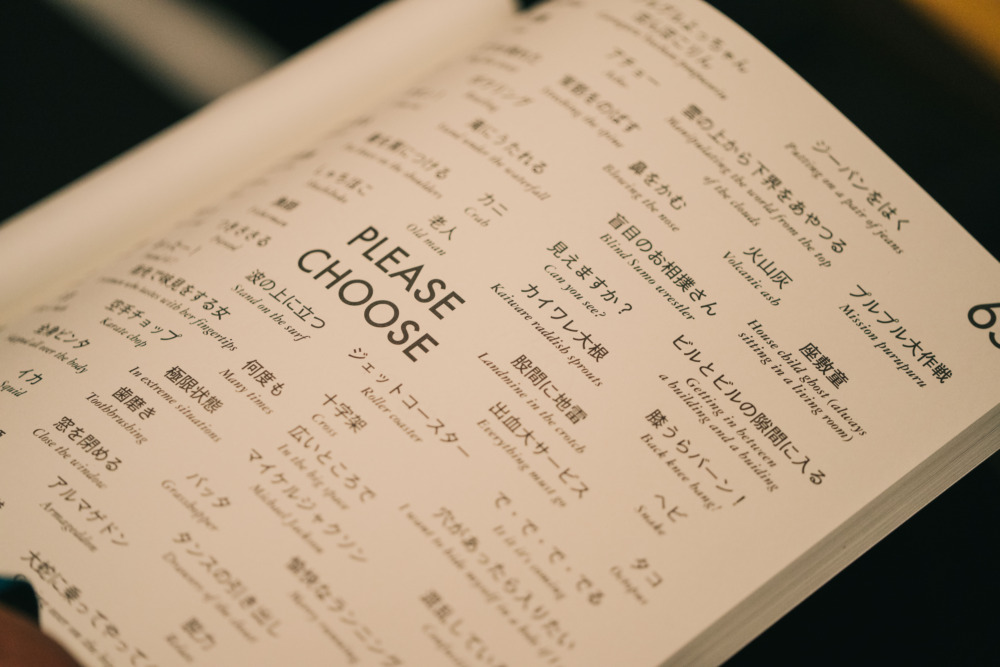 I am a dance choreographer using language, devoting my energies to dig up the past works after 2020 because it is difficult to put up new creation plan under the pandemic. But it would be fine. The act of using language at dance choreograph is to leave the works for some time or other. The time might have come now. I think language is to be functional than a picture in terms of imaginative than precision in these unpredictable days.
What is a suitable topic of an essay for overseas from Japan?
As for my self-introduction, there are several episodes I can think of. A story of my grandfather writing novels while working for a library ran by a Japanese railway company in the wartime Manchukuo.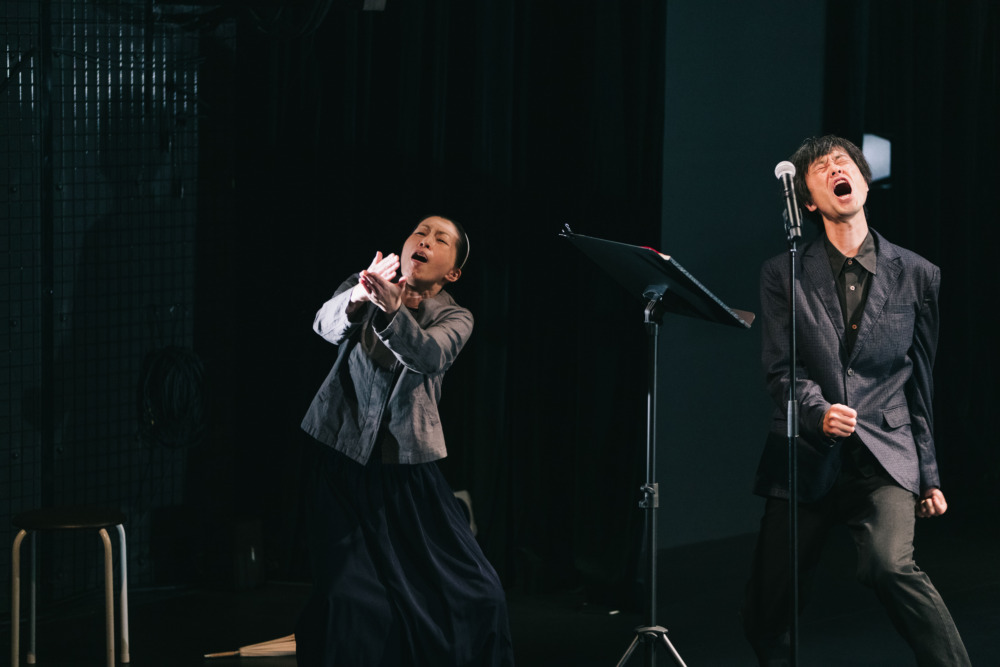 There is also one about my father, an editor of a Go (a strategy board game) magazine, having started to have a Spartan education on me when I was three years old to make me a professional Go player. Although both stories had a huge impact on forming myself as a choreographer, it is going to be complicated and traumatic for me to deliver. I wondered if there is a softer and more accessible topic, and since I grew up in Osaka and have my activity base in Kyoto, I think I can talk about the differences between the two cities. Even among Japanese people, the differences between these side by side cities is a common topic to talk about with interests, and it is no exaggeration to say that my perspective as an artist was cultivated by those differences.
Kyoto is known as a sightseeing city. I moved to Kyoto when I was twenty, and the first thing that surprised me was how unfriendly the store staffs were. Especially when it's compared to Osaka, the bluntness of clerks in Kyoto was remarkable. I assume it is because Kyoto is also known as a students' quarter so that tourists and students come and go annually, and places like restaurants always have new customers even without having to care about being friendly (The current situation may be different because of the spread of SNS). In terms of theaters, it is nationally famous that audiences in Kyoto do not laugh. Although they are generally considered to have too much pride, I get a sense that it is a kind of respect toward the performance that they observe silence. Because I am based in Kyoto, my basic assumption is to have no laughter from the audience. Therefore, when I bring a production from Kyoto to Osaka, I have a hard time because the audience would laugh quite often that the rhythm of the whole performance gets destroyed. However, it does not mean it's easy to make the Osakans laugh. It is rather acknowledged by many Japanese that they have the most sophisticated sense of humor. It is essential for Osakans to have a Boke(a silly one who tells jokes) and a Tsukkomi(a "smart" one who reacts to or corrects the boke's jokes) even in their daily conversations. The reason why puns are not popular among Osakans is because puns only require a Boke person to create humor and there is no room for any Tsukkomi. The collaborative work, which requires a sports-like sensitivity to be able to quickly come up and hit back with words that are most suitable in order to complete the speech of a companion, is what creates the high-degree comedy. I am not trying to say that I have a great sense of humor because I grew up in Osaka. Because I grew up in such circumstances, when I try to contain my honest self in my expression in Kyoto, where the communication between Boke and Tsukkomi is considered useless, the output ends up being somewhat twisted. I do relate to the films by a Finnish director, Aki Kaurismäki. His impassive sense of humor reminds me of the friction between Kyoto and Osaka. Although Kaurismäki testifies that he was influenced by Yasujiro Ozu, a Japanese film director, I don't sympathize with Ozu's films as much as I do with Kaurismäki's. The reason is simple; Ozu represents Tokyo. If I divide the characteristics in a simple way, Osaka is a city of humanity, Kyoto is a city of landscape, and Tokyo, just as Ozu's films, has both characteristics in harmony. The first time I visited Tokyo was long after Ozu had filmed movies. It was The Rolling Stones' live at the Tokyo Dome in 1990. This sudden encounter with the mainstream on my first visit, may have been one of the reasons for keeping myself from Tokyo. The alternative, as a counter to harmony and mainstream, has been my interest since my teenage years, and I guess Kyoto has been the perfect place for me to realize the expression. Another famous thing about Osaka is being a business city, that the entertainment is what established as the mainstream in its theatrical art industry. I started dancing in Osaka, but it was difficult for me to blend in. The only good thing was that my dancing master has recommended me to have a stage name. I am glad I gave myself the name, Zan Yamashita. In Kyoto, the atmosphere is non-businesslike that many artists seem to work without having stage names. If Kyoto had been the place for me to start dancing, I would be using my real name instead of Zan Yamashita.
The scenery of Kyoto and Osaka shifts when I add Kobe to the list of these neighboring cities. The climate is one of the biggest differences. It is obviously severer in Kyoto than in Osaka and Kobe.
Too hot in summer and too cold in winter. Some people, however, argue that it helps to deliver the non-conservative and radical arts. Among Kansai people's daily conversations, there is a parable-like saying which describes an ideal life path they want to follow. "Study in Kyoto, get a job in Osaka, and build a house in Kobe." Then, what is an ideal for someone who engages in the arts in Kyoto? I feel embarrassed to look like I am trying to add a punchline to this essay, but; Where is the land an artist who studies, works and lives in Kyoto would dream of? Perhaps, it is somewhere in the universe.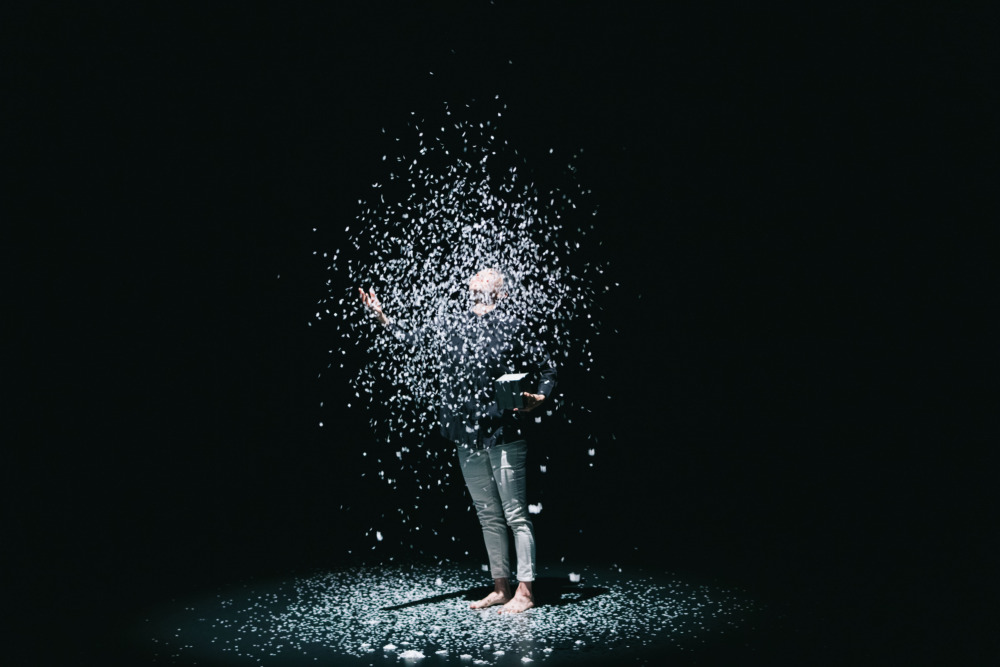 **********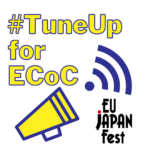 Artist Support Project #TuneUpforECoC: Supported Artist
https://www.eu-japanfest.org/tuneupforecoc/eng
(*Written in January 2022)