Community and artworks and theatre
My activities can broadly be divided into three categories:
Creating works.
Establishing theatre.
Building community.
My everyday life revolves around creating theatrical works, establishing and running THEATRE E9 KYOTO, and participating in community activities and community building in Higashikujo in Kyoto's Minami ward where the theatre is located.
The theatre was established in this area in June 2019. Between 2015 and 2017, five small theatres in the Kyoto municipal area closed their doors. We regarded this as a social problem, and appealed for support from people and companies in the community and around the country to renovate an old warehouse and open an independent theatre. THEATRE E9 KYOTO's program is centered on plays, dance productions and other performing arts, but occasionally also includes art exhibitions and musical concerts. As well as a theatre, the building houses a small café and, on the second floor, a co-working space where businesspeople gather. The co-working space and café are run by a separate entity. It is one of only a small number of such facilities where artists, visitors, businesspeople and local residents come and go on a daily basis.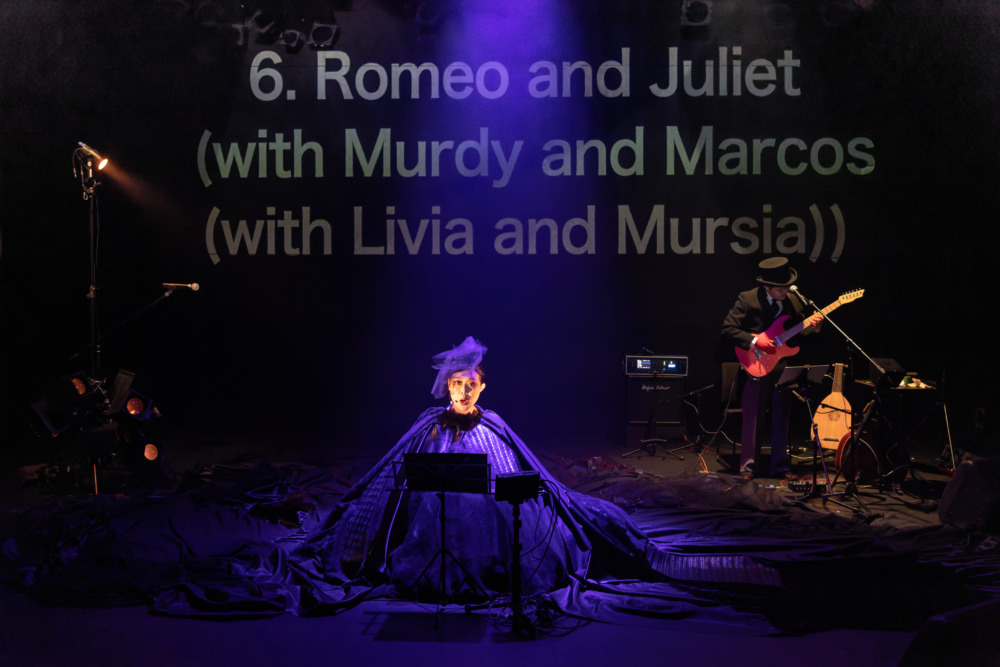 Since the Japanese annexation of Korea in 1910, the Higashikujo area has been home to many so-called Zainichi Koreans, permanent ethnic Korean residents of Japan. Following Japan's defeat in 1945, foreigners from other countries in Southeast Asia and elsewhere also settled in the area, turning it into a place where people from various backgrounds reside. It was not until the 1990s that the housing and infrastructure were developed to their present level, and despite the convenience afforded by its proximity to Kyoto Station, since the 2000s Higashikujo has experienced rapid and localized depopulation. Today, around ten parcels of municipally owned land of various sizes covering a total area of around 20,000 square meters remain unoccupied. In 2017, the city of Kyoto adopted the Kyoto Station South-East Area Revitalization Policy as a set of urban development guidelines for the area and began inviting entrepreneurs to set up businesses under the categories of "arts" and "young people." In 2021, it was also announced that a teamLab museum expected to attract some one million visitors a year would be built on the piece of municipally owned land closest to Kyoto Station. One could say that 2021 was a year in which an actual image of how the area is dramatically changing emerged. One reason it was possible to attract such a large facility was the change in the area's designation in the city plan from a residential district to a neighborhood commercial district. And one of the reasons for this change in regulations was the opening of our theatre. In other words, it was a manifestation of our efforts, the direction of the area and the actual results that followed. Twenty twenty-one was a year in which we thought deeply about the future of a community that has considered what it means to "live together" and translated this into action.
June 2021: Free / Announcer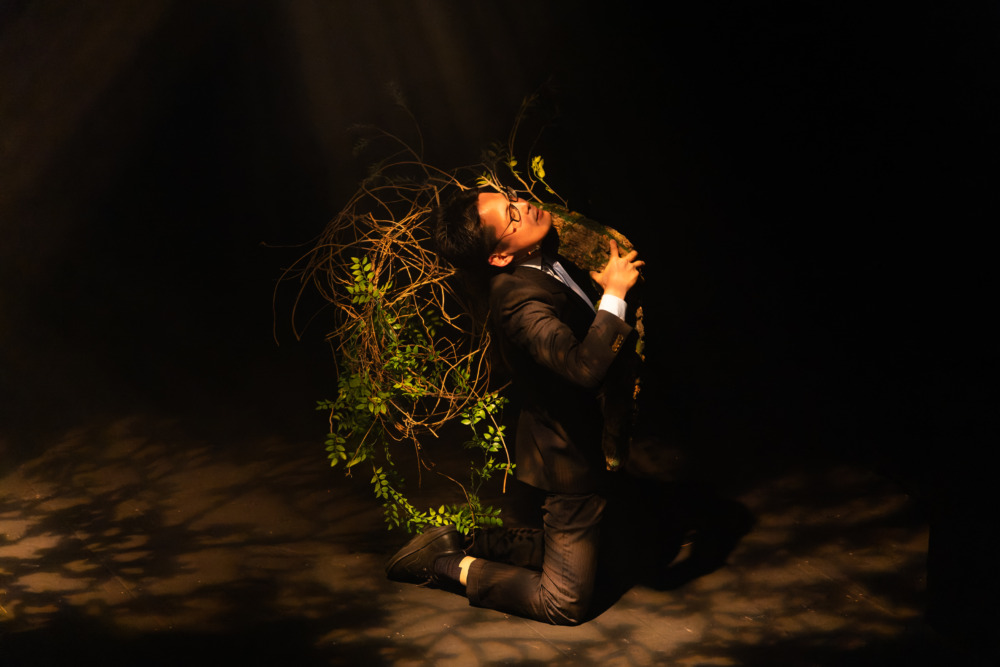 This work is a one-man play I created in collaboration with Yusuke Nose, a freelance announcer who moved to the Higashikujo area in recent years and is a member of the co-working space. There are several reasons why I chose to work with Nose, who had no previous experience in theater. These include engaging with someone right next to me who I met almost every day but who lived in the world of business, a world separate from my own; tracing the changes in the speech of announcers in the context of the history of broadcasting in Japan, relating this to what is now regarded as correct Japanese speech and, by dismantling or dissolving this, reconsidering Japanese speech in the theatre; and recording how a new resident of Higashikujo views the area as it is today. I think the result saw Nose's voice and words sent forth with an eye to the future in a way that also resonated with the voices from the past that still reverberate in this community. Within this community at a crossroads and our own endeavors, there are themes that are I think universal.
November 2021: Maki Ota & Gaku Yamada in the world premiere of the opera Romeo will Juliet
Hosted by and starring soprano Maki Ota and guitarist Gaku Yamada, this work features a score by composer Tomomi Adachi and was directed by myself. Ota has appeared numerous times in my theatrical works, but this was my first time directing an opera. Given Yamada and Ota are a male-female duo, I was asked by Ota if there was a play that suited them. I suggested Romeo and Juliet and Kunio Kishida's Kami Fusen (Paper Balloon). Adachi chose the former, and a score was produced by feeding Romeo's lines into AI software and adding music to the new text that came out. The music ranged widely, referencing everything from beautiful lute tones reminiscent of the 16th-century composer/lutist John Dowland to the electric guitar and bass thrumming of 20th-century heavy metal. The text, meanwhile, conveyed a certain refinement suggestive of absurdist literature while being largely incomprehensible. I saw similarities between these elements and this structure and the works of Beckett, and in creating Romeo will Juliet I clearly borrowed Beckett-like methods. I also sought to bring together the last 400 years of literature, music and theatre. We were honored when Romeo will Juliet was presented with an Agency for Cultural Affairs Art Festival Grand Prize.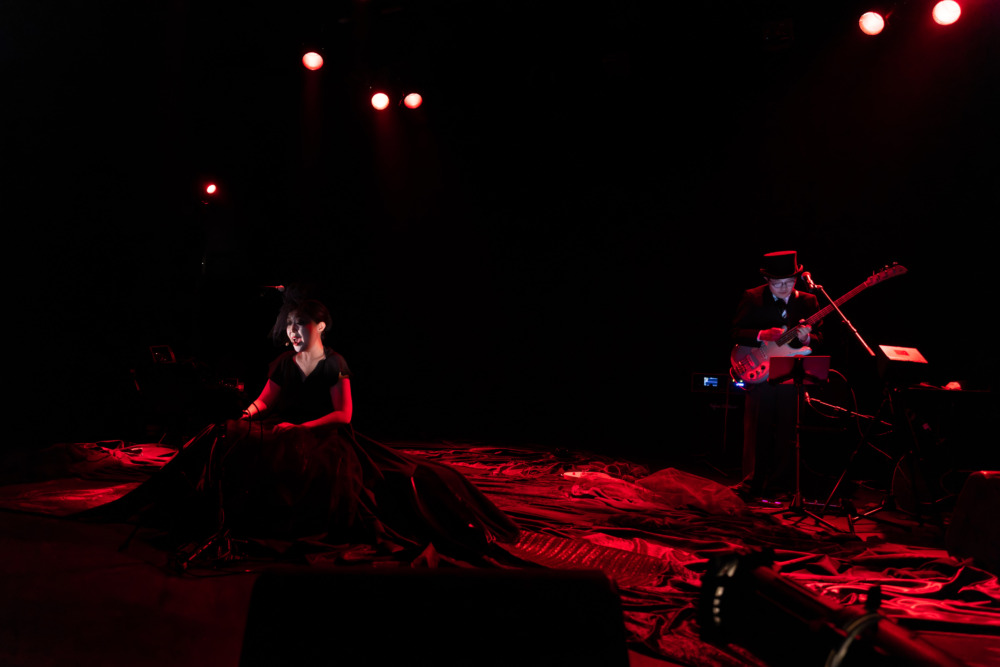 February 2022: Yasumasa Morimura + Kanjuro Kiritake in the Ningen Joruri (Japanese puppet) performance Shin-kyoueikitan
In this work to commemorate the opening of the Nakanoshima Museum of Art, Osaka, Yasumasa Morimura, who has been turned into a puppet, is manipulated by puppeteer Kanjuro Kiritake. As it is currently in rehearsal, I will hold off providing further details until a later date. Like the above-mentioned opera, it represents a new field for me.
To date I have created works with people from various fields, including dancers, philosophers, artists, musicians and dogs as well as actors. I have even created several "unmanned" plays in which no one appears. In future, I want to continue searching for new theatrical language among people and spaces where language different to mine (artistic language) is used. Next year, working together with actors and musicians and researchers, I would like to try to discover just what kind of acting methods are possible when the rhythms required in the Greek language in plays such as The Acharnians are recreated in translated Japanese. I envisage this as an artistic exercise that will hopefully give rise to a completely new theatrical language together with actual techniques. At the same time, using the "peace" that is one of the themes of The Acharnians as an example, I would like to continue thinking about what peace means in the community of Higashikujo in this time of great change.
**********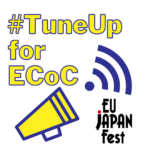 Artist Support Project #TuneUpforECoC: Supported Artist
https://www.eu-japanfest.org/tuneupforecoc/eng
(*Written in January 2022)