Bridging Japan and Croatia through playing the piano
Croatia is my second homeland where I had studied for seven years since I first travelled there in summer 1998. After returning to Japan, I have continued to make concert tours to Croatia and neighbouring countries every year since 2013, but all concerts scheduled for 2020 and onwards have been cancelled or postponed due to the pandemic. I expected I could perform in Croatia again in autumn 2021, and I was also planning to give concerts at four elementary or junior high schools in my home town Ise City (Mie Prefecture), but neither of these plans were realised, which left a big hole in my schedule and in my heart. However, looking back on my activities in 2021, although I had fewer official activities than in previous years, I had some important opportunities to strengthen the ties between Japan and Croatia, such as a concert in Tokamachi City (Niigata Prefecture) which has close ties with Croatia, and performances at the Croatian Embassy in Tokyo, so it was a significant year for me. I would like to write a little about the concert in Tokamachi City, which has a special meaning for me in my whole activities in 2021.
Tokamachi City has a warm friendship with Croatia since the 2002 FIFA World Cup, when the Croatian football players visited there for their final preparation. In 2012, Japan-Croatia Friendship House was built as a symbol of friendship between Tokamachi City and Croatia. The city has also hosted Croatian athletes for the Tokyo 2020 Olympic and Paralympic Games as Croatia Host Town. Thus, the city is a true capital of friendship between Japan and Croatia.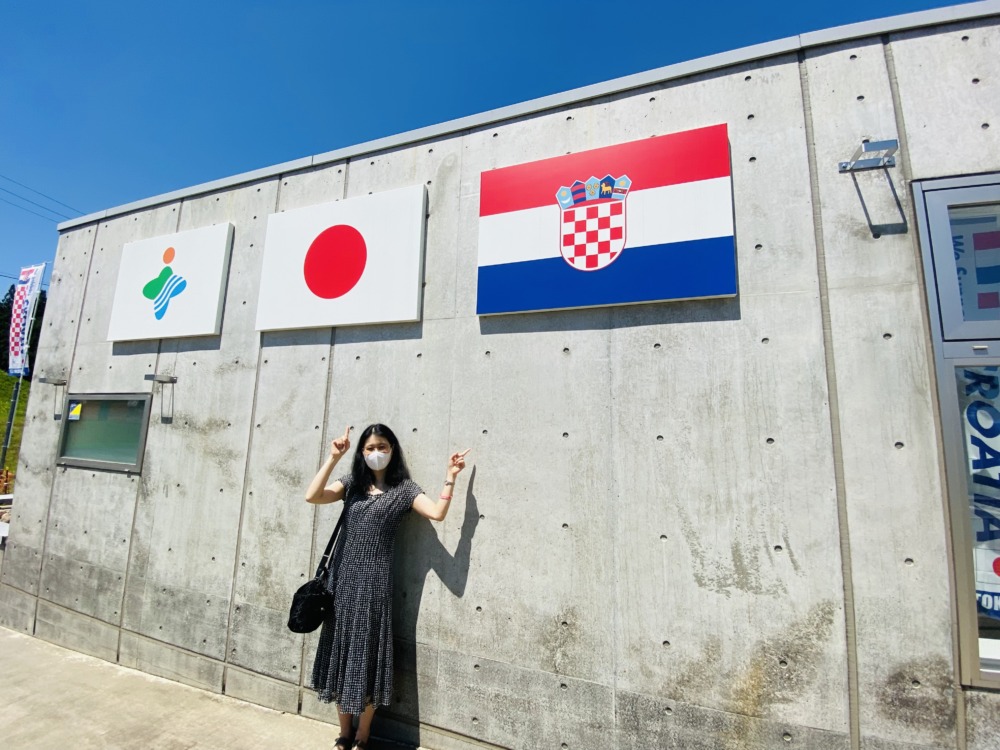 The concert took place on Saturday afternoon, 17 July 2021 at the Echigo-Tsumari Cultural Hall "Danjuro", a beautiful hall which opened in November 2017. In this unique hall designed in the motif of the national treasure flame-shaped earthenware of the Jomon period, where you could feel as if you were completely inside it, I had a CD recording session of Rachmaninov's works in January 2020. The concert was originally scheduled for July of the same year as part of Croatia Host Town Project by Tokamachi-City, together with this recording session, but due to the pandemic, it was postponed and held over a year later.
To celebrate the friendship between the two countries through music, I performed works by a Croatian composer Dora Pejačević and "Karatachi no Hana" by Kosaku Yamada among others. Unfortunately, the attendance of Croatian Olympic athletes and officials was not possible due to the pandemic, but it was a good opportunity for the people of Tokamachi City to get to know about a Croatian composer and her works. Dora Pejačević is well-known in Croatia as the first significant Croatian woman composer. In 2015, the 130th anniversary of her birth, I published a set of two CDs including her complete solo piano works, which greatly broadened my performing activities abroad. Twenty years ago, when I first performed her works in Japan, she was truly an "unknown composer", but recently her international reputation has been growing rapidly, as evidenced by frequent broadcasts of special programs featuring her on BBC radio in the UK. In 2023, the 100th anniversary of her death, I believe her work will be even more widely reappraised.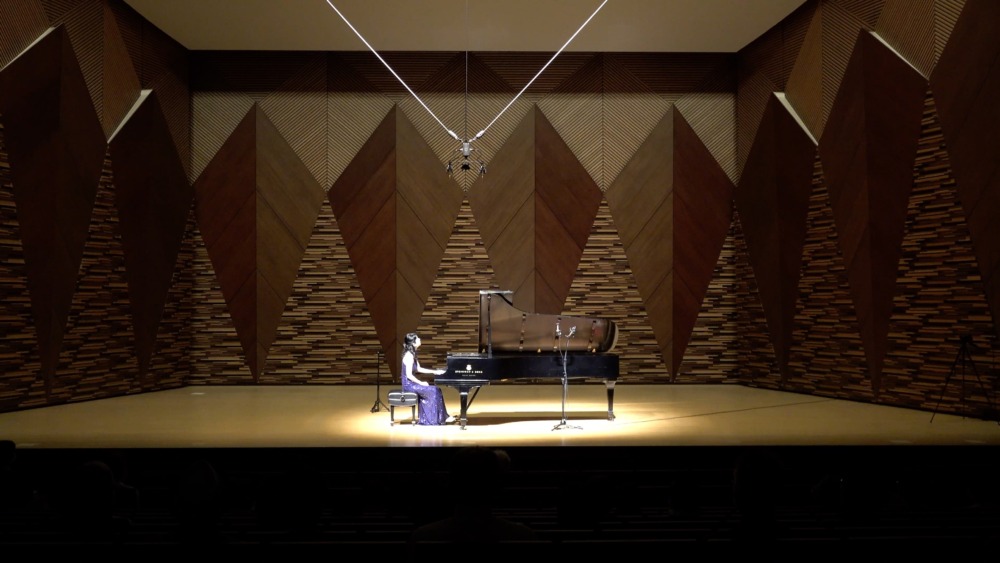 For both the recording and the concert, I was kindly allowed to use the New York Steinway (CD368) made in 1912, which was used by the greatest pianists at Carnegie Hall in New York, by the courtesy of Mr. Yu Takagi, a president of Takagi Klavier Inc. I already had a chance to use it for special occasions such as the former CD recording of Pejačević and also for a performance dedicated to the goddess Amaterasu at Ise Shrine. I have a strong desire to express the world of Pejačević and Rachmaninov on this vintage piano, which breathes the very spirit of their time, so I am deeply grateful to Mr. Takagi for making this possible.
Next day of the concert, I visited Japan-Croatia Friendship House and was pleasantly surprised to be warmly greeted by people full of love for Croatia, wearing red and white chequered football uniforms, which is the trademark of Croatia. It is my great pleasure that both projects enabled me to connect with the people of Tokamachi City.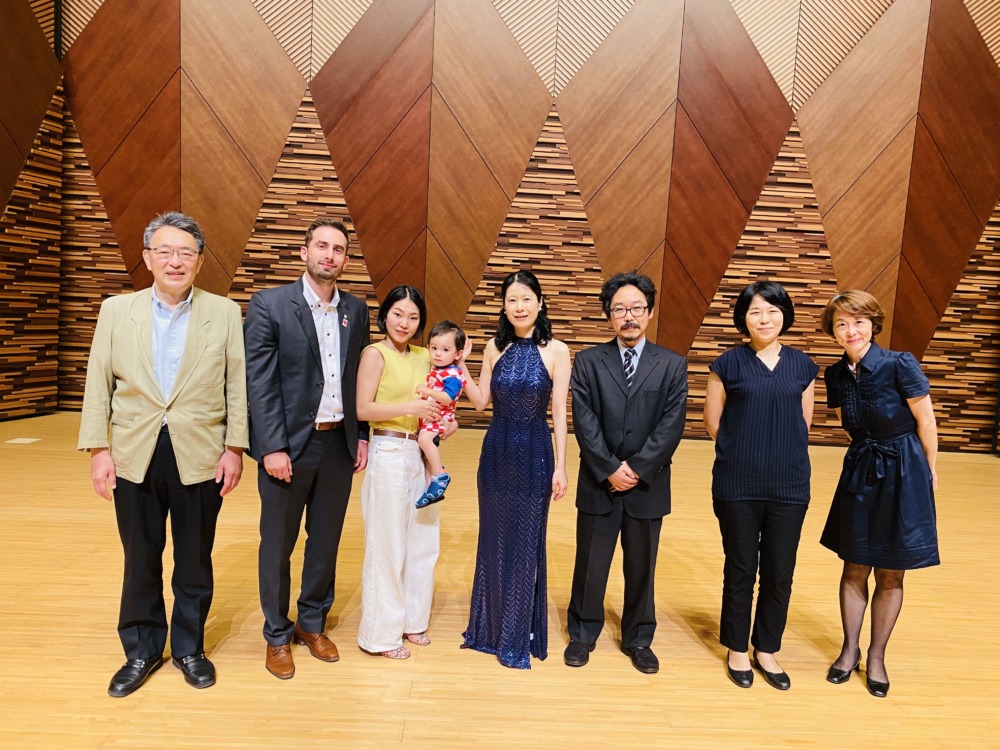 In closing, I would like to express my deepest gratitude to everyone involved in this concert; to the organisers for making the concert possible despite the difficult circumstances due to the pandemic, to people who came to the concert and to all those who supported me in various ways. It was a pity that the President of the Croatian Olympic Committee and former Prime Minister Mr. Zlatko Mateša as well as the Croatian Ambassador H. E. Mr. Dražen Hrastić, who were warmly looking forward to the concert, were not able to attend the concert, but afterwards I had an honour to give a mini-concert at the Croatian Embassy in Tokyo welcoming Mr. Mateša to Japan. In 2019, on request by the Croatian Olympic Committee, I had an opportunity to give a concert as an opening event of a series of promotional events for the Tokyo 2020 Olympic Games in Poreč, the only sponsor city of the Committee, and I first met Mr. Mateša on this occasion. He has a long experience as a pilot and after the concert he took me to a flying club in Vrsar, where I watched a flying competition in which he also took part as a competitor, attended the awards party and even enjoyed my first flight in a Cessna. I would say that the concert in Tokamachi was realised thanks to all of such various activities of mine in Croatia over the past 20 years. In 2022, I strongly hope to fly to Croatia again and restart performing there, and that I can contribute to the further development of the beautiful friendship between Japan and Croatia through my piano performances.