Blooming Sakuras enriched the Japanese culture celebration
With the first blossoms of Sakuras, Japanese culture celebration filled the city through various events of Kaunas European Capital of Culture 2022 festival Japan Days in Kaunas WA. When the women dressed with kimonos gently walked through Laisvės avenue, people suddenly felt like they were in Kyoto. It was the start of one week-long feast, celebrating the 100th anniversary of friendship between Lithuania and Japan. The birth and creation of our friendship was presented in an exhibition "Lithuania and Japan. We are Together in Our Hearts" exploring the stories of artists, diplomats, schoolchildren, scientists and regular people building bridges of friendship between two distant countries.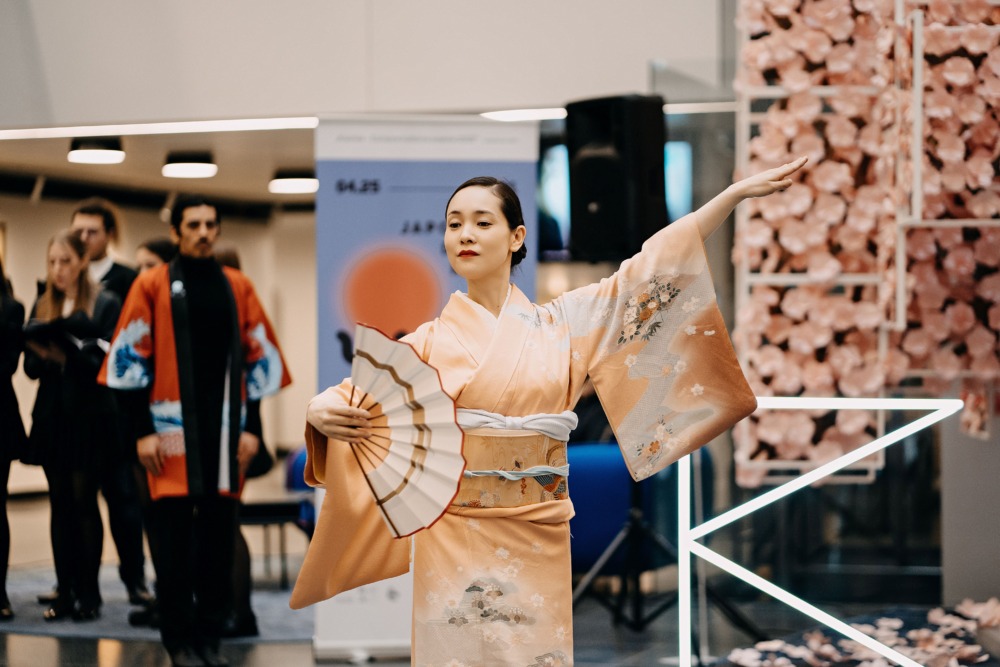 Festival opening event was filled with music and delicate dance moves of Japanese dancer Ayano Honda. People admired the 3 meters height Sakura tree artistic installation "10000 Blossoms of Hope for the Freedom of Ukraine", created by Albertas Juskauskas with thousands of paper blossoms hand made by schoolchildren from more than 50 schools in Lithuania to express our solidarity with Ukraine. 
Festival programme was enriched with many beautiful exhibitions. Eye catching MITSUME graphic artworks exhibition TRA enchanted with its creative spirit and narratives, especially the artwork created especially for Lithuania with a girl dressed in Lithuanian national costume with multiple Lithuanian symbols scattered around the image. Festival opening guests were also invited to follow the traces of ancient Japanese Ainu nation through Bronislaw Pilsudski exhibition "Nations of Sakhalin" and a huge outdoor video installation presented on the facade of the biggest art gallery in Kaunas. 
Admirers of Japanese traditional arts had the opportunity to see the Tokijyo Hanasaki jiutamai dance performances accompanied with gidayu bushi music by Takemoto Koshikou, Tsuruzawa Sansuzu, Fukuhara Hyakushichi. The love stories of legendary women: Japanese warrior Tomoe and Eglė the Queen of Serpents expressed during their performances reflected the synergy of Lithuanian and Japanese cultural roots with accompanying Lithuanian melodies sung by Vilnius Mixed Choir "Sonoros". It was very touching to see how a Japanese woman embodied the legendary Lithuanian story of love and tragedy of Eglė the Queen of serpents.
To explore the textile design traditions Japanese artists Keiko and Atsushi Futatsuya collaborated with Lithuanian designers Olesė Kekienė, Jolanta Vazelinskienė, Lina Kusaitė and Kaunas Dance Theater "Aura" at the joint performance "Aesthetics of imperfection. Ritual and mastery in cultural dialogue." Event was enriched by appearances of Japanese dancers Ayano Honda and Ken Mai. Boro Sashiko techniques applied by Keiko and Atsushi Futatsuya was a symbolic reminder of how important is to cherish the family tradition and understand the beauty of imperfection.
Festival was filled with variety of different events. Japanese contemporary dance choreographer Ryu Suzuki in collaboration with Kaunas Dance Theater "Aura" created an amazing premiere for the festival – "Esybė (Entity)", proving the unlimited abilities of the human body and questioning its real value. At the premiere audience applauded the outstanding performance of Japanese guest dancer Rinako Iida, currently working with the world's leading modern dance theater "NDT". The art of calligraphy admirers enjoyed the unique live calligraphy performance by Aoi Yamaguchi followed by the musical composition of Tokyo based artist Corey Fuller and collaborating dancers Susanna Maggio and Francesca Pizzuti. Artist explored the understanding of 間 (MA) – space in our life, which surrounded us after the world was closed for the pandemic distancing us from other people and facing our inside world. 
Days between the breathtaking evening events were filled with exhibitions, various workshops by Japanese artists, movie screenings, special educations for school children, teaching the art of tea ceremony, kendo, Japanese language as well as such unique events like traditional Mikoshi shrine carrying ritual in Kaunas streets organized by the Embassy of Japan in Lithuania. At Haru Matsuri – Spring Celebration outdoor event people had an opportunity to enjoy Japanese kite flying, tea ceremony, kendo trainings as well as listen to the songs of special event guest – Ukrainian community singers in Kaunas.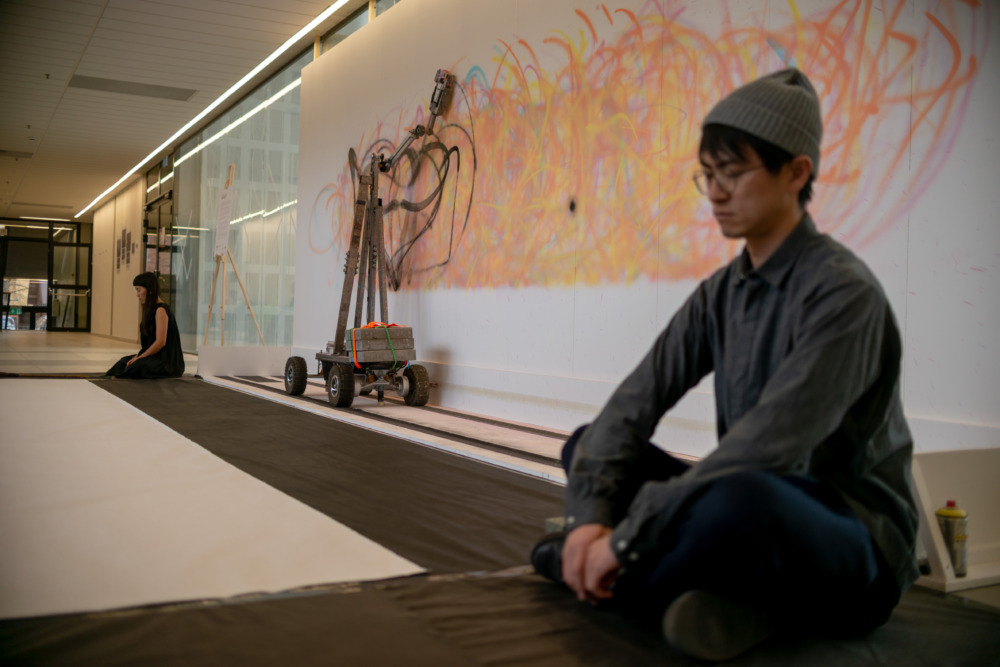 Festival also welcomed an unconventional guest – installation by So Kanno and Takahiro Yamaguchi "Senseless Drawing Bot", which explored the threshold where artificial intelligence can or cannot replace the creative artist's thought. A self-generated drawing machine using a chaotic movement of a double pendulum was drawing abstract lines dynamically in real time throughout the week. It raised a huge interest among the audience as it was both very modern, unexpected and embodied the thoughts about the fast-changing future world.
To deepen the knowledge about Japanese culture VMU Center of Asian Studies organized a series of lectures, the story of the heroic deed of Chiune Sugihara was reflected through the documentary movie "Visas for Life. The Chain of Courage". Contemporary dance community members and various artists had a unique opportunity to meet in person with a famous Japanese dance critic and the president of Japan Dance Plug Co. Ltd Takao Norikoshi during his lecture "What Follows Butoh. The New Japanese Dance Nation".
On the occasion of the 100th anniversary of friendship between Lithuania and Japan, a special Japanese music concert was filmed and broadcasted on national television LRT Plius. The leading Lithuanian classical music singers and musicians Kristian Benedikt (tenor), Viktorija Miškūnaitė (soprano), Agnė Sabulytė (mezzo-soprano), Zbignevas Levickis (violin), Ugnius Vaiginis (trumpet), Žemyna Trinkūnaitė (kankles), Renata Lesieur (organ/fortepiano), Rimvydas Mitkus (fortepiano), Džiugas Daugirda (percussion) performed well known Japanese pieces and one Ukrainian song "The Prayer for Ukraine" to express our solidarity with Ukraine suffering from the war.
Festival was crowned by the Closing Concert created in collaboration with Japanese and Lithuanian artists in partnership with Gifu Prefecture and Yaotsu Town. Concert guests were greeted by the Lithuanian Minister of Culture Simonas Kairys, Honorary Consul General of Lithuania in Japan Shigehiro Komaru, Secretary General of EU-Japan Fest Shuji Kogi and other important guests. Evening commenced with energetic wadaiko music by Takumi Kato and was followed by "Rashomon" biwa performance by Tanaka Kyokusen. Especially for the closing concert artist Ken Mai created a performance with Kaunas Dance Theater "Aura" dancers, Ayano Honda and Lithuanian multipart songs collectives merging Lithuanian and Japanese traditions, ancient Ainu songs mixed with Lithuanian multipart songs. The Closing Concert created many positive emotions as it was travelling through memories of friendship between Kaunas and Gifu Prefecture, Yaotsu and Hiratsuka cities built by Japanese and Lithuanian people. And this friendship starts in very early days as primary school children visit and live in both Japanese and Lithuanian families, learn each other's language, traditions and make friends for a lifetime.  
It was amazing to meet in Kaunas so many wonderful Japanese artists, who impressed us with their ideas and performances expressing the beauty of Japanese culture. For one week I felt in Kaunas like living in Japan and it was such an indulging experience. All the events were highly appreciated by the audience as we received a lot of positive feedback and engagement, which reassured that the tradition of Japan Days in Kaunas WA festival must be continued in Kaunas. It was an enriching experience both for us and for Japanese artists and we are especially grateful for EU-Japan Fest and Kaunas European Capital of Culture 2022 programme for this amazing opportunity strengthening the friendship between our countries.