A New Motivation from the Review of Creation Methods
In February 2020, I performed "Arika" with musician/rapper ROY Tamaki at the HOTPOT dance fair in Yokohama, and it was well received. It was a very happy experience.
Then in March, I performed "Arika" in Toyama and Paris. The COVID-19 infection was spreading and it was feared that the performance in Toyama would be cancelled, but we managed to put on the show just in time. In Paris, people didn't wear masks, hugged and kissed each other, and spent their time as normal. However, the situation became more serious during our stay, and we managed to stage our performance with a hastily reduced number of seats. After the final performance, President Macron gave a speech about the start of the lockdown, and the next day the people walking around the city disappeared, and we bravely returned home.
After that, of course, the opportunities for performances dwindled. The Asian tour of William Forsythe's "A Quiet Evening of Dance," which I was scheduled to participate in, and the performance I was to give in Japan were mostly cancelled until August. The three-city overseas tour of "Arika" in 2021 was also cancelled. My dream of performing overseas with my own work will disappear because of COVID-19. I was on the verge of getting back on track when I was unexpectedly stopped in my tracks. I was very disappointed, but I had no choice but to do what I could now.
After returning from Paris, I spent two weeks at home reviewing my technique. I bought a linoleum for my home, a mirror, and an aerobic bike so that I wouldn't lose my basic fitness, and I filmed my improvisation ideas in my room, on the roof of my apartment, and in the park. I then shared the footage on a group line, and held free workshops on ZOOM twice a week to experiment and verify my ideas.
In the fall of 2020, I managed to start performing again in Japan, but I had to give up on going abroad to Europe and other countries where the infection was spreading. The COVID-19 pandemic was a good period to sort out my own technique. That was very important, now that I think about it. It seems that by sorting out the data in my brain, I was able to free up some space. In 2021, I began to pay attention to the land I was standing on, and it was around that time that my own work began to change.
I have been baptized in European contemporary dance. I especially admired the European dance scene in the late 90's, and since I started modern dance and classical ballet around 1998, it was only natural that I would be influenced by European dance, which was gaining momentum. To be honest, at the time, I thought Japanese modern dance was old-fashioned, humid, heavy, emotional, and tacky. (I don't feel that way now.)
However, in 2021, I will dare to do what I felt was "lame," "uncool," and "embarrassing". The concept of using music, choreography, space, and lighting, which they had avoided in the past, and began to dance with emotional expression. To be more precise, I used popular music and famous classical and jazz pieces, and danced in full body tights, facing the front, in mime like choreography, under the spotlights, with my emotions on full display. By doing so, I shook up my fixed notions. I think I also developed a greater desire for the audience to enjoy the performance.
After nine years with the Forsythe Company, it has been seven years since I returned to Japan after the company dissolved. Naturally, I spent more time in Japan. I worked with Japanese master choreographers Midori Ishii and Tatsue Sata, participated in new creations by Akira Kasai, and began to study and become interested in the context of Japanese dance. As I get older, my body and thoughts change, and I gradually become interested in the land I step on. In April 2021, I began to choreograph not only in the studio but also outdoors. By avoiding flat surfaces and structures with many straight lines, I sought a change in my choreography.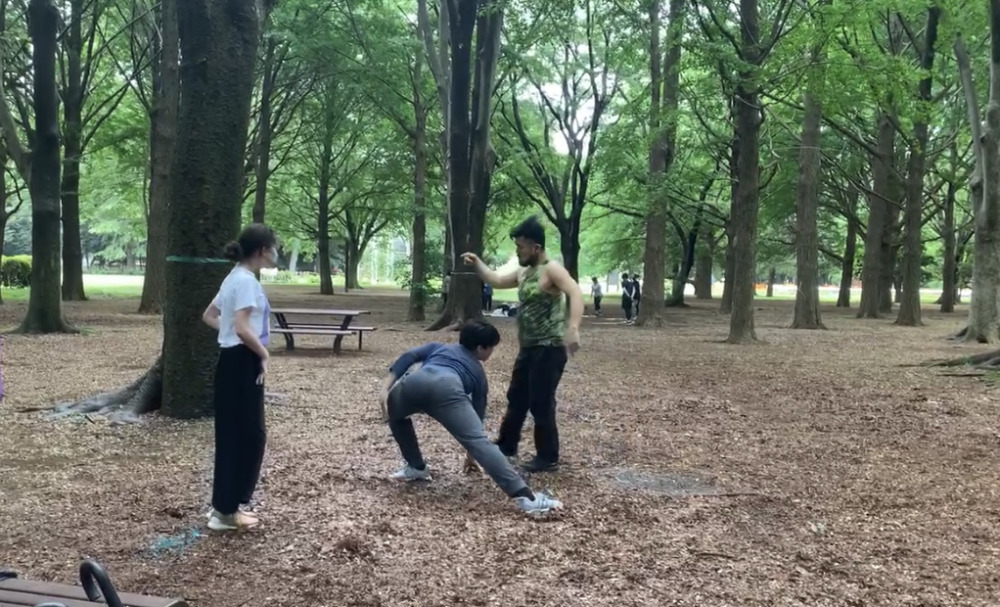 The memory of the land is written in stories. I devised the choreography by visiting the land and learning about the stories of the gods dedicated to it, as recorded in the oldest book in Japan, "Kojiki". I choreographed the piece outdoor, and adjusted and edited it in the studio. I am interested in the land where the story takes place. There are places that arouse the imagination. I think it's commonly called a power spot because of its location, climate, geology, and smell.
"The place speaks for itself."
It is through observation and physical sensitivity that we can communicate this to others. This kind of shamanic ability should be the true power of dance. The year 2021 was a time for me to enhance my shamanic ability, which can be said to be the origin of dance.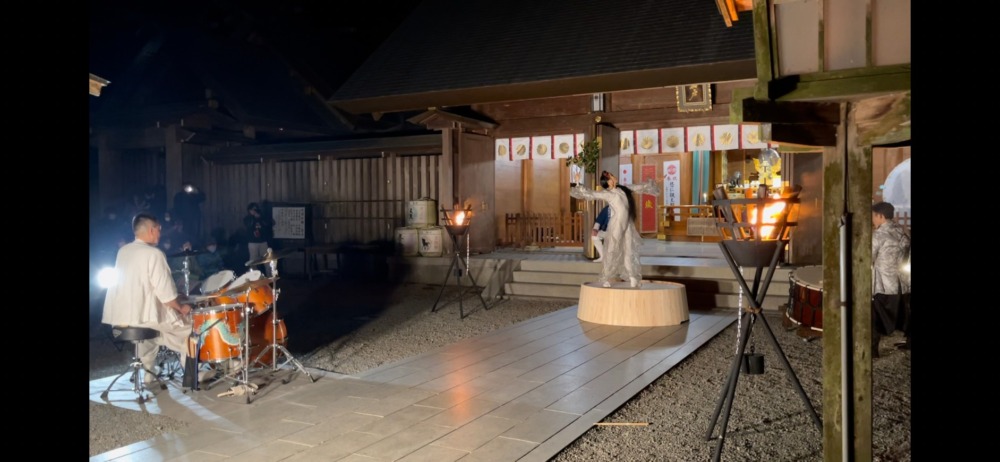 To know the origin of creation is to know how to make things. Knowing the origins of making things is also the concept of "Arika," which I co-created with ROY Tamaki. The experience of traveling and choreographing in my own country, feeling the land with my five senses, has become a great motivation for me to update my work in the future. My current plan for a new piece is to create a dance based on a modern interpretation of Japanese literature such as "Kojiki". This is also an idea that I have never had before.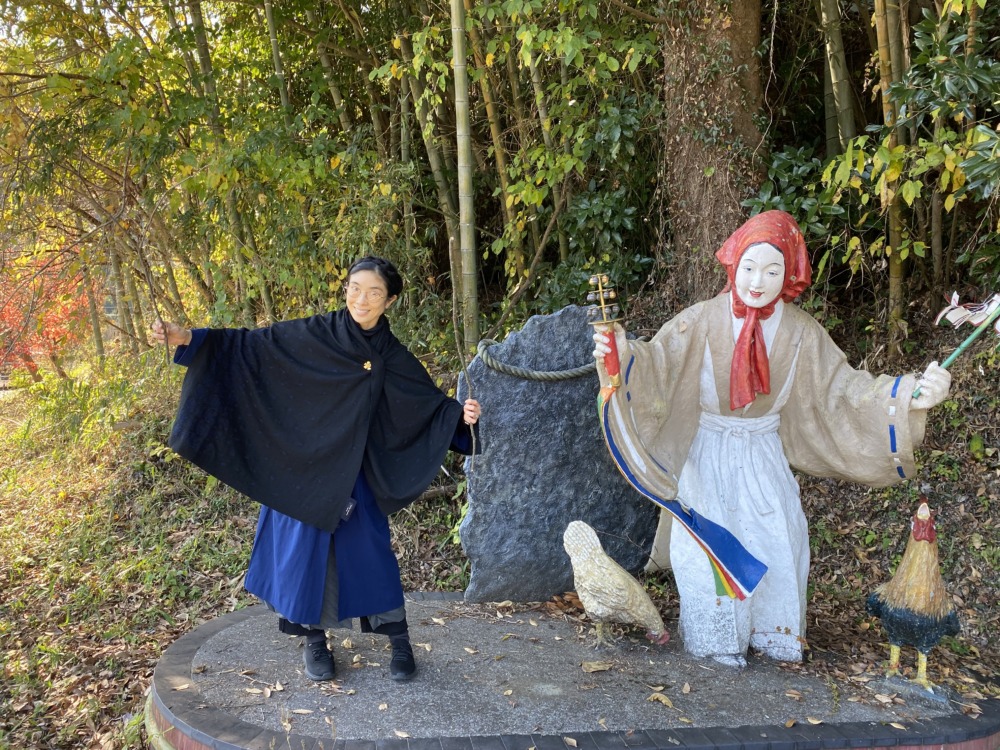 The reason for this is that the body and choreography are constrained by the completed story. Abstract compositions provide clarity of spatial direction as well as emotional direction. In addition to the clarity of spatial direction, the clarity of emotional direction creates a fullness in the relationship. I am also interested in analyzing the skeletal structure of an imagined role and projecting it onto my own body to create the role. I feel that perhaps this non-verbal role creation with a sense of the body is an expression that only a dancer can give. Therefore, I am convinced that it will lead to a free and crazy creation while maintaining the abstraction of dance without making the story too theatrical.
I am very motivated to present something from the past with a new interpretation using current techniques. I am very motivated to do so.
To communicate. It is difficult to convey my thoughts to others. It's not easy. However, it may be easy to convey to others what you feel is wonderful. That is why I would like to borrow the power of the great achievements of our predecessors in Japan. I believe that this is the way to transmit Japanese culture to the world.
Communicating through myself. Since I have admired the European dance scene, I would like to present my new presentation to Europe as a way of returning the favor.
Currently. I am currently working on a small DUO piece to be presented to the late great Japanese critic, Mr. Hakudai Yamano. Using Maurice Ravel's "Pavane pour une infante defunté",  it will be a simple composition on the theme of aging. I feel that I have come to understand what it means to dance and create for others these days. I will deliver it well.
**********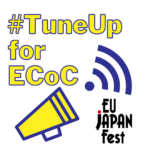 Artist Support Project #TuneUpforECoC: Supported Artist
https://www.eu-japanfest.org/tuneupforecoc/eng
(*Written in January 2022)