Accumulation of training and skill development
AIKIDO WORLDWIDE
Aikido is one of the most popular Japanese Martial Arts in Europe and the globe. Starting in Sofia, it has spread all over big and small towns in Bulgaria forming groups with adults and children in the practice of Aikido. 
Following the success of the first Seminar and Embukai in 2017, the second Seminar was conducted to celebrate the Martial Art Aikido in the town of Plovdiv in the year it became the European Capital of Culture.
AIKIDO AS A JAPANESE MARTIAL ART
In the minds of everyone that practices Aikido is the dream of visiting Japan and the Dojo where Aikido started. Many people manage to visit Japan and train at Aikikai Hombu Dojo, many others don't have the possibility and that is why it is very important to conduct and bring such experienced teachers to different countries, keeping the culture and the practice of Aikido alive.
Aikikai Foundation the headquarters of Aikido in the world is the temple of Aikido, kept for generations in the family Ueshiba. Miyamoto Shihan is a senior Sensei at Aikikai Hombu Dojo where he still conducting regular classes and travelling abroad for Seminars such the one we had in 2017 and this year to celebrate Plovdiv 2019 – Focus Japanese Culture.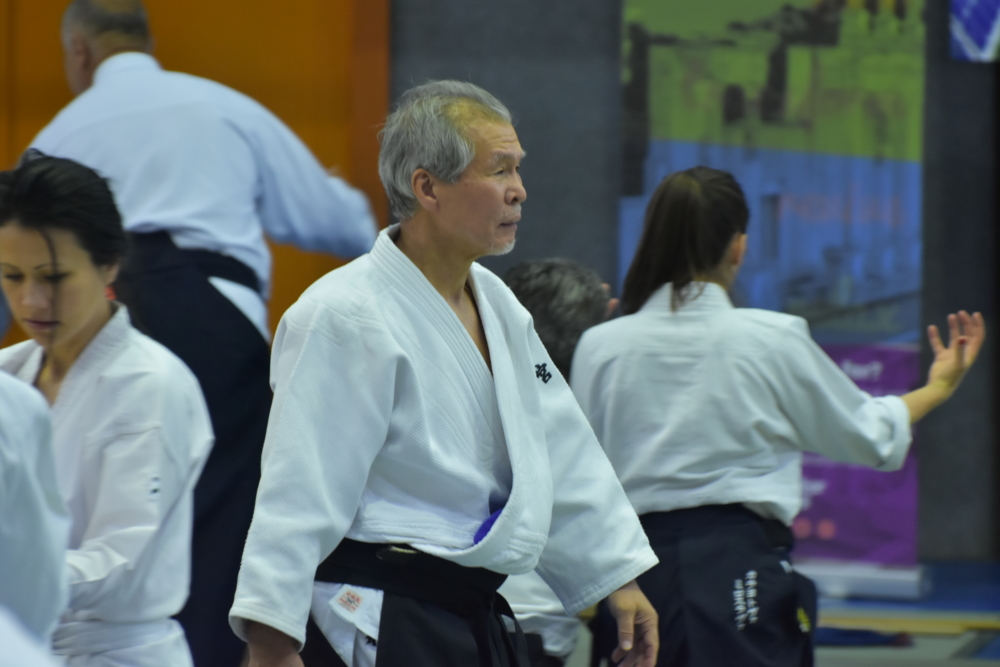 PLOVDIV 2019 AND THE AIKIDO SEMINAR
What I see personally when people unite in the practice in such Seminars is that practitioners of Aikido are usually more aware of their surroundings, the presence of each other and keep a certain conduct and respect that is intrinsic in the practice. 
There exist awareness in way of moving, reactions and attention before performing a technique. This way of practising reflects directly in the way of life and teaches us how to be more attentive inside and outside the mats as well as being more aware of the self and the presence of others. This awareness is something acquired only in the way of accumulation of practice and the integration of practice in real life.
The definition of Aikido is to be able to defend ourselves while protecting the attacker from injury. Training the basics every day and developing it to a more advanced level is the goal of every Aikido practitioner.
Seminars provide the ideal ground to create and recreate the atmosphere and seriousness of a real class as it is in Japan today. It creates a different level of attention, direction, integration and exchange. 
Mixing with people from other countries and Dojos, people of different levels and ages, people we usually don't practice together in our daily classes, also creates the perfect environment for improving, understanding and learning more and more each and every class.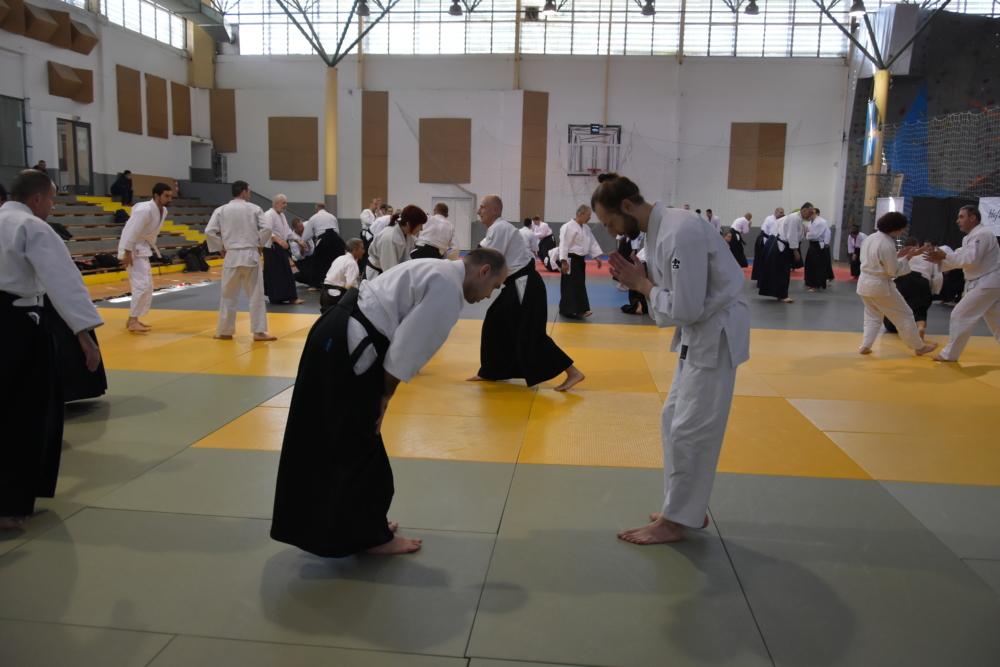 Even though we are from different cultures, countries and backgrounds, the practice of Aikido is integrated to society in a very delicate way: to perform the technique in its basic form as it was created by O-Sensei Morihei Ueshiba without injuries and having fun while performing the Artial Art.
During this Seminar Miyamoto Shihan emphasized the importance of basics and accumulation of practice: little by little, day by day, training the basics one can achieve a high level of understanding as well as technical performance in Aikido.
The reasons why one starts or is attracted to Aikido varies immensely: some people are looking for some physical activity and with time gets interested in the philosophy of it; some other people are interested in the Martial side and others are trying to belong. 
Independently of the reasons, the practice and the benefits of the practice are very visible: self-confidence, self-awareness, health, happiness and belonging but the real treasure is how we are able to exchange knowledge and how Aikido is in fact for everyone as long as there is the desire to persevere and continue through the years to grow and blossom.
Integrating Aikido more and more in the society of Plovdiv is the aim of our Seminars and with great pleasure we will continue to invite Miyamoto Shihan making Plovdiv a regular destination to Miyamoto Shihan in the years to come. It is my sincere wish that Aikido in Plovdiv develops more and more with the help of enthusiastic practitioners and the support and help of the society.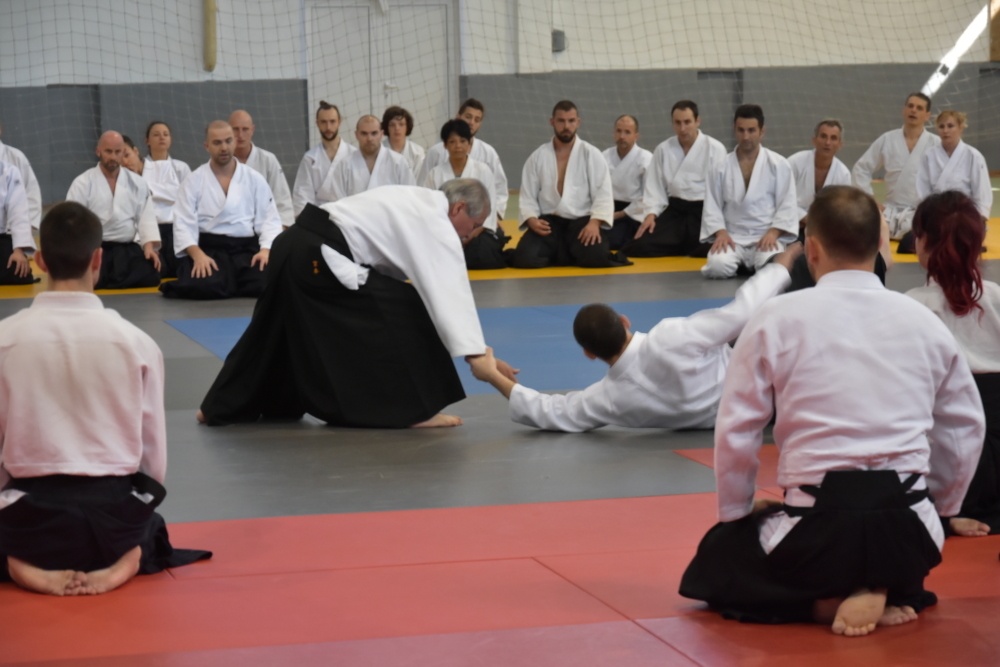 For Plovdiv 2019 & the International Aikido Seminar there were participants from Romania, Ukraine, Israel, people from different dojos in Bulgaria. Some people have some extra time to do some sightseeing and they immediately notice the difference in the town: it is brighter and somehow happier with many tourists around. 
We had the help of a Japanese volunteer from the Volunteer Bridge Project who specially came to give a hand with the Aikido Project. He had also visited Plovdiv previously and had lived in Sofia as an student. He also commented on how the town has changed since his last visit. 
Thank you Mr. Yuu Yonai and Mrs.Mayumi Taniguchi from the Volunteer Bridge Project. Mr. Yuu Yonai had a great time communicating with Bulgarians and learning about Aikido which he went back with much more information about what Aikido is about. It was a pleasure to have him around.
Special thanks to Aikikai Foundation, EU Japan Fest and Plovdiv 2019, our sponsor BioFresh Cosmetics, Mr. Yonai who volunteered, Mrs Nishimura Attache for Cultural Affairs for the Japanese Embassy in Sofia for the visit and other individuals who have helped in the preparation of the Seminar. Finally we thank our Sensei Miyamoto Tsuruzo Shihan – 8 Dan from Hombu Dojo Tokyo for accepting the invitation and giving us such wonderful opportunity to learn.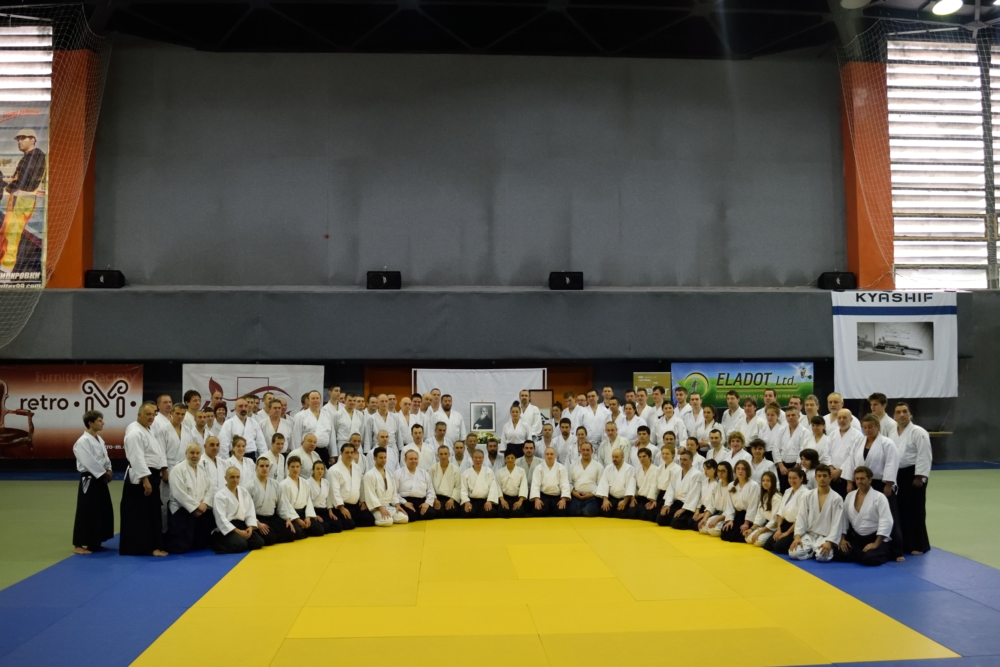 <Luciana Yamada>
Living in Plovdiv since 2005, started teaching at different sports clubs working mainly with children.
Since 2017 I am employed and work as a full time Sports instructor with Personal Training, group classes and Aikido at Sports Complex Sila where I conduct regular classes for children and adults.
Awarded 4th Dan during the Seminar where I received the certificate from my own Teacher's hands.