A ray of light in the darkness of the cave
空谷の跫音(Kukoku no Kyouon)/ Japanese four-character idiomatic compounds
Meaning: Footsteps echoing deep in the caves and mountains. A metaphor of rare, delightful visit or news received when one feels lonely.
Everyday, I come across various people and build relationships with them – just like everyone else does. I get inspired by, conflict with and aspire to different ideas and perspectives through which the existence of "myself" repeatedly shapes and changes.
Since relocating to Germany in 2017, I have worked in my own creation going back and forth between Europe and Japan. It is a truly precious experience for me to communicate and share experiences with people who have different cultural backgrounds, languages and lifestyles.
The "perspective" which is unique to each individual interests me and I can see "myself" whom I do not know through these differences. As a director, I have started to think that I should coexist with expressions and emotions from different "perspectives" in the same space instead of controlling them.
This is achieved by even considering myself as one another "perspective". And I decided to use the Japanese four-character idiom as the title based on the concept to build a multi-dimensional world of expression where different subjective views are intermingled. This is because each of the coexisting characters in the idiom has an independent meaning, and I saw the kind of work I want to create in how the depth of the characters is enhanced by arranging them side by side. Through this project, I aimed to create a comprehensive work which includes various elements of art beyond certain genres.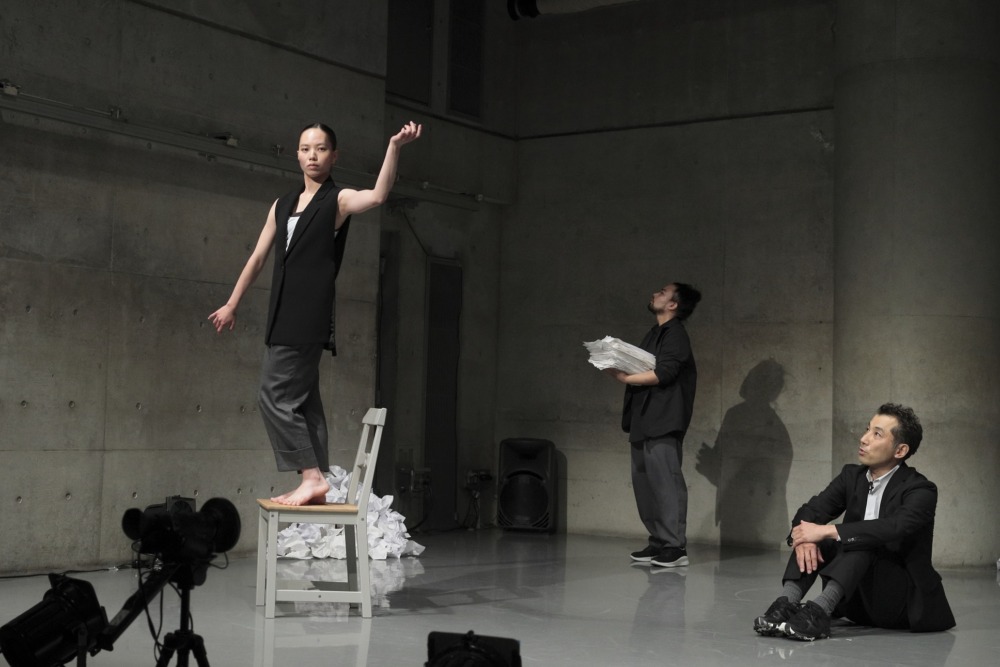 In early 2020 when this project was kicked off, many activities were restricted due to the lockdown and the art scene was severely affected, putting all of us into a situation we had never experienced before. In that long, silent time like being in the cave, I reconsidered "the way I should be" and asked myself what kind of relationship I want to build with others in the new world where many things have changed. These two topics became the foundation of my new creation.
Letting many different "oneself" coexist in the same space for each artist to explore "how to establish oneself" and "relationship with others" in it. Then build on this experimental process as a theater performance, and present the result in Europe and Japan. We present one hypothesis through this performance to see how the way it looks changes when seen by the audience with different cultures. For the reasons above, I collaborated with three artists of different genres to create a new theater performance where dialogue, body movements and soundscape coexist.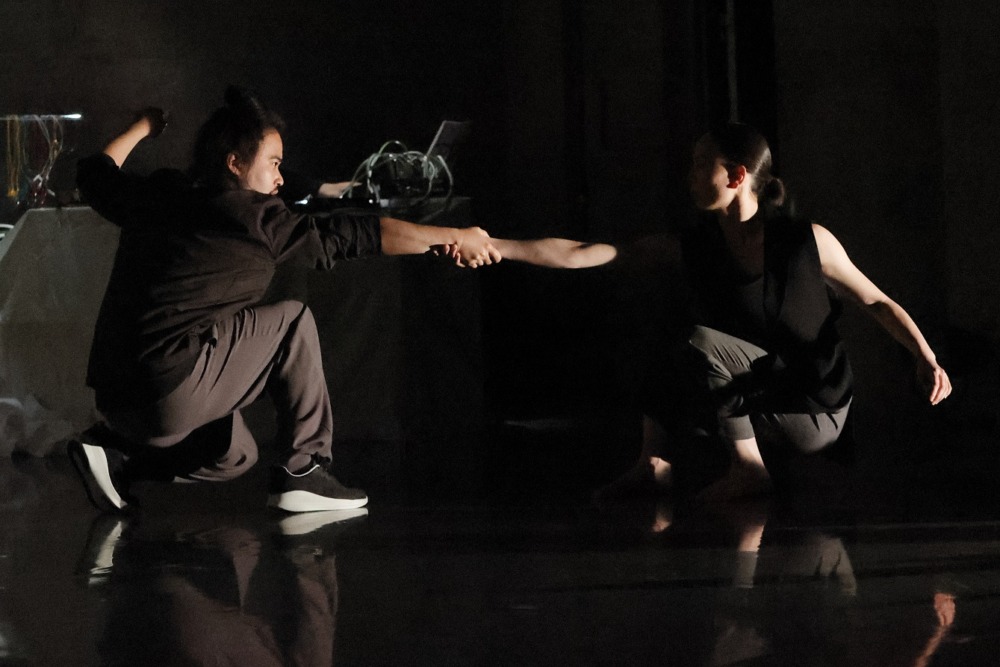 At the beginning, I went on with the project hoping that things will get better in 2021. However, the situation even escalated in Europe in late 2020 and I was forced to cancel the performance in Germany and Denmark in February 2021 as well as the school presentation in Denmark which was planned as a related project. Although we made a re-start towards the creation in Japan from September 2021, my Danish business partner, Christina Dyekjær, had to cancel her participation in the performance due to the travel restriction. I was also planning related events in other cities in Japan after the performance in Tokyo, but they also got called off. However, it brought me opportunities to meet new people and try new things. For example, a new dancer joined the project and we were able to build the work anew, and we also held an online streaming for the first time. This enabled us to share the performance with those who cannot come to the theater in the time of pandemic. It was a great challenge to stay flexible and constantly make decisions in the ever-changing situation, but it was such a valuable experience.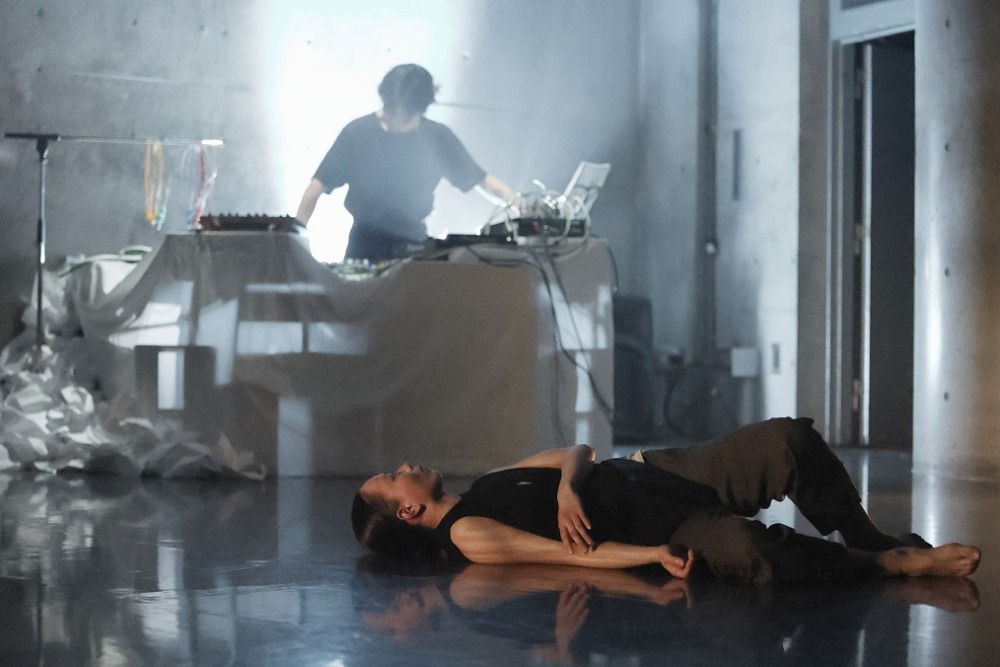 Artists coexisting in the same space – this might sound ordinary, yet I feel it's a kind of peculiar situation. Concluding one's own expression while sharing the space and time with others – isn't it similar to how we are and what we do in the society? A comfortable environment should be where one can establish "oneself" and interact with others, and I think we will be able to find "ourselves" when we feel good in both. It was a wonderful experience for me to work on the above experiment through my creation, especially in this transition period.
Dialogue, body movements and soundscape – each artist outputting their own "solo" and picking up invisible relationships between them. In order to achieve this, I deliberately worked on a creation session with each artist individually and merged them in the later stage of the creation (from individual to collective). This was a completely reverse approach from my conventional creation method (from collective to individual). It was a repeated work of respecting and trusting each of them as an artist, and the relationships and the character of the work that finally came to light were wonderful things that were beyond my imagination.
It was a great achievement to confirm the possibility of the new creative process and the new attempts we carried out in this project, such as bringing different genres of art to coexist in the work with the same weight on each of them. At the same time, I recognized a lot of room for improvement (e.g. complexity caused to the audience due to the combination of words and body movements, volume balance of music and words) which I will reflect in future activities. The process and experience of this performance gave me a future outlook on the themes of my creation.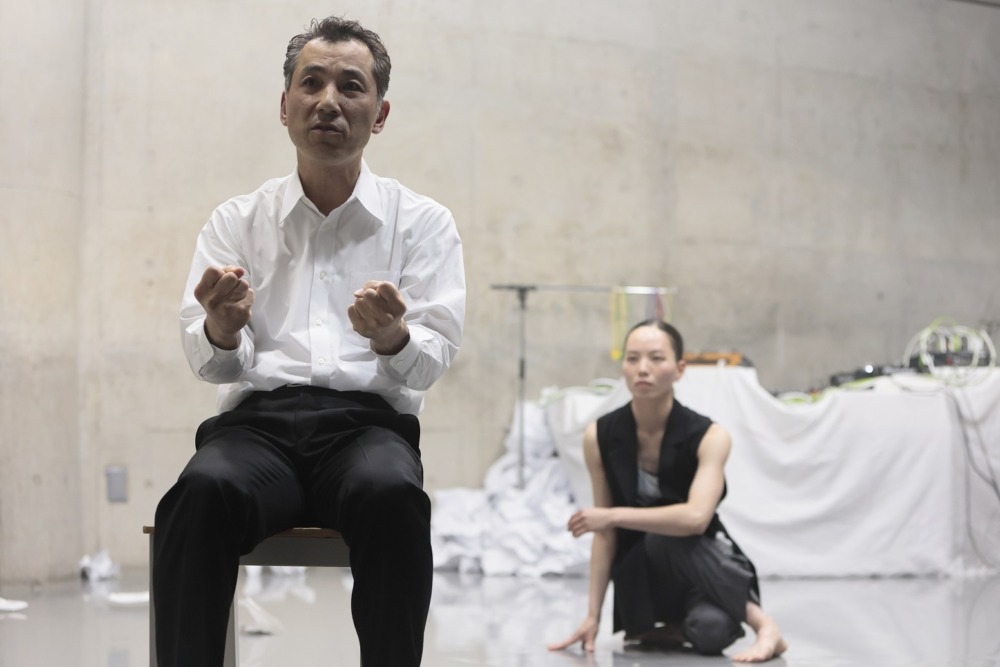 There are many opportunities and challenges I unfortunately had to give up on due to Covid-19. However, I will continue to develop this project in Europe based on the experience of this performance in Japan. I would like to collaborate with Japanese/overseas artists to promote artistic/cultural activities between Europe and Japan as a bridge. I also look forward to participating in the European Capital of Culture.
Photo © Atushi Yokota