Report on Mons 2015
Taking part in the arts festival in Mons, Belgium
The valuable opportunity for the children to engage in exchanges with European children and audiences brought us into contact with Les Petits Chanteurs de Belgique, a children's choir based in Mons and active in the French-speaking part of Belgium, and the Royal Boys' and Men's Choir Schola Cantorum Cantate Domino, active in the Flemish-speaking part of the country. With a Japanese children's choir joining these two, what the Japanese Children's Chorus Piccolo would sing and what music it would select for joint performance made, I think, participation in this European Capital of Culture Mons 2015 of special significance, and I thought about what sort of concert program to compile. I considered that Furusato is among the Japanese-language choral works familiar to choirs as symbols of our response to natural disaster in Japan. And considering the repertory of foreign-language songs that Japanese children can sing, I thought Dutch and French songs best left to choirs actually working in those languages. We selected English songs because English is the language most often familiar to Japanese children. We thus settled on performing two American children's songs by Aaron Copland. Also, 2015 is a special year. It marks 70 years since the end of the Second World War and 70 years since the liberation of the Nazi concentration camps. To mourn their victims and invoke a bright, peaceful world for the children's future, we selected Joel Hardyk's "I never saw another butterfly". The lyrics to this song are poems composed inside a concentration camp in different languages and later translated into English. For this song we met up with an oboist from Brussels and experienced musical stimulation. For our joint performance, Cantate Domino's conductor selected the Latin song "O la, o che bon eccho" by the Mons-born composer Orlando di Lasso, and the Petits Chanteurs conductor the French song "Cantique de Jean Racine" by Gabriel Faure. My selection was the Latin song "Misericordias Domini" by Mozart. Each of us would conduct the song of his selection. In this project the Japanese children would both serve as a cultural bridge between Flanders and Wallonia and gain the opportunity for direct experience of European culture.
       Baggage inspection and passport control were extremely congested at the Frankfurt airport, and so we suffered a missed connection. There were no flights that could board all 28 of us, and at last 24 were able to board the last flight but four had to remain in Frankfurt overnight and wait for a flight the next day. It was the middle of the night when we arrived in Brussels, the children totally exhausted. Personnel and host families had been waiting for us at the Brussels airport for over six hours, and the meal that the members of the welcoming party had prepared for us in Aalst had been postponed. At that "welcome party" several days later we were moved to gratitude for the warmth extended us. In Aalst the children had homestays with the families of people involved with Cantate Domino, but prior to our departure there was some anxiety over "letting the children have homestays on their own with unknown families." They couldn't speak the language, and would the children be able to eat the food? Their parents were consumed with these and other worries. However, smiles began appearing on the children's faces, albeit gradually, as their host families dropped them off each day where we practiced. On the second day the middle school students among them not only made a joint presentation on the history of the city of Ghent that they had researched, but despite the rain were provided a tour of the city. They learned much about language, historical currents in the Dutch-speaking regions, the beautiful city streets and important architectural structures, and the streets fronting strongholds and churches.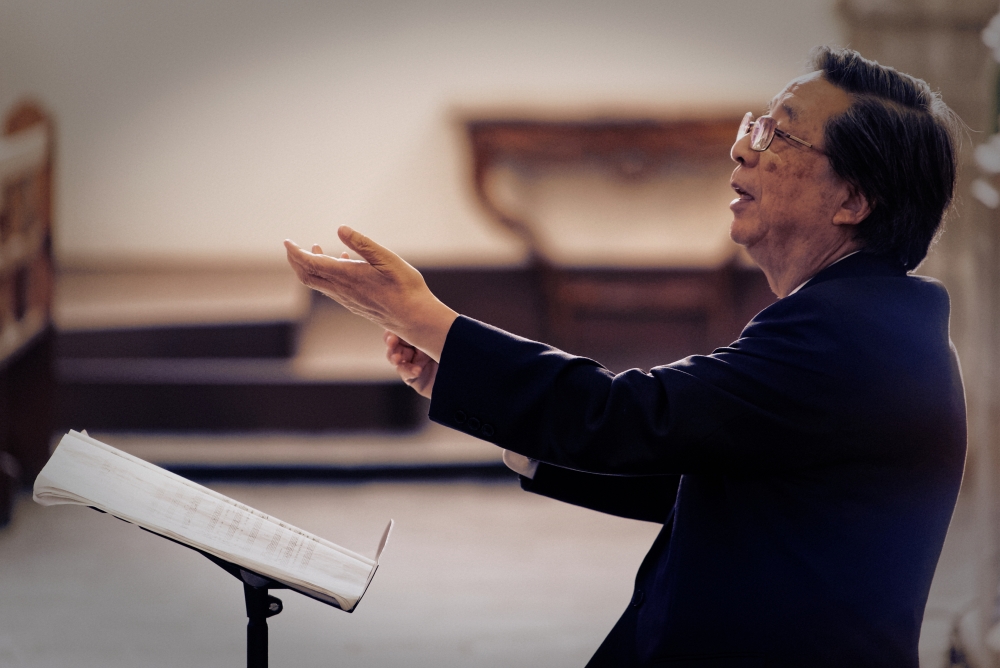 On the choral groups
 The project involved a joint performance by the Flemish-speaking Cantate Domino of Aalst, the French-speaking Petits Chanteurs of Mons and Piccolo of Japan, all of roughly the same age, in which children of different linguistic, cultural and musical backgrounds would create a single music together through this interaction. Each group expressed its own cultural distinctiveness in its own program, Cantate Domino and Petits Chanteurs both performing in a chapel with acoustics suiting their repertory and where they delivered performances with voicing, harmonies and phrasing suited to the acoustics. For the Piccolo members it was their first experience of the sound of a grand cathedral, and they relished both the music and the sound of the performance space. There were also joint performances by the three choral groups, the first at Affligem Abbey and the second at the Eglise Sainte-Élisabeth in Mons as part of the arts festival. Each was packed with a standing-room-only audience, and each won great acclaim. Cantate Domino is comprised of male students and graduates of the St-Martin's Institute primary school in Aalst and practices nearly every day at the school. As against this, the members of Petits Chanteurs come from the primary schools of different regions, such as Namur and Brussels, as much as an hour away by car. The Namur and Brussels area children meet in their own local practice halls, and several times a month they all come together for a full practice session in Mons. The conductors spoke of how difficult it is in Belgium, as in Japan, to gain members in competition with soccer and other sports clubs.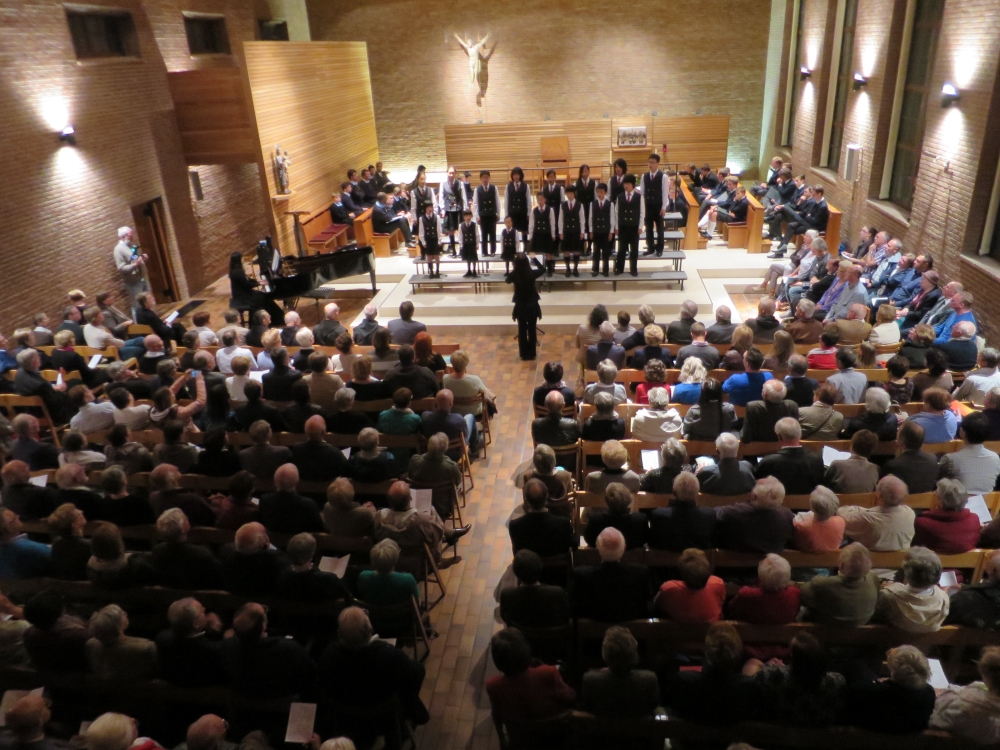 On the performances
 Both choral groups relied on adult graduate members for male vocal parts. For our joint performances Cantate Domino conductor Andries De Winter and Petits Chanteurs conductor Anthony Vigneron would be conducting not only their own choirs, but in the joint performance of "Misericordias Domini" conducted by yours truly they made up the core of an ensemble providing tenor and bass, respectively, and participated by singing along with the children, providing a fine balance of voice in the mixed chorus and proving a major factor in the acclaim this performance enjoyed. My thanks to both these conductors! Due to an injury to my foot suffered when departing for Affligem Abbey, I got about in a wheelchair and conducted from it too, creating much concern among those involved, something that weighed on my own conscience. However, the children concentrated on the performance, and as a conductor my feeling was one of gratitude for how they mounted a majestic performance. Though we experienced numerous difficulties, I think we achieved magnificent cultural exchange, including the way practicing together opened our eyes to music and the experiences of homestays and joint performance.