People Joined with the Sea Since Olden Days
        For almost seven years since 2010 I have followed the work of Terue Yamauchi. Yamauchi's work is based on painstaking research into peoples who make their living from the sea in Asian waters and her experience from living with them and communication with them transcending language. Exhibitions of her work have been held primarily in Japan and in the regions related to her research (Korea, the Philippines). From my perch in Cyprus they are a bit far off, and it never occurred to me that I might be directly involved in an exhibition of her work. That turned around, however, when Pafos won the title of European Capital of Culture for 2017.
         As the proposals piled up for a wide range of cultural events, I wondered whether as a curator I could not work out an exhibition linking Japan and Pafos, and it was Yamauchi's work that came to mind before any other. There were a number of reasons for this. The main concept of her work is "human activity and the sea". Her work concerns itself with the cultures and ways of life of people who continue to fish by means of free diving as in olden days and who continue in their faiths of the sea gods, and also with such issues as maintenance of tradition in contemporary society. An island in the Mediterranean, Cyprus is a land with a long history, continuing into our own times, of different peoples, religions and cultures crossing the sea and intermingling. Despite this history, the sea now has less to offer and the number of people who fish with the old methods and who make their lives with the sea have long been in decline. And so one reason was that in the Cyprus described above and – what's more – in the seaside city of Pafos I wanted to show work depicting people who continue to make their living from the sea as in olden days and work that makes one think about the difficult balance between development and the maintenance of tradition. The second was that I wanted to expose the people of Cyprus to the ancient religious beliefs that appear in Yamauchi's work, the tales of sea gods and animistic faiths. The primary religion in Cyprus now is Christianity, but in ancient times it was polytheistic, including Greek myths, and animistic. The third was that I wanted to get Yamauchi into the sea off Cyprus, for her to step away from Asia and experience the different sea of the Mediterranean, with the hope that this would spur the creation of new work.
         What then developed and actualized from these personal notions of mine was Yamauchi's solo show held in April 2017. Comprising photographs, video and installations, the exhibition was one collecting Yamauchi's work from recent years.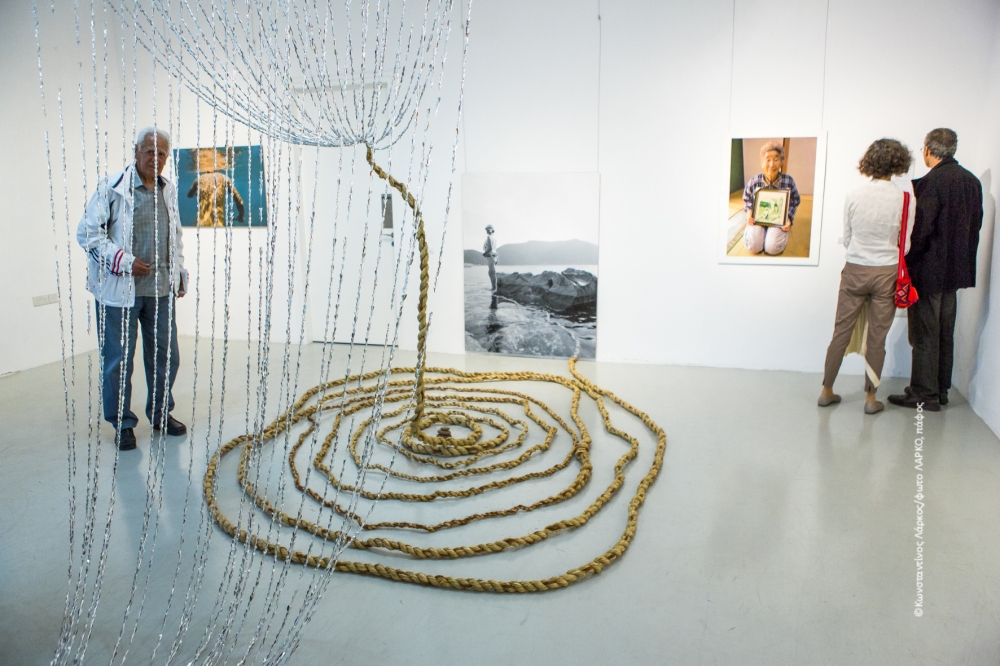 As well as Yamauchi herself, attending the opening of the exhibition were the chairman of European Capital of Culture Pafos 2017, Mayor and the Japanese ambassador to Greece, and large numbers turned out for Yamauchi's artist's talk that evening to hear the untold story of her research in the countries of Asia. Among her many anecdotes that produced endless laughter in sharp contrast to the seriousness of her work, what made an especially lasting impression was a tale from the Philippines. One day when she was out fishing with some experienced fisherman in rough seas, their boat capsized and came apart. All aboard were thrown into the sea. When a shark might have attacked at any moment, the fishermen scrambled to gather the parts of the dashed boat. Each part was handmade, and they hadn't the money to buy replacements for any that were lost. The boat was all they had and may have been more precious to them than their lives. In these circumstances the local people would not have been particularly surprised had they been rescued by some miracle. It all goes to show how familiar they are with the awfulness of Nature, how familiar with matters of life and death. It seems that this incident is what brought home to Yamauchi what it is to make one's life with the sea.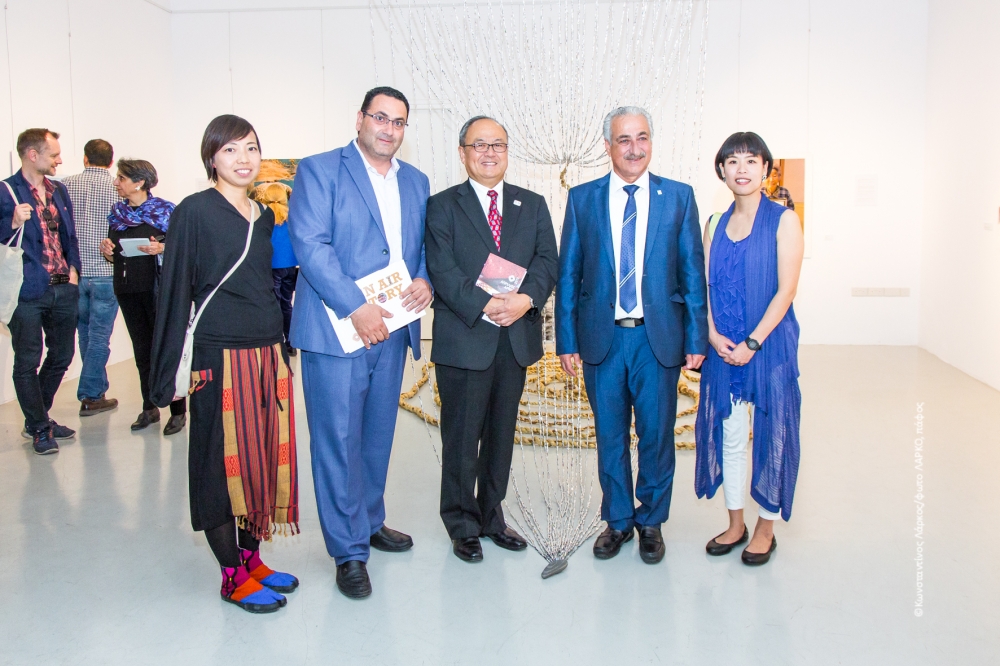 Also striking was that when she touched on the free-diving ama fisheries of Japan, an occupation that remains primarily one of women, she spoke powerfully of how as an artist and as a woman she wanted to tell the story of this continuing tradition.
         Yamauchi said that before the Cyprus exhibition she had identified the direction of new work exploring the relationship between the sea and the emergence of life in the myth of Aphrodite in Pafos, and common aspects shared by sea gods worshiped in Asia and those of the seagoing Minoan civilization of the ancient Mediterranean. It was a pleasure to learn that what I hoped for when planning the exhibition would become reality.
         During her time in Pafos, Yamauchi visited museums and world heritage sites, and also swam in the sea. She paid special attention to sites associated with the goddess Aphrodite, who was born offshore Pafos, and appears to have gained inspiration for future work. She expects opportunities to show in Japan the works relating to the myths and waters of Cyprus and the Mediterranean based on the research conducted on this visit to Cyprus. As a curator, my own hope is for a chance to show in Cyprus work expressing what the Mediterranean civilizations and myths on the one hand and the Asian marine regions on the other have in common.
         I have been involved in organizing and mounting exhibitions in Cyprus for some six years now, yet there was something about this show of Yamauchi's work that took me by surprise. Despite the brief showing time of just three hours daily and a location by no means easy to access, during the month that the exhibition ran it received visitors every day. Since the location was not in a tourist center of Pafos, these were people who went to the trouble of seeking it out. I was frequently made comments on Yamauchi's exhibition both while it was on show and afterwards. Nothing could give an organizer greater pleasure.
         In closing, I would like to express my deep gratitude to the many people who provided their support in so many ways and to the volunteer staff who assisted during the exhibition.