[#KeepgoingTOGETHER] Vol. 8 / Japan through ikebana
Efforts to make this program different from previous projects online 
ʻJapan through ikebana' is a project I created to show the beauty of ikebana in a brand-new way. I always create my ikebana artworks to tell stories, to transmit emotions and to shape longlasting impressions.
 With this project, in order to appeal to a larger and more diverse audience, I went beyond the ikebana artwork and used my travel photography as a backdrop for the works.
 5 Senses official SNS pages (FB and Instagram) already have an established fan base (mainly interested in ikebana) but with this new project, by adding a new dimension to my usual ikebana displays I could reach a more diverse public. I thus managed to appeal to people with interests that span from ikebana, culture and art to travel, tourism and photography.
 In light of the recent lockdowns and given the fact that most people are nowadays confined at home, I hope that my artwork represents a nice way to enjoy the beauty of Japan and ikebana, from the comfort of one's home.
Differences seen in the number of viewers and comments in comparison to  previous projects 
This project has an interactive aspect, requiring people to search through a picture and try to identify the scenic spot from Japan. This approach is interesting for those who traveled around Japan or are interested in the beauty of Japan. A lot of people comment with their guesses and then tune in again to find out what the hidden picture was. (hidden picture is revealed every week on Mondays).
 The combined visuals and aesthetics have a unique artistic effect that can be enjoyed as such, by both ikebana lovers and people passionate about art/design in general. The selection of pictures taken by me around Japan offers depth to the ikebana images and makes people perceive the artwork in a multi-leveled way.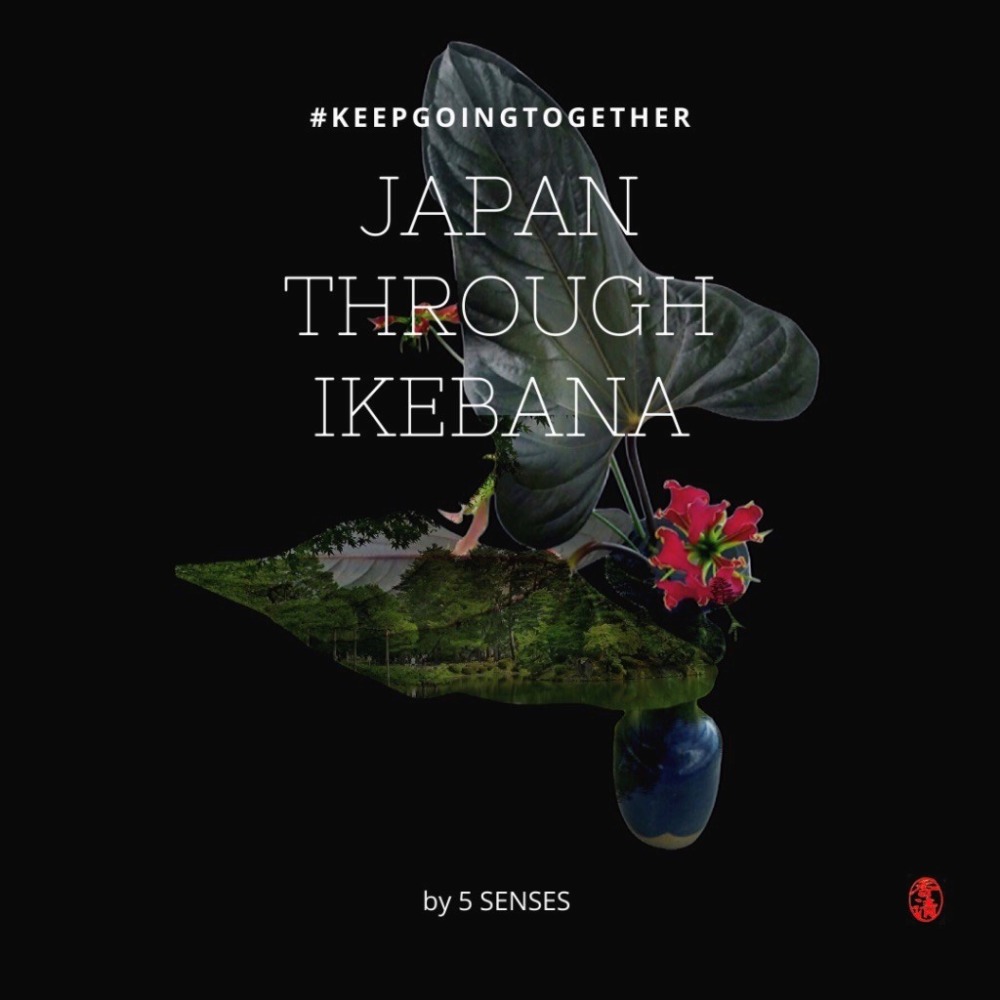 Utilization and Development of Online Live Streaming for Forthcoming Activities
Due to the current situation and the cancelation of events, venues, workshops etc., my ikebana activities had only the online channels left for sharing my artwork with the public. Taking this into account and with the desire to present the beauty of Japanese culture to fellow artists in Europe (who are probably also struggling to showcase their artwork), I decided to start "Japan through ikebana". I hope that once normality resumes, people will be able to enjoy live ikebana arrangements and demonstrations again.
 I imagined this project as a start of a series. Once normality resumes, I would like to expand my idea with further projects, for example: ʻEurope through ikebana' etc. and to further help create connections between Japan and EU.
<Program>
Japan through ikebana
Date: 1 May – 20 Nov. 2020 
Content:
A journey around beautiful Japan through ikebana artwork – Embark on an imaginary journey around scenic Japan, through beautiful ikebana artworks. Cleverly hidden behind each artwork you will find famous places around Japan. Try to see if you can guess each one.
Promotion Tool: 5 Senses official Facebook, Instagram
Distribution Tool: 5 Senses official Facebook, Instagram
Twists to get attention and reactions from audiences:
Use of hashtags: #japanthruikebana #keepgoingtogether #5sensesikebana #eujapanfest
The number of views:
 approx. 600 people / Facebook and 6000 people / Instagram