Kaunas Visits Japan
The pandemics is finally reined in, and with that in mind it's time to renew Kaunas delegation visits to Japan. With the help of EU-Japan Fest we managed to get to Japan only a few weeks after the borders were widely open again.
In October 24-28 a humble delegation of Kaunas creatives visited Japan for a networking visit: member of the Kaunas Photography Gallery, photographer prof. Romualdas Požerskis, Kaunas – European Capital of Culture 2022 International Projects Manager Daiva Jeremičienė and the organizer of this initiative, culture manager Sergej Grigorjev. Together with other Lithuanian culture professionals, we explored new possibilities and celebrated the colorful Kaunas and searched for new creative collaborations witj Japan.
The delegation had fruitful meetings with Japan Foundation, Arts Council Tokyo, EU-Japan Fest, Toshiba International Foundation and the leaders of the Japan-Lithuania Friendship Association, visited cultural institutions and contemporary art spaces in Yokohama,  including Yokohama Performing Arts Meeting (YPAM), Tokyo Photography Art Museum. A dozen more meetings were held with prominent performing arts, visual arts, publishing institutions, and festival organizers.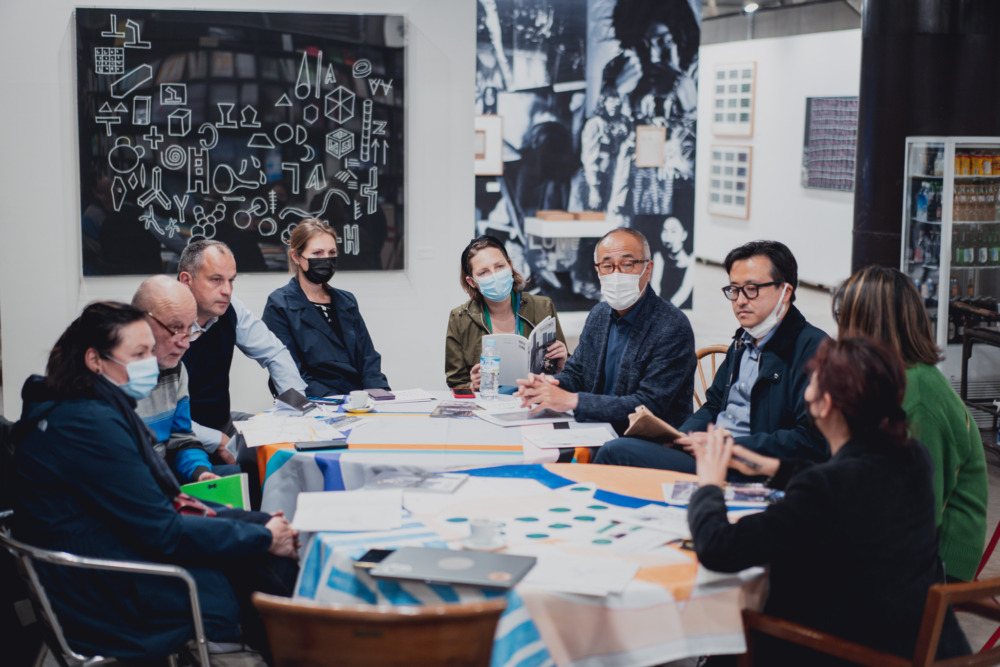 On October 26, at the Embassy of Lithuania in Tokyo, the delegation presented three talks at the conference, where representatives of Japanese creative organizations, cultural foundations and art schools, artists and translators participated.
In her presentation, Daiva Jeremičienė gave an extensive perspective about city of Kaunas – European Capital of Culture 2022. The title of Capital of Culture has immensely contributed to the revival of the city and its communities, and internationally celebrated artists brought world attention to Kaunas. Dare we say that culture changes cities. Kaunas has strong ties to Japan, and in 2022, with the help of EU-Japan Fest a new Japanese festival was born – "Japan Days in Kaunas WA", that helped to elevate the cultural relationship to another level.
Daiva knows Kaunas inside out. Daiva started her career in the field of international relations in the Kaunas City Government. Daiva's career also includes several years of service at the European Commission of the European Union in Luxembourg and at the European Economic and Social Committee in Brussels. Since 2019, Daiva is a member of the team of the project "Kaunas – European Capital of Culture 2022". She is coordinating international cultural partnerships and projects with foreign artists and creatives, cultural institutions, diplomatic missions, foundations, focusing on assistance to the representatives of the local cultural communities in establishing international contacts, long-term international partnerships and initiatives.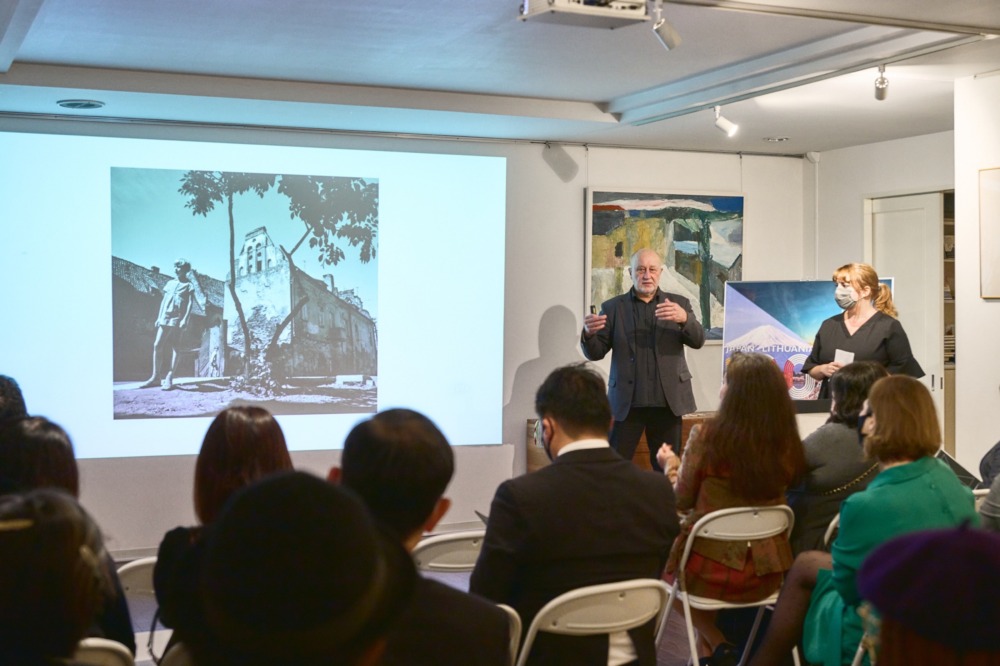 Romualdas Požerskis (b. 1951) presented his photographic works, created in the period of 1974-1984, that capture the life of the streets of Kaunas and told about the city that no longer exists – the past Kaunas. Romualdas brought attention of Japanese audience to the phenomena of inner courtyards: usually four housing units would connect in a rectangle, with facades facing the street, and back facades forming an inner courtyard. The space of inner courtyard was both public and private, open and secret, with children playing safely and people crossing in a hurry. Forming a phenomenon, uniquely captured by Romualdas.
Romualdas is honorary professor at the Department of Modern Arts of Vytautas Magnus University(VMU). He started working as a photographer since 1975, and In 1980, he became a freelance photographer and prepared photographs for the Lithuanian and foreign press. Since 1993, works at VMU. Romualdas is one of the most important successors of Lithuanian humanist photography traditions that emerged in the 1970s, uniquely developing the stylistics of photography formed by his senior colleagues. He has published seventeen photography books. Romualdas participated in 35th Salon of Japan, Tokyo, 1975 and Tokyo photo festival, 2002. Romualdas' art of photography presented in Art Journal, Tokyo, 2003 July. Individual exhibition in Art Gallery KI, Tokyo, Japan, 2003.
Lastly, Japanese singer and translator Ekotumi presented interactive digital book about the deeds of Chiune Sugihara and Jan Zwartendijk, intriguingly titled "Noble Rogues". The book, co-created by Lithuanian writer Agnė Žakrakalytė and Japanese illustrator Kohyo Ikeshita, is an illustrated detective story for teenagers. The storyline can be influenced by reader's choices and thus bringing element of dialogue with the book. The interactive book will be released in Japan in 2023, free for everyone to read. Ekotumi also passionately read excerpts from the work.
Songwriter and singer, performer, novelist of Japanese mythology and folklore, Ekotumi graduated from Waseda University, held Shinto culture examination (Jinja-kentei) level 1 (highest). She has developed the 'New Translation Kojiki series', a Japanese-style contemporary opera with an original interpretation of Japanese mythology, through songs and dances. Since 2015, Ekotumi performs in concerts over the world, beginning with Europe. She also writes Japanese mythology long novels aside her singer career.

On December 5-11th, photo exhibition by Mr. Gintaras Česonis "The Modernity of Rare Façades" opened at Daikanyama Hillside Terrace Annex A, Tokyo.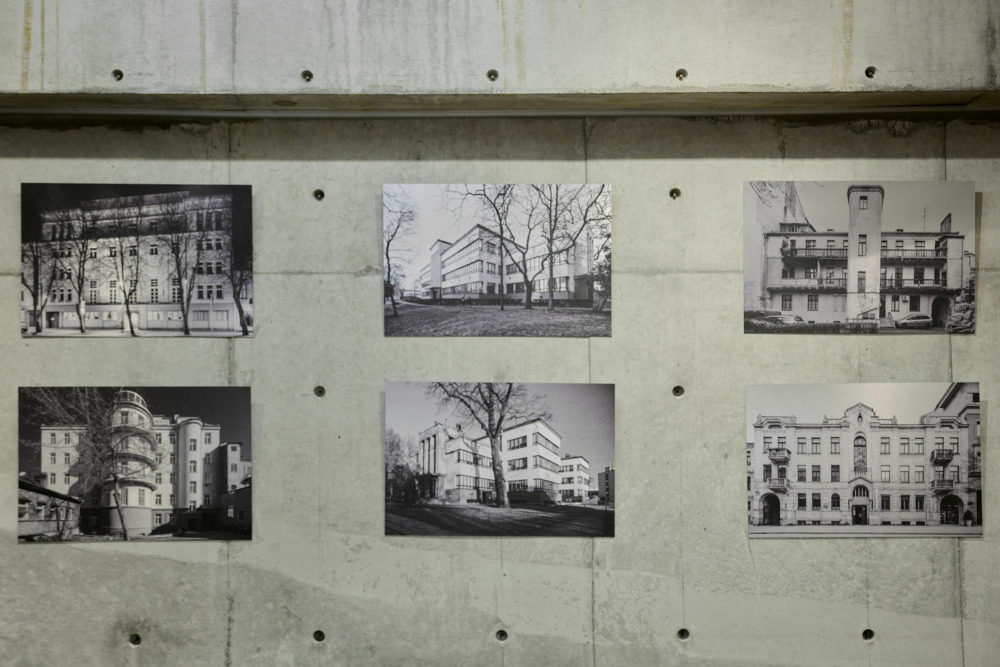 The exhibition was held as part of the event "Lithuania Moments" commemorating the 100th anniversary of Japan-Lithuania friendship. It's being held until the day. In this exhibition, Mr. Česonis, president of the Lithuanian Photographers Society, photographs Lithuanian modernist architecture built during the interwar period (1920-1930s), when Kaunas, Lithuania's second largest city, was the temporary capital. This work is being exhibited for the first time in Japan.
To some extent, the exhibition continues the idea of inner courtyards of Kaunas, bringing attention of the viewer to rare facades of the buildings.
The week-long visit brought new perspectives to the participants. Romualdas is in close contact with Tokyo Photography Art Museum and is planning to add his works to the library of the museum. Daiva has amassed new cultural contacts that will become part of Japan Days in Kaunaw WA 2023. And Gintaras received interest in his exhibition from Arts Front Gallery Tokyo as a future prospect. Before leaving Japan, we had a brief talk with the delegation. Our hearts were filled with happiness and sorrow at the same time. "If only we could have done this a year or a few earlier – so many possibilities arise when people meet in person." one participant said. Albeit the feeling of being a little late never left us while being in Japan, our delegation is happy, that the meetings are in time for other opportunities.