Continually engaging
The whole world was thrown into confusion by a situation with no end in sight.
Theatre was of course no exception, with the effects of the COVID-19 changing in an instant things that until then had been common practice. I was forced to cancel major productions over two years as this difficult, helpless period continued.
People did their best to survive by changing the way they presented theatre, no longer staging productions before live audiences as had long been the norm, but doing so with no audiences or streaming online.
But I was unable to go down such new paths.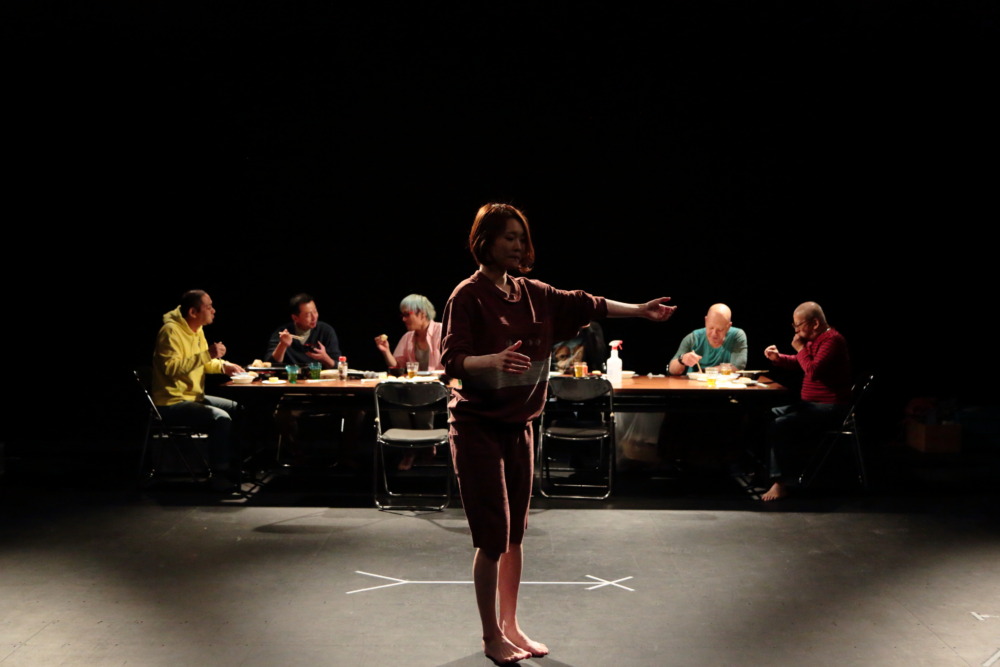 2021 was a year in which I questioned anew the way I thought about and approached my own activities.
Today, with the internet and social media having rapidly expanded and become increasingly fast, enabling us to obtain information more easily, the current situation has given further impetus to this tendency. In a sense, we have pursued "theatrical art" that is extremely slow. The pandemic has given us time to look back on what we have done and think again about its value.
Audiences come to theatres by car, rail or bicycle, or on foot. They are then confined for one or two hours, by no means a short amount of time, before again spending time returning to their respective homes.
I think it is within this process that the meaning of theatrical art can be found. Alongside the "real world," which cannot be turned off if one doesn't like it or fast-forwarded if tiresome, audiences observe people standing and events occurring onstage right now before their eyes, then take these experiences back into the world in which they live. A theatrical work should include the thinking time during which it is amplified in the minds of the audience after being handed over to them.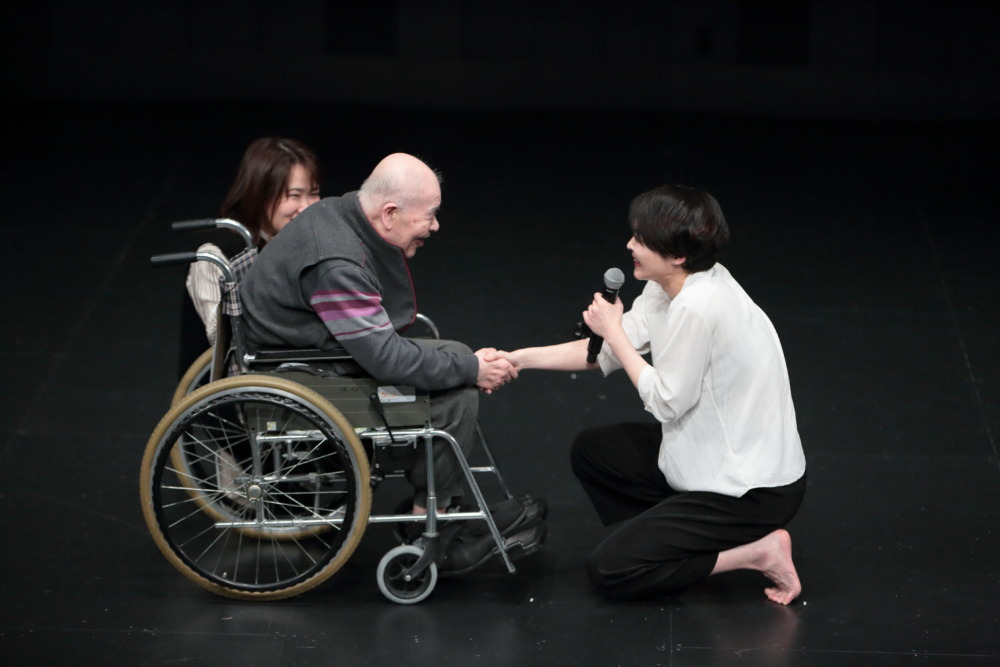 Conversely, those onstage take on the audience's response. Only when we are made to stand before, to face an audience is a theatrical work complete.
I was convinced that despite its troublesomeness, we must not lose this slowness of speed.
Under these circumstances in 2021, I created works with two artists: director Norimizu Ameya and dancer/choreographer Setsuko Yamada.
Both have lived far longer than I have and enjoyed far longer performing arts careers than mine.
Both have lived through various periods while continuing their artistic practices.
I met face-to-face with such people to discuss what we can do in these times. What does it mean for me, someone born in the age when speeds have become faster and things more convenient, to meet them?
We shared our respective thoughts on the times we've lived through. There were moments when we could not easily understand each other, and moments when I felt weak at the knees and came to a standstill. I feel disheartened at the shallowness of my own experience. But there are also things I understand for the first time through our combined authorship spanning generations. A world I see for the first time.
Their careers cover such a long time. It made me realize that "now" can be the accumulation of the past.
To reach "now" took a long, long time. It is not as if now suddenly exists here on its own.
Setsuko Yamada told me, "I don't want to turn it into the reminiscences of an old woman." At that moment, I realized it was important to clearly present as something of my own what I had gained during the time I shared with Setsuko Yamada. And also to communicate this with audiences not as reminiscences but as something happening now.
This is the same as the times I felt moved by something I sensed in the many other people I have been involved with through my own work to date, from people at drug dependency rehabilitation facilities and old men with dementia to Zainichi Koreans and children.
One discovers oneself in people who have lived through different times.
Norimizu Ameya was hovering between reality and fiction. In this delicate interstice he wrestles with himself and thinks deeply. While creating plays he has continued to confront reality. Reality is "society," reality is "now." Where is this boundary for me? Having created many works with people who are not dancers or actors, I am again confronted with the danger and violence of this. But this boundary also represents the possibilities of theatre.
Like slow-paced theatrical art, the time I spent working with these two artists was time in which my own thinking was amplified and in which I could look down on our present situation as a part of a long history.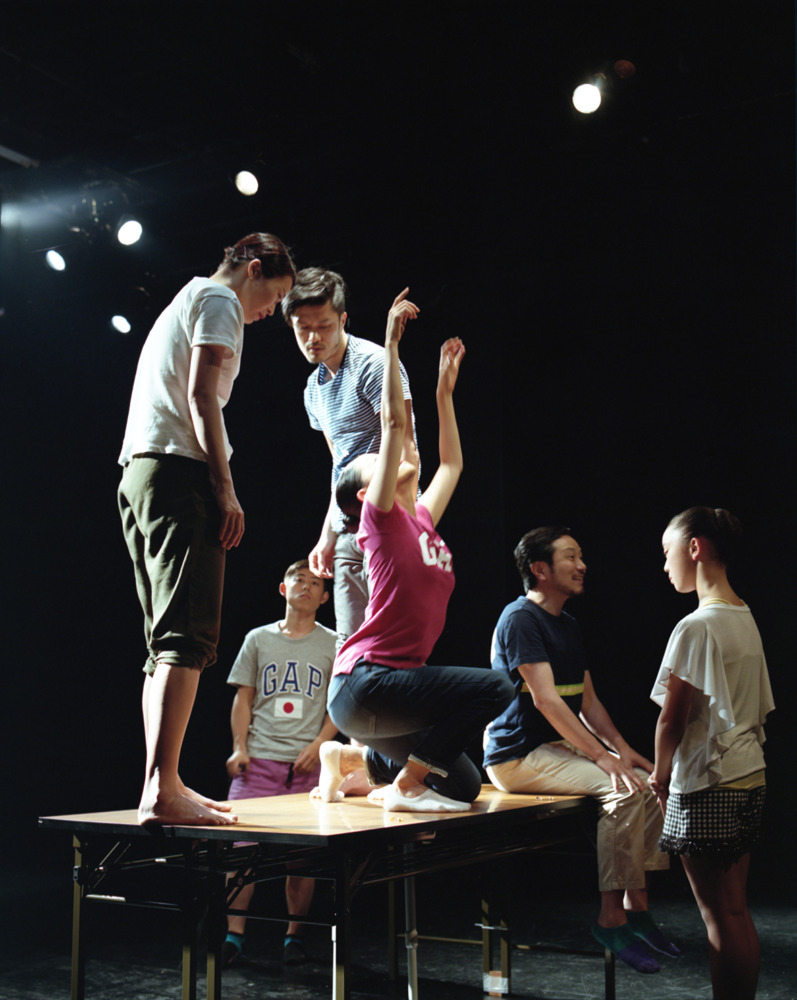 A girl came to see our work. "I don't know why," she said, "but I cried. I want to put in words why I cried, but I cannot explain it."
It was a moment when something in the short, ten-something year history of this girl's life resonated with the work. I hope in the distant future she takes the time to remember those tears.
Though understanding may take some time, and results may not appear quickly, I want to slowly provide time that quietly adds to the audiences' everyday lives. To continue capturing the "now" that will be passed on to future generations. To create as fiction the very limits of the boundary with the real world.
I sensed anew that this is what theater means for me. This is something that can only be done live. Something that can only come about in the context of relations among people.
No doubt anxious days will continue, but I want to carry on creating works that make us want to live in the now in spite of this.
As well, when it is again possible to travel overseas freely, I want to see how my works will be received in front of people who have lived in different places under different rules, and how I can engage with these people.
**********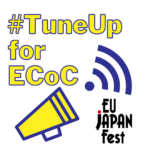 Artist Support Project #TuneUpforECoC: Supported Artist
https://www.eu-japanfest.org/tuneupforecoc/eng
(*Written in January 2022)