A rhythm that creates (a new) rhythm ②
Just a few weeks ago I was sitting at the Sopot beach with two artists from Amsterdam, one of them is Polish born, another one – Tunisian, young Japanese artist coming from Berlin, my sister and nephew, my mother and my 93 year- old grandmother. The Day was cold as it was still February, but Baltic waves were in light blue-gray colors and the constant wind from the land uncovered the sun for us at some point.
We ate together and enjoyed the sand and the sea, and talked and listened to grandma stories told in Polish- Russian mix, with little help of English translation.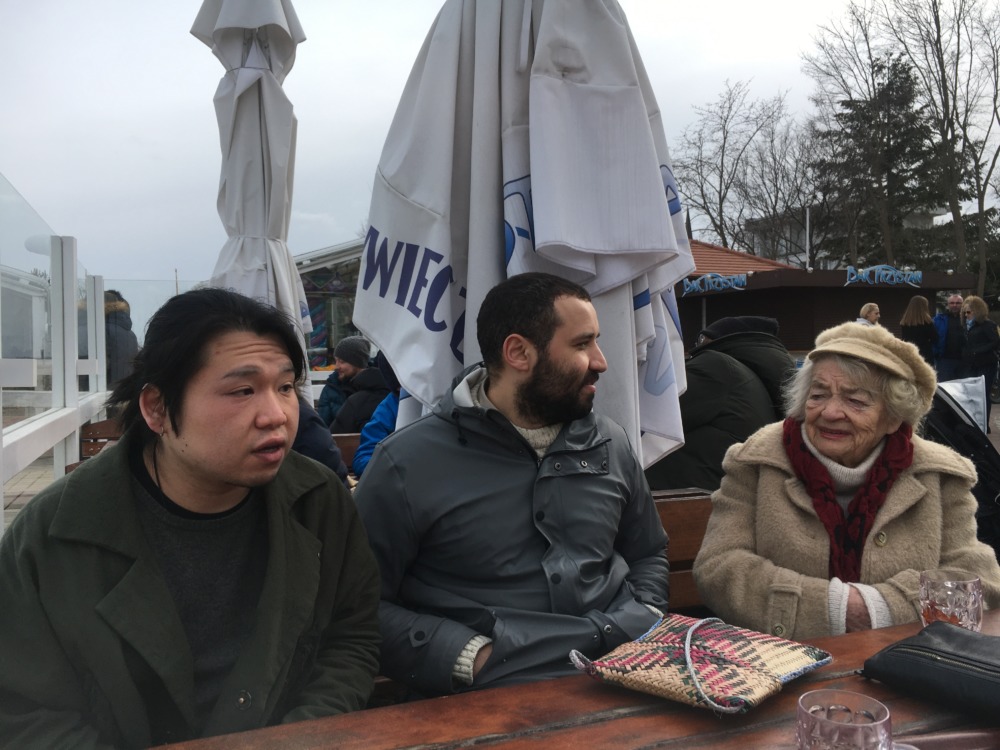 ©Julia Sokolnicka
At some point I had to ask the question: how did we all end up here, at the same table on a windy day at Gdansk Bay in Poland? Because – and I am sure of that – it was not just a matter of implementing the first part of INNE RYTMY: nonviolent revolutions project into life. Surely we had all met beforehand, some of us many years ago (like me and Julia), some of us even before the birth – if we agree that population movements at some point in the deep past led to the creation of nations, groups and our family trees – and some of us just a few months ago (like me and Yuki). But this question was still there, piercing my head: how did we all end up here, with the same idea: to spend time together and discuss some of the most relevant issues, and laugh, make new friends & listen to some old stories, some of them nearly forgotten?
The best answer I can provide is that the project – and all that happened before – gave us an opportunity to dive into different perspectives, to allow ourselves to listen and to share, to be in rhythm, and to find inner rhythm – of the city history, of families' history, of social revolutions that were present in the public space for centuries. Those revolutions that shaped the everyday realities and the collective memories up to the point that each one of us carry set of gestures, words and readymade tales.
For these thoughts to crystalize the presence of Yuki Nishimura – who has most distinctive voice culture-wise – was very helpful. His comments and ways of describing the reality and legends found in Sopot were very mind opening. I am still amazed that after all these years I have spent in Sopot it was the first time I heard someone to compare it to a womb, soft, hospitable and caring space. That space that was shaped not only by the latest 100 years of history, in which the city was founded, shaped and reshaped by violent political changes. The metaphor is also referring to times before that, to the forming years of sea meeting resistant shore line of woodsy hills; the times when rhythmic unstoppable force of water and wind was slowly transforming the raw landscape into the supple beaches, so adored by citizens and visitors.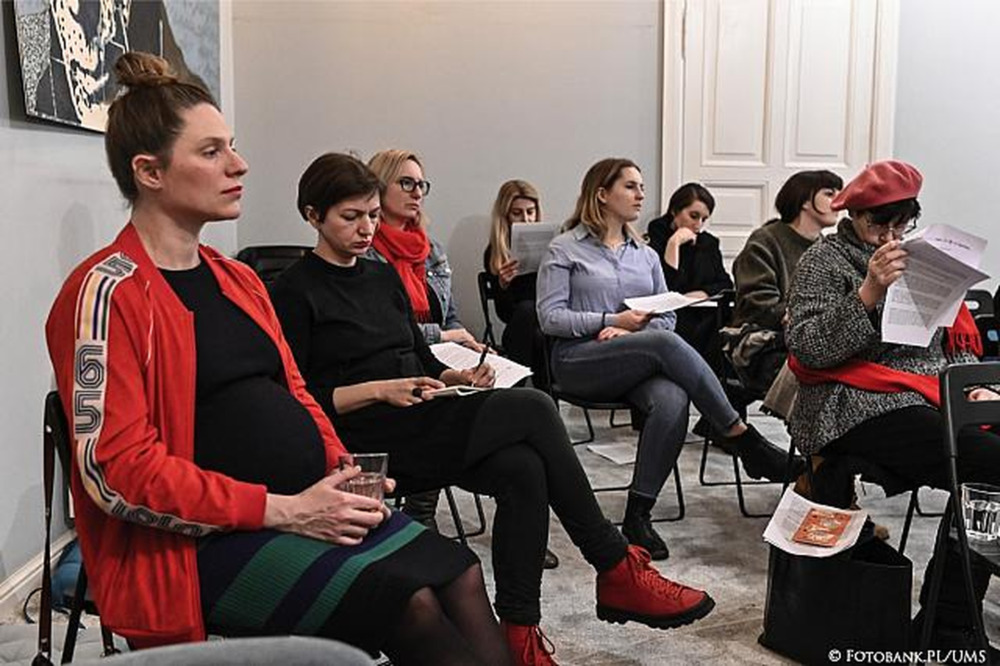 ©fotobank Sopot/UMS
In context of the project, and our discussions, not only those informal ones at the table, but also during public panel and at opening of the exhibition, another question would arise from visualisation of hospitality and constant rhythm of everyday, mundane changes in our environment; be it in ecosystem, be it in politics or social orders.
Where do we look for some opportunities of change? Where do we begin with discovering the potentials for revolutions? Usually all counter-system social movements would contest historical or political orders and go straight to the roots of society: simple gestures, almost folkloric narratives, use of city's space and architecture as canvas for their new ideas. Until now, in Sopot – and whole Tricity in general – we would observe people of all intellectual and social backgrounds gathering together and fighting for their cause mostly with use of strong myths of a social worker profiting from a workplace and workshop tools (the 80's Solidarity movement born in Gdansk Shipyard using the resistor as tool and symbol). Before that, there was also small and joyful movement of free spirits connected by Jazz music festivals in Sopot in the 50's. They would mostly treat the city space as their own dance floor, a stage even, where they showed everybody how people can unite and demand their rights and respect without any violent acts. That once again came back to life – and to city public space – in 90's when we opened up for the first wave of visitors/tourists coming to Sopot not for its beautiful beaches but for its clubs where the raves, techno and wild artistic performances were inviting the people to dive deep into that night rhythms.
In that terms, Yuki's idea of working with pre-city notions, with some symbolic and spiritual notions reaching to the core of human spiritual needs and turning back to the sea and wind as the metaphor of constantly evolving and changing source of unstoppable waves is at the same time simple and deeply reflective.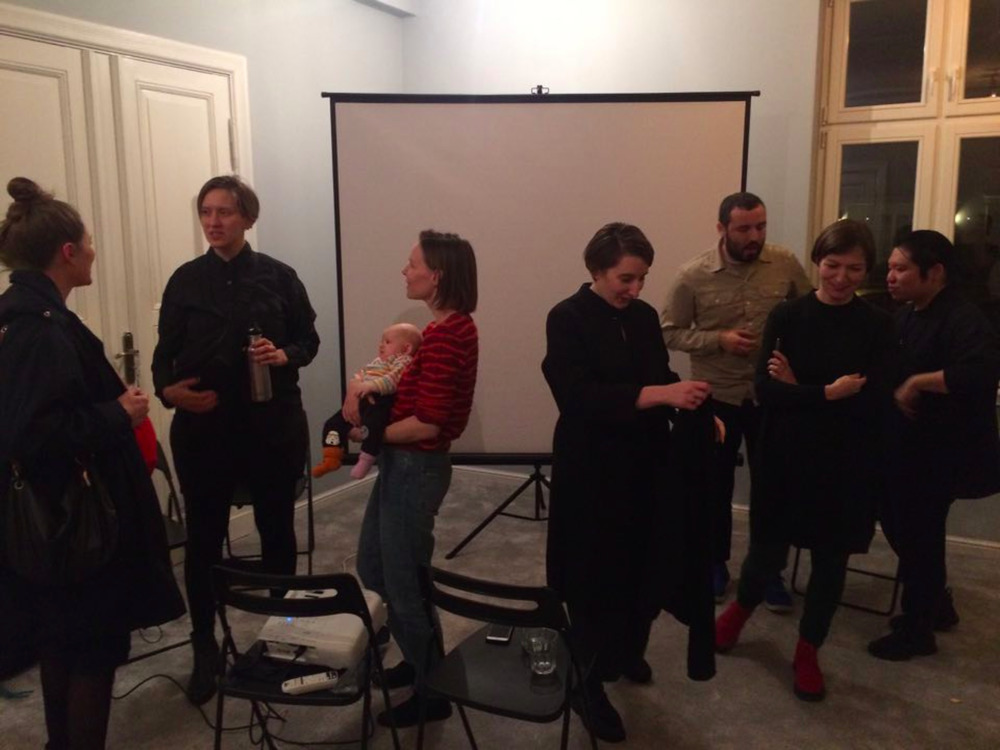 ©Noks Collective 
I am very excited for the forthcoming meetings and creation of the artworks. Not only as a professional, also as human, that just want to interact with another human in order to shift perception, to create new quality of cooperation stemming from synergy of spontaneous gatherings and respectful listening to "the other" stories.
I might be wrong, but not too much: those kind of deep interactions, emotional exchanges and letting people to feel free about what they think is important in their everyday life are the most important actions that we might take up now, while facing all the environmental, political and health crises. Let that be start of a non-violent revolutions. Let that be a start of actions, because "to do things, you have to do things"
Not to mention; last but not least, that my grandmother is looking forward to meeting those nice young people who understand her even when she sings.