A Narrow Room Gradually Inflates into a Hot Air Balloon that Travels the World:Participating in Dance-X 11

A Mirror Reflecting the Times
A collaboration project that started in 2008 through the joint curation of advanced experimental dance source Tangent (Montreal), LIG Art Hall (Seoul) and Aoyama Round Theatre (Tokyo), Dance-X has contemporaneously released works by choreographers from each country to attempt a symbiosis of the different axes in dance. I decided to challenge this project with my most complex work, "Koshitsu".
"Koshitsu" was a piece born from my experience of escaping the restraints of reception work by seeking refuge in elevators and toilets to dance during my time as an office lady at a life insurance company. In these small spaces closed off from the public, I clung to my body and unfolded infinite fantasies.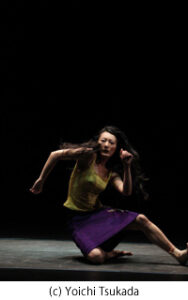 This work was created in 2004 using spaces outside the theatre including real toilets, elevators, warehouses and churches, and has been continuously performed in 6 countries through a repeated process of trial and error. This year, in staging the performance again, I watched the recorded films of past acts. I may have been staging these performances thinking that they were interesting at the time, but seeing it now, it just didn't appeal. This came as a shock, but not as a surprise; times change and so do I. The dance I perform is a mirror that reflects the times and myself. There was no choice but to face the challenge with a renewed sense of the present, with a "Koshitsu 2011 ver."
The 2011 version focused on a persistence of the body. It involved repeating movements in daily life, which would sometimes slide into different actions and turn into something completely different within the repetition, or simply go back; there were even moments where I would leap into a completely different body and character. This was a kind of work where one movement caused a search for the body that was capable of various changes; in other words, it was a piece about seeking the next opportunity for change. How could you open up your body and mind while being watched by people? How could you find your way through the process of a blossoming flower? These questions were at the centre of the piece. As a choreographer, I asked myself how I could go through the process of creating a device to jump higher. As a dancer, there was that process of trial and error, dutifully following the choreography, but at the same time trying to destroy it completely. Thus there was a confrontation between myself as a choreographer and as a dancer.
---
 From Notes for "Koshitsu 2011ver."
During my time as an office lady for a life insurance company, I sought refuge in toilets and elevators to open up my strained mind and body.
There, my body would start to move of its own accord and I would be dancing before I knew it. The security cameras on the elevators firmly captured the moments of my dance.
In toilets and elevators…
A narrow space of isolation spreads into an infinite world, expanding with fantasies.
This something that wells up from a "koshitsu (single room)"…
A repetition of movements in daily life, a "koshitsu" (persistence)" of the body…
How far could I open up my body and mind in front of you today?
Please enjoy my koshitsu (single room) and my koshitsu (persistence) towards the body.
---
3 Countries x 3 Times x 3 Works
It was a rare chance for me to not only perform nine times in a short term, but to also be able to perform in 3 countries. Each performance seemed like an opportunity to experiment with various things, and I continued to seek unfound answers. Sometimes it went well, and other times it didn't. Wavering between joy and grief, I now realize that it was the process that was important. What does it mean to succeed? What do you call success? What do I want to be? What does dance mean to me? I think I was given the chance to think about these things to a certain depth. On the other hand, I wondered how sincerely I could confront myself; I felt it was important to have the strengths to keep myself on my feet regardless of what others say, at the same time to be flexible and to be able to trust myself. I have not yet found an answer, but will continue to repeat my performance and discover what really is important.

Work Improved in the Eyes of a Diverse Crowd
In recent years, I've had the opportunity to be globally active: performing in Italy, Belgium, Finland, the Philippines, Thailand, Malaysia and America; staging my solo piece along with dancers from Korea and Canada this time round; holding workshops and choreographing for dancers abroad. It's very stimulating to be able to see how my own works are reviewed in overseas countries. I'm able to experience the difference between other countries and Japan regarding aspects such as a country's culture, ideology, religion and custom. Interaction with foreign artists also heighten your consciousness for your own work. There were some surprising instances where what's taken as common sense in Japan didn't necessarily apply. You never know what's going to happen abroad. I was once told that they didn't have the most important prop, the microphone, so had to hastily use a gelato cone instead. At other times, I wasn't able to communicate, or the food didn't go down too well and I fell ill – the list is endless.
Audience reaction is varied as well. In particular, when I stayed in Finland for 3 weeks, I was involved in the Full Moon Dance Festival where I did a production with dancers active in Finland as well as performing my own solo. I nearly gagged seeing the audience react (imagine faces fuming in anger) and felt like running away, only to have an elderly couple come backstage after the show to tell me in broken Japanese, "That was very good, thank you." When I put on the same show in Italy, I was met by surprisingly obvious reactions. You really can't read human minds.
Audience reaction varies according to the country, which is why when performing abroad, you research from multiple perspectives for ways that a piece could be enjoyed, such as changing the staging to suit the space of the performance or using the local language. This process of trial and error is enjoyable. Being active abroad puts me to test and provides me with good training.

A Backstage Where 4 Languages Converge
Korea's Park Young-cool with his 3 dancers and technical staff, Canada's Erin Flynn with her 2 dancers and technical staff along with the team from Japan are in serious discussion thinking this and that in the 4 languages of Korean, French, English and Japanese. Interspersing words with gestures, we talk about things such as one another's works, food and liquor. In touring 3 countries, what kind of city or environment is each artist going to work in, and how will it connect to their work? You can look into their perspectives and ideas on such matters.
On another note, even if we were from different countries, we shared something in common regarding what we hold important as artists. It was exciting to exchange ideas about one another's works, and our talk developed into suggestions of future collaborations and arbitrarily coming up with unit names. The time we spent backstage was very precious. Linguistic barriers still stand high, but perhaps it's not such a big deal.
During this tour, I was able to confront my works in a new way. It served as a good opportunity to review past pieces one by one and strengthened my desire to keep developing these works through repeated performance. In future, I'd also want to look to foreign countries with enthusiasm to get chances of performing abroad, which broadens my view of the world. In order to do this, active communication with foreign artists is a must. I hope to keep in touch with the theaters and people I have come across at Dance-X. I believe that there would be an opportunity to lead to the next step. This seems like a precious project for artists in terms of it allowing you to seriously confront yourself. I have high expectations for Dance-X to continue enhancing and developing artists in the future.
I would like to express my gratitude to everyone supporting this project, friends involved in my works, people at the theaters in the 3 cities, the audience who came to the performances, and to Dance-X. I'll work hard daily to make the most of this experience and improve further.
◎The 19th EU-Japan Fest Program: Aoyama Round Theatre