[#KeepgoingTOGETHER Program vol.6] Arts Transcreation Ireland-Japan
Q1.Impressions of your online distribution
OHTSUBO, Miho: I appreciated the experience of seeing the video of my works delivered in an instant to the world through YouTube, and am delighted my work can reach and be enjoyed by many people in the world now. The online distribution is very attractive as it gives the viewer an opportunity to get to know the work through the image, develop interest in the original work and wish to see it directly with her/his own eyes. All the efforts and time dedicated to production of this video have become a valuable experience for myself. 'Arts Transcreation Ireland-Japan' was a fruit of  long collaboration, empowered by its team members' diverse strength, such as composition, music, writing introductory texts, translations and technical process of video production and online distribution.
It will be our pleasure if this first online distribution will give us an opportunity to reach out to people, and our arts accepted, in many parts of the world.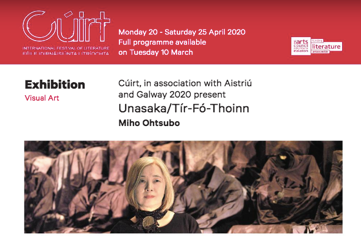 Q2.Achievements and challenges of online distribution, and what was changed or modified from normal distribution or archive creation?
KODAKA, Yuhei: Usually I make and deliver short videos of a few minutes in length, but this time I did not cut much of the original videos, but edited them into one work and released it as a 18-minute-long work. In the first two days after the release, there were about 100 viewings. However, since there was a fairly high percentage of viewers who stopped before reaching the end, I  realized that I should have devised a better way to put together more works and contents in a shorter time. Nevertheless, when the video was first released, I thought the number of accesses was higher than my other videos released in the past, and I hope it will continue to grow internationally as time goes by.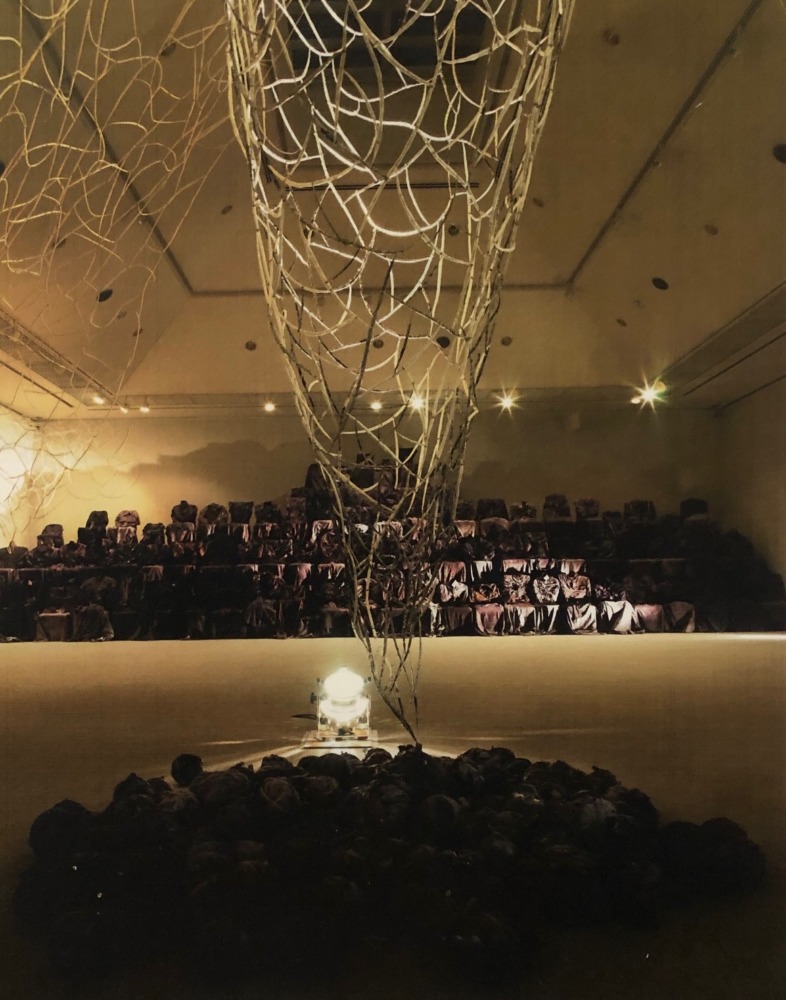 Q3. Time, number of people, and environment required to prepare for online distribution.
OHNO, Mitsuko: For Cúirt International Literature Festival scheduled in the final week of April 2020, two large boxes containing Miho Ohtsubo's installation material were sent off by SAL (Economy Air) from Tokyo on February 16th, but soon after their arrival at Galway Arts Centre in mid-March, the project had to be cancelled due to the rapid expansion of Covid-19 epidemic in the whole world.
It was natural for us to be disappointed, but the people who invited us to Galway2020 were also very disappointed, and conveyed to us their hope to examine whether a rescheduled exhibition and talk could be possible when the pandemic is over. Taking it as an encouragement, we proceeded to work on the two videos we had been making in advance by adding English and Japanese subtitles, etc., and showed them to our colleagues in Japan and Ireland. We were gratified by their positive reaction and strong encouragement to let these videos be released online through YouTube to the world, especially at this very difficult time. We also received kind expression of support from the EU Japan Fest Committee Secretariat, which made it possible to complete a video in haste for online distribution in time for Cúirt International Literature Festival.
The two videos combined into one have the contents as follows: the stage performance by Chikuzan Takahashi II and Tomomi Oda of "Pharaoh's Daughter" during their concert at a music hall in Tokushima City in December 2019 (produced by Ohno), and "Miho Ohtsubo's Works Dedicated to Nuala Ní Dhomhnaill's Poetry" (produced by Ohtsubo). The Chikuzan video was filmed in the music hall by the favour of the two performers and the concert organizer, but when the DVD came to Ohno, it was a simple live recording. Yuhei Odaka's edit, however, transformed it into a refined music video, and likewise, the video of Ohtsubo's works were completed by Kodaka who video-graphed her works exhibited at the group exhibition "Earth*Attack" held at Aichi Prefectural Museum of Art from November to December of the same year, and edited them with photographs and videos from earlier exhibitions and workshops. As a result, the video became a fine example of art videography.
Prior to this project of online video distribution, there had been nearly 20 years of collaboration with artists of different genres since Ohno's introduction to Japan of Nuala Ní Dhomhnaill's poetry in translation (Pharaoh's Daughter, published by Shichosha, 2001).
However, I should like to emphasize here the novelty of this new collaboration, which was drastically different from the previous attempts, in that everything was done online because the Covid-19 close-down compelled us to do so. We never met together, and finished the work remotely, including assembling and transmitting material, editing and checking images and texts, proofreading, and discussing all else digitally or by phone. The amount of time and effort we put into it was not small, but we were able to achieve our goal in quite a short while, because we were accessible online (time difference was even a benefit) to each other, with Ohtsubo in Tokyo, Kodaka in Yamanashi, Ohno in Nagoya, and also our colleagues in Ireland.
In this extraordinary situation of Covid-19 pandemic, we feel proud to have carried out such a project with our shared will, hope and friendship, as well as the kind encouragement and support by the Secretariat of the EU Japan Fest Committee, for which we are very grateful.
<Program>
Arts Transcreation Ireland-Japan
Date: 29 April 2020
Title:  Arts Transcreation Ireland-Japan
Project member: Arts Transcreation Ireland-Japan – OHNO, Mitsuko, OHTSUBO, Miho, and KODAKA, Yuhei
 Contents:
 'Arts Transcreation Ireland-Japan' is a visual art work distributed online as an alternative to the planned exhibition and talk by Miho Ohtsubo and Mitsuko Ohno, scheduled in April for Cúirt International Literature Festival in Galway, 2020 European Capital of Culture, but cancelled due to the Covid-19 pandemic.
This video is a combined version of the two videos, "Miho Ohtsubo's Works Dedicated to Nuala Ní Dhomhnaill's Poetry" and 'Chikuzan Takahashi II and Tomomi Oda Performing "Pharaoh's Daughter"' produced by Ohno. The contents of these videos convey the achievements of the past two decades in the fields of visual art and music, inspired by the works of Irish language poet Nuala Ní Dhomhnaill through the Japanese translations by Ohno.
However, it would not have been possible without Yuhei Kodaka the videographer joining the team, to produce these videos with bilingual titles, subtitles, notes and source information in English and Japanese, etc., nor could it be distributed online by YouTube. In that sense, 'Arts Transcreation Ireland-Japan' is a project that was realized by the collaboration across multiple art genres in the Covid-19 crisis.
Delivery tool: YouTube (distribution from the account of KODAKA Yuhei)
Number of audience (in total): 203 (at Kodaka's account from April 29th to May 5th)
*And also, 400 views on Irish Embassy's Facebook account.